It's almost Easter Weekend and for some, that means turkey, ham and chocolate eggs. In the car world, though, that means that once again the latest and greatest in the car world descend on the Big Apple for the New York International Auto Show — and we had a front-row seat to the action! Check it out!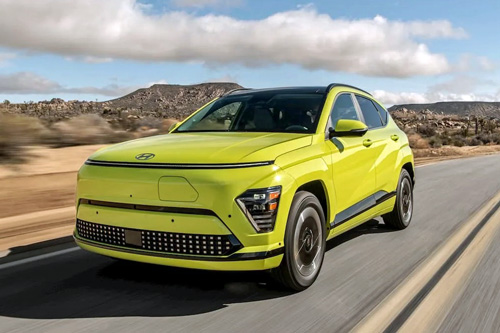 2024 Hyundai Kona
Hyundai's massively-selling Kona small crossover is getting new digs for '24, trading in its "old Hyundai" looks for a smoother and more futuristic package. That's especially the case for the Electric model, as the lack of a need for a radiator makes for a completely smooth front fascia. The new headlights have been dropped down and are somewhat less fussy than previous – same goes for the taillights – and the 2.0-litre and 1.6L turbo four-cylinder engines return. Range for the Electric is expected to be in the 415 km range and there will also be a more performance-oriented N Line model.
NASCAR Toyotas
Sure, seeing a Toyota Camry stocker in the metal – well, in the plastic, anyway – is always fun, but when its Tundra sibling is sat right next to it, well, let's just say the latter's hard to ignore. The latest Tundra already looks like quite the truck, but there's just something about seeing that massive grill and those huge headlamp lenses in sticker form. They even remembered to include the trademark TRD light bar as part of the package!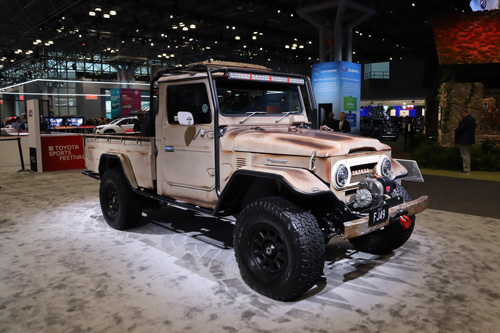 Toyota Patriot Campers FJ49
Speaking of Toyota trucks: how about this fusion between a 1945 Land Cruiser and a 2011 79 Series version? Originally debuting at SEMA last year, this bad-ass Landie has it all: Harrop Eaton e-lockers, upgraded radiator and intercooler, JMACX heavy duty differential, PCOR wheels wrapped in 20" BF Goodrich KO2 rubber, Warn winch and we could go on and on…but why bother? Just look at this thing!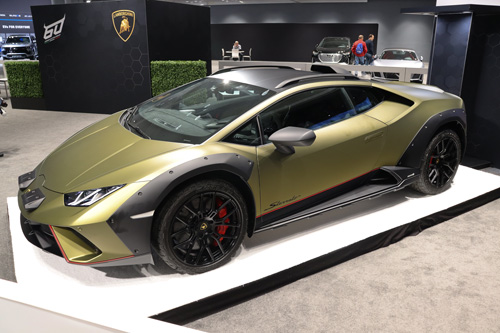 Lamborghini Huracán Sterrato
Sure; the Porsche 911 Dakar is extremely cool…but that company has a background in off-road racing, so it may not move the measuring stick quite as much as this: an off-road version of the Huracán mid-engined supercar, typically a ride that spends as much time on dirt roads as a dairy cow does in Manhattan. But wait! Lets not forget that Lamborghini was originally a tractor builder and they do make a high-selling SUV. So perhaps the 1.7" increase in ride height, off-road tires, rally drive mode, wider track and carbon fiber arch extensions actually make sense. As does the 601 hp V10, but who's counting?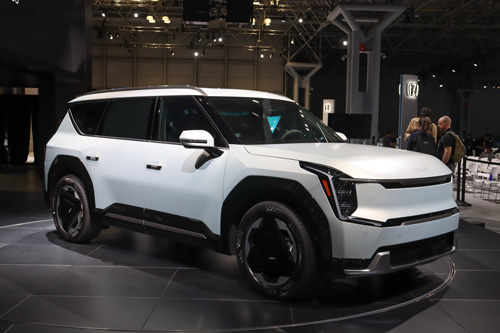 2024 Kia EV9
Based on the E-GMP platform that has recently underpinned award-wining EVs like the Hyundai Ioniq 5 and 6 models, the EV9 adds a third row to the formula and styling that looks like a cross between the funky Soul and the EV9's smaller EV6 sibling. Both 76.1 and 99.8 kWh battery packs will be offered, good enough for a total of about 480 km in the long-range model. The craziest part? This is a production model so those wheels, headlights and aggressive front fascia will all make it to the showroom floor.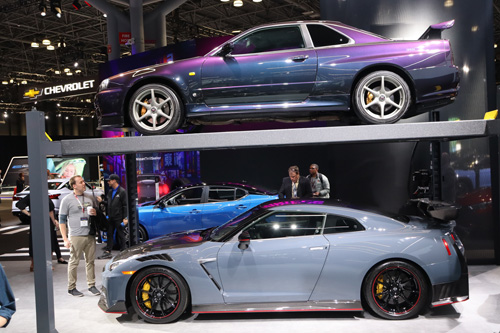 Dueling Skylines
What's better than a look at the facelifted Skyline super car? Well, how about displaying it alongside – well, underneath, anyway – an example of its R34 precursor, finished in Midnight Purple? Arguably the most famous colour we've ever known for the Skyline thanks in no small part to the Gran Turismo video game series, it's so interesting to see just how far this vehicle has come from one generation to the next. Thanks to the smart way these two were displayed you can see how chunky, oh-so-'90s lines have been replaced by flowing curves and the occasional muscular flare, but you can also see the similarities in the shape of the C-pillar and sky-high rear spoilers.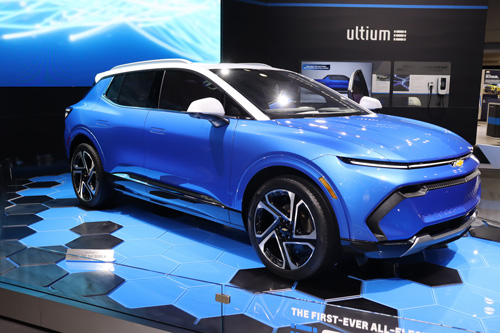 Chevrolet Equinox EV
The Equinox name may be more recognized as a fairly tamely-styled mass market people mover, but it's precisely that stigma that makes this EV version so interesting. Since there's no engine up front, no grille is required and what we have instead is a smooth and slippery-looking front fascia complete with a full-length light bar that recalls the ultra-luxurious Lucid Air sedan. The two-tone colouring is also a nice touch, but most notable is the starting price of $37,250 and 480 km range. This might be the most important vehicle The General has delivered in a decade.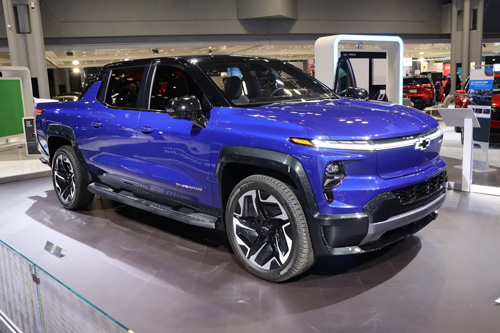 2024 Chevrolet Silverado EV
The EV hits just keep on coming over at Chevrolet with the first EV version of the venerable Silverado pickup. Finished in a similar blue to the Equinox EV, the Silverado looked right at home on the show floor as any of the supercars surrounding it. While it doesn't look anywhere near as bonkers as the GMC Hummer with which it shares its GM Ultium EV platform, it's clearly a modern take on the pickup with its grille-free front end, dual-tone wheels and exterior paint and reverse-angled c-pillar that recalls the Chevy Avalanche of old. With a claimed range of up to 640 km, meanwhile, it out-paces the likes of the Rivian R1T and Ford F-150 Lightning.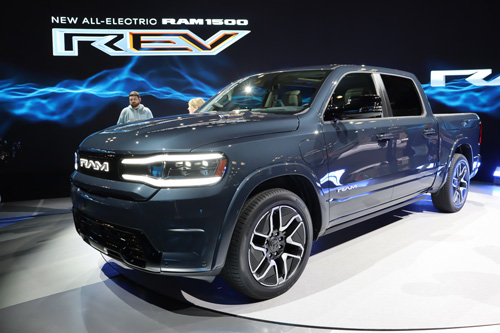 2024 Ram 1500 REV
…but it's not enough to eclipse what Ram is claiming for their entry into the world of EV pickupping; in 229 kWh form, the REV will make – wait for it – over eight-hundred kilometres of range. That doesn't just beat its rivals in the pickup game; it beats pretty much every EV out there. The 560 km it makes in 168 kWh form is not bad, either. While it doesn't look quite as radical as the Silverado, the "tuning fork" LED headlamps and new "Ram" grille badge are different than what's seen on any other Ram pickup.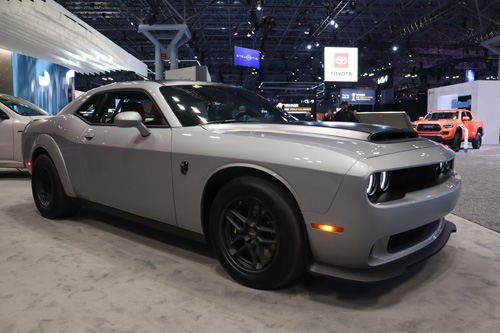 2023 Dodge Challenger Demon SRT 170
Sure; big electric range, funky styling and all that is cool but as time marches on, fire breathing V8s with more power than an Italian thoroughbred supercar are becoming rarer and rarer. As is the Challenger which is due to disappear after 2023 and so Dodge is sending it off with a bang to the tune of 1,025 hp and 945 pound-feet of torque. The 0-60 mph time? Less than two seconds. As you do.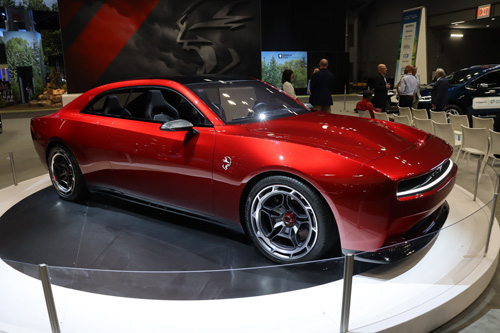 Dodge Charger Daytona
Just a few steps away from where the Demon stood in New York was what the future of the Dodge EV muscle car was going to look like: the Charger Daytona. It's said to make around 800 km of range – which is great, of course – but it's more about how this particular EV gets it all done. There's an artificial exhaust sound that Dodge says is louder than any Charger or Challenger before it, adding just that much more flare to how the Daytona makes use of its 455-590 hp. Better still for driving enthusiasts is the fact that there's actually a multi-speed transmission (most EVs get a direct-drive 1-speed) that drivers will actually be able to shift on their own.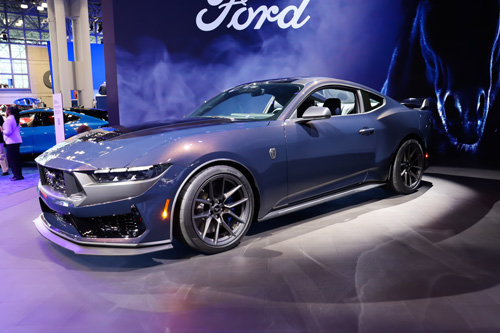 2024 Ford Mustang Dark Horse
Speaking of Detroit muscle: unlike the Challenger, the V8-powered Ford Mustang has plenty of life left, with an all-new model coming for 2024. Until we see any "Mach" or "Shelby" versions of the next-generation car, the Dark Horse model with 500 hp and 418 lb-ft of torque will be the power champ of the line-up.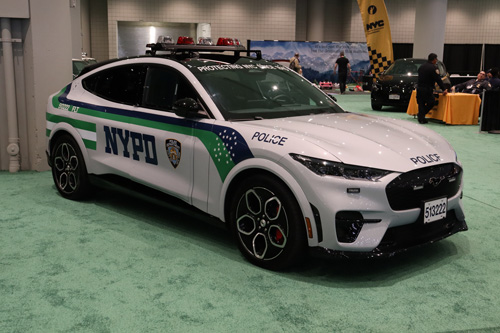 NYPD Mustang Mach-E
Speaking of Mustangs: as cool as it is to envision the funky Ford Mustang Mach-E cruising the boulevards of Manhattan, the Bronx and Queens and keeping everything in check, cooler still is how this particular display vehicle is sporting an all-new look for the NYPD, one that will be rolled out across the fleet over the next 2-3 years.
HONOURABLE MENTIONS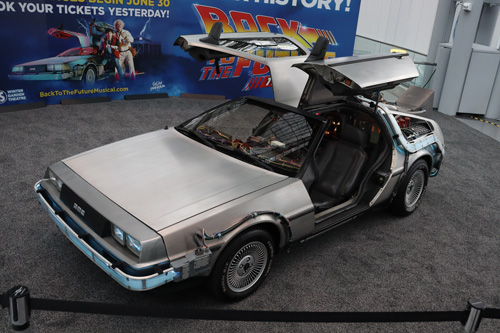 DeLorean Time Machine
There's a Back to the Future musical currently running on Broadway, so how could you not have one of the most famous movie cars of all time on display? And so they did, right there at the entrance to the Javits Center where the show takes place. And about a ten minute drive from the Broadway theatre district.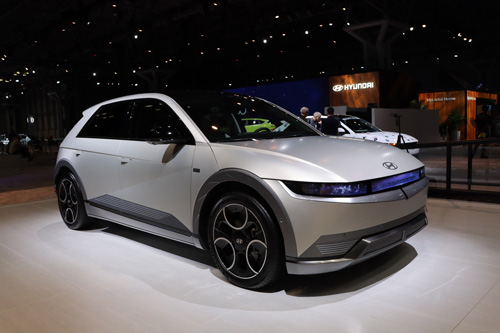 Hyundai Ioniq5 Disney 100th Anniversary Concept
If you look closely, you'll see that this particular take on Hyundai's multiple award winning EV is just a little different. The headlight and taillights have been replaced by long digital displays that when not displaying images of the Ioniq's Parametric Pixel lights, show renditions of the classic Disney fireworks. Other touches include wheels inspired by Mickey and Minnie's ears, special badges, a light-up headliner and the cars ability to play various Disney soundtracks and have its speaker bezels change colours in tune with what's being played.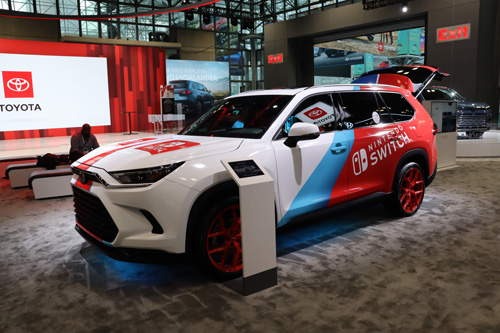 Toyota Nintendo Switch Collaboration
Collaborations are the name of the game these days, and Toyota is hopping on the bandwagon with this special Grand Highlander. In the back seat, a massive OLED display acts as a divide between the driver and much-distracted passengers. Also on-hand are about a dozen speakers, built-in Nintendo Switch game system…and the Mario Kart video game. Probably.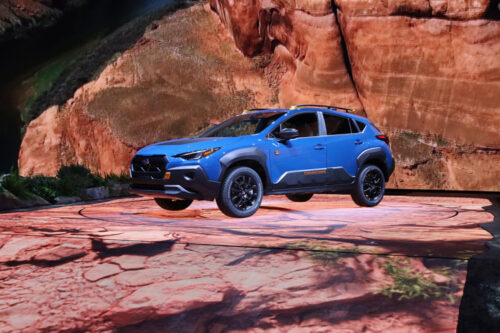 The Subaru Wilderness
Sure; the all-new Subaru Crosstrek with its extra-large helping of plastic cladding (and actually a pretty comprehensive set of upgrades including higher ride height, special tires and a different final drive ratio) is great, but it was the surroundings in which it stood that where truly remarkable. Ever since the Wilderness line started at Subaru, they've been coming to major shows with a stand appearing to be straight out of a theme park, complete with fire watcher towers, a ranger station and a slew of massive screens whose images make it look like the stationary car on display is actually moving through its surroundings.