Chevy kicked off their most recent off-road addiction a few years ago with the midsize Colorado ZR2. An attractively-sized pickup with gonzo suspension bit from Multimatic and appropriately aggressive tires, it sought to home in on truck buyers who would – in the past – buy a new machine, put most of its stock bits in the nearest bin, and install this type of off-road gear anyway.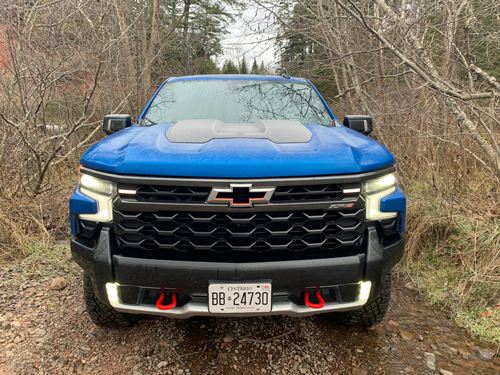 This concept has been extended to big-bro Silverado. Touted as its flagship truck, the ZR2 deploys many of the lessons learned in development of the Colorado – appropriately scaled up for use in a half-ton, of course. Said to have used the brutally tough Best in the Desert racing series as part of its development and validation, the ZR2 seeks to one-up competitive rigs like the Ford F-150 Raptor.
Powertrain: Anyone who has looked under the hood of a General Motors truck at just about any point in the last decade will recognize this engine. Under the swollen and flared hood of the ZR2 is a burly 6.2L V8 making 420 horsepower and 460 pound-feet of torque. This mill may not be a technological wunderkind but what it lacks in sophistication it makes up for in proven reliability. And sound. Lighting the fires on this beast was like awakening an annoyed Chewbacca, to the point where this author's thumb loitered needlessly over the truck's remote start button. Freezing temperatures makes the racket better or worse – depending on if you're asking the ZR2's owner or their neighbours.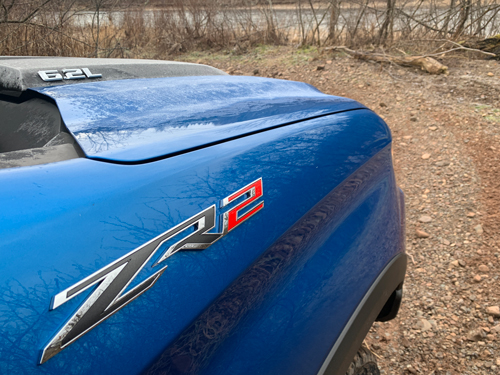 Exterior: As the bowtie brigade's off-road flagship, the ZR2 puts its factory lift to good use providing not just extra ground clearance (11.2 inches compared to 8.0 inches for most other 4×4 trims) but also the butch stance favoured by this truck's target demographic. Beefy 33-inch floatation size off-road tires add to the drama, as does the high-approach steel front bumper which has removable end caps for easier replacement in case drivers misjudge that rock and have a close encounter of the off-road kind.
All these features are more than just visual frippery. The design of that front bumper permits a 31.8-degree approach angle, far more than other Silverado trims and nearly on par with the mighty F-150 Raptor. Readers who check out the images in this post showing the truck head-on will see just how much clearance the ZR2 has for climbing over obstacles on a Moab trail or Starbucks drive thru. Also up front is a bowtie badge which has been hollowed out so the 6.2L can inhale more atmosphere through its grille. Chevrolet cleverly calls it a 'flowtie'; we hope they call the illuminated option a 'glowtie', by the way.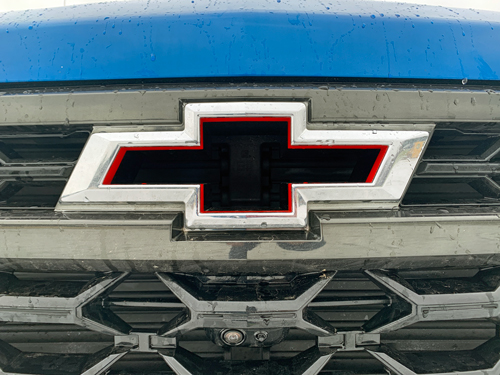 Interior: GM has done a bang-up job of dragging the Silverado interior in line with its competitors, and the ZR2 is no exception. The space is now rooted in a driver-oriented instrument panel which incorporates a 13.4-inch touchscreen for infotainment paired with a 12.3-inch digital instrument cluster which can be configured to your heart's content. On the vast majority of surfaces, material fit and selection are appropriate for this truck's price tag, with a few spears of lime green stitching present to brighten up a dark atmosphere. Low points include a skiff of sharp plastic flash felt at the six o'clock position on the steering wheel, but that's a location one is likely only to grab whilst reversing a trailer at low speed. In other words, if we're mentioning it, you know we're reaching for complaints. Bottom line: the interior can now go round-for-round with the best Ram and Ford currently have to offer.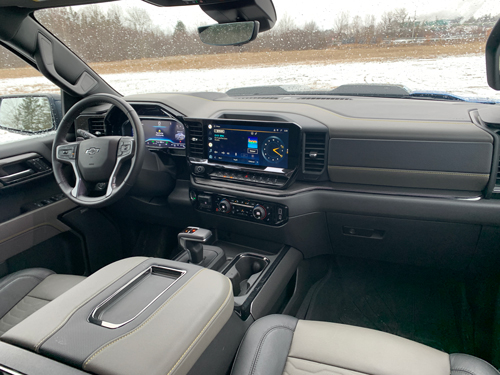 Infotainment: It is not disingenuous to suggest this iteration of GM's infotainment software represents a quantum leap over previous efforts. Graphics for navigation maps and audio album art are crisp, while response times are reasonable and ward off any temptation to jab the screen twice in order to complete a command. Worth noting is a graphic animation which plays across both the gauge and infotainment screens on startup, combining the digital real estate to provide an impressive sequence. This not only makes great use of available screen space but is the type of theatre generally appreciated by most extroverts who comprise the ZR2's customer base.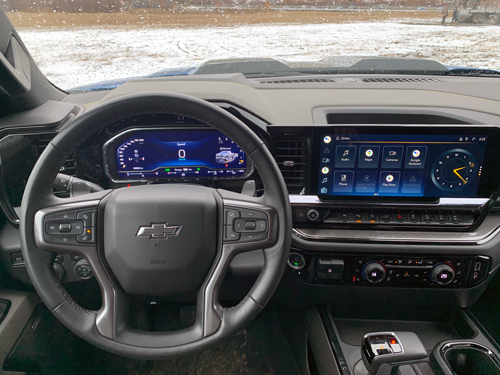 Drive: Mashing the accelerator pedal summons ample levels of right-now thrust thanks to the naturally aspirated hand-of-god 6.2L V8, leaving us wanting for nothing in terms of power until one realizes GM has managed to slap a supercharger on top of this same mill in the Cadillac Escalade-V. Inside baseball suggests there are a few lunatics deep in the bowels of Silverado development who want to do just that – but bed-wetting accountants are hesitant on the spectre of a Silverado priced deep into the six-figures. Memo to Chev: do it.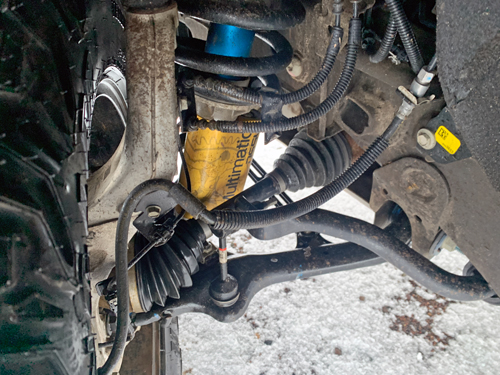 Locking differentials front and rear to help drivers out of jams into which they have found themselves, and the terrain modes make it easier to climb over stumps using one-pedal driving techniques. Back on pavement, those Multimatic DSSV dampers which shine off pavement thanks to their bypass and reservoir design also acquit themselves well on blacktop, arguably providing a ride smooth as a High County trim. Hidden safely under the rear bumper are the ZR2's dual mufflers, specifically tucked away to increase departure angle and prevent damage to exhaust components. This is one instance in which a functional change also adds visual appeal.
Conclusion: There is more than a $20,000 price spread between the Silverado ZR2 and an F-150 Raptor, the latter of which now starts at $107,470 – and that's with a V6 engine which does offer slightly more power but sounds like Marilyn Manson yelling into a vacuum cleaner. The supercharged V8, with 300 more horses than the ZR2, is a gobsmacking $148,200.
With that in mind, we come to two conclusions. First, the ZR2 represents a better value than a V6 Raptor since it offers a superior interior and far more than three-quarters of its capability at three-quarters the price. Second, someone at GM should distract the accountants while engineers slap a powertrain from the Escalade-V under the hood of this ZR2; if they retain the same price ratio, Chevrolet will sell every single one it can make.
2022 Chevrolet Silverado 1500 ZR2
Price (as tested): $86,098.00
Engine: 6.2L V8
Transmission: 10-speed automatic
Power: 420 hp @ 5,600 rpm, 460 lb-ft @ 4,100 rpm
Fuel Economy: 16.7 / 14.1 (city / hwy, L/100 km)
Competitors: Ford F-150 Raptor, GMC Sierra 1500 AT4X, No-Rules Kickboxing
Website: Chevrolet Canada