BARCELONA, SPAIN– "Space, the final frontier." As a self-professed Star Trek nerd, it seemed a fitting response to my initial encounter with the all-new 2025 Volvo EX30.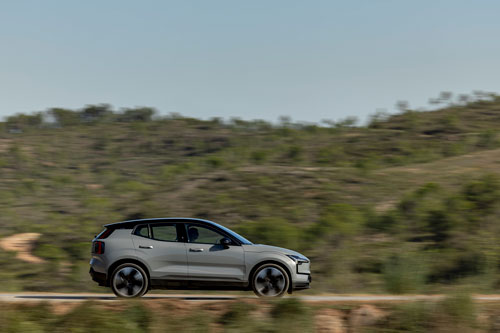 The first thing you notice when taking a seat behind the somewhat square shape 3-spoke steering wheel is the lack of any gauges. The second is how good the wheel feels in your hand. There is no central speedometer, gear indicator, battery gauge or anything else that you might consider typical of what we see in most cars today. Instead, the dash stretches towards the windshield, drawing your attention to the carefully placed Harmon Kardon sound bar that reaches from side-to-side.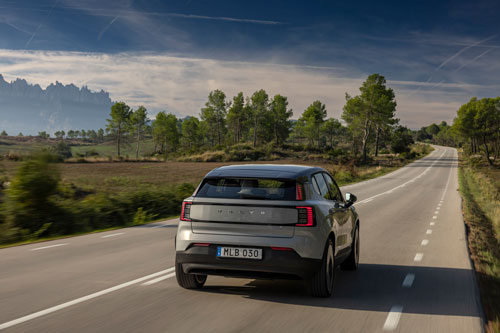 At the center of the dash, a large tablet displays all the information you need to drive the newest Volvo EV in a style reminiscent of Tesla, but richer, definitely more Swedish in look and feel. In fact, the richness of the interior as a whole is one of the things that sets the all-new EX30 apart from the growing crowd of electric vehicles hitting the market now and over the next few years. In case you haven't heard, the world of automobiles is changing and it will never be the same.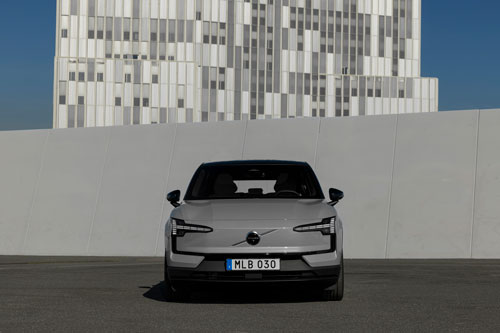 The affect of this class-defining sense of space is not only surprising in its overall execution, but equally stylish in a typically minimalist Volvo way. And by class-defining, I mean to say that Volvo admits there is no direct competition for the EX30 at this time. It's CUV shape and electric powertrain is unique, and while other automakers are certain to launch competitive EVs, the market is ripe for the picking.
The EX30 is designed as a five passenger urban sport utility vehicle for today's growing EV market. It would be easy to toss aside the idea of this being anything close to a true sport utility vehicle and Volvo doesn't recommend taking it on an off-road adventure.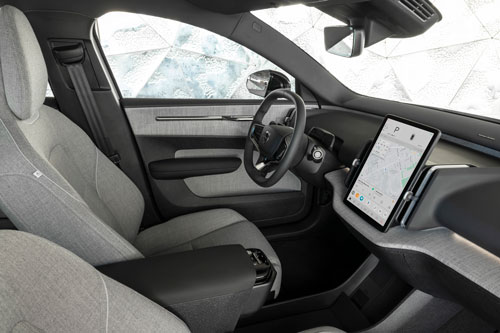 But in truth, it does feature 177 mm of ground clearance, which means it meets the definition of sport utility. So, while it won't replace your Volvo Cross Country anytime soon, it is more capable than most small to medium sized EVs to handle the rigours of daily commuting on Toronto or Vancouver's pothole-infested city streets.
From a design perspective, the EX30 definitely takes inspiration from Volvo's upper-echelon Polestar line. No complaints here, there really isn't a bad angle on the EX30 and we noticed a lot of people staring as we plied the streets and country roads around Barcelona.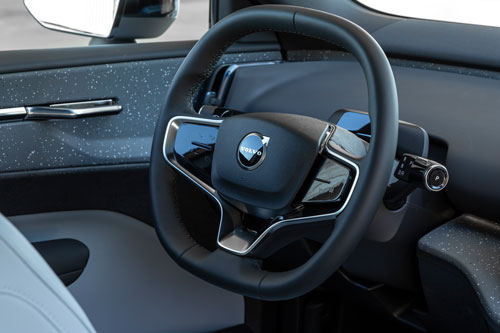 Volvo has gone to great lengths to design the new EX30 as their smallest carbon footprint vehicle to date. Structurally, around 25% of the aluminum used in the car is recycled and 17% of all steel and plastics is recycled/renewable.
As a BEV (battery electric vehicle) there is no need for a typical open front grill, so Volvo has designed a bold closed front end. It highlights a center-mounted brand badge, shutter blades that automatically open from 0-90° to improve airflow for extended range performance, Thor's Hammer designed elongated headlights and unique air inlets at the outer corners of the bumper that create an air cushion around the front wheels for improved aerodynamics. In back, the integrated rear roof spoiler also aids airflow and features high-mounter LED taillights and rear wiper nozzle.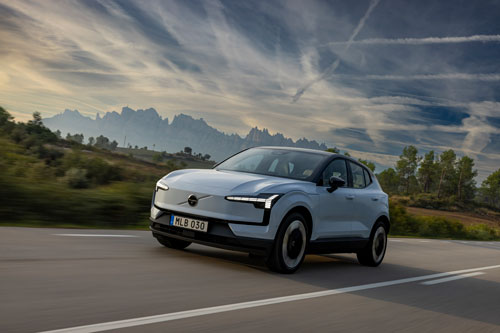 Power for the EX30 is available in two configurations. Driving performance for the two, while there are significant differences, are not as obvious as one might expect. Which one you choose is really a matter of price, personal taste and the typical conditions you drive in as each version features unique design elements, powertrains and styling cues.
The EX30 Single Motor Extended Range with rear-wheel drive features a 200 kW electric motor that delivers 268 horsepower and 253 pound-feet of torque. It accelerates from 0-100 km/h in 5.3 seconds and reaches a top speed of 180 km/h. Standard wheels are 19" 5-spoke Aero design. The listed maximum range on a full charge is 442 km. In simple terms, it makes range anxiety for most of us a thing of the past.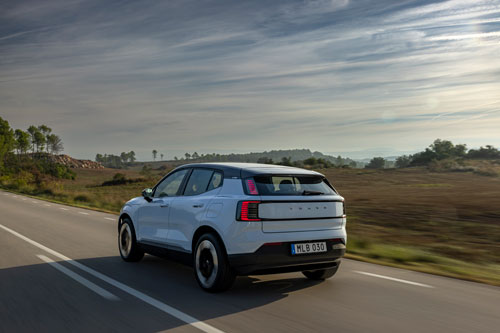 Pricing for the single motor starts with the Core model at $53,700, the Plus at $56,900 and tops out at $59,100 for the Ultra.
Spend a little more and you get the EX30 Twin Motor. It reaches 0-100 km/h in 3.6 seconds employing a 315 kW electric motor that develops a combined 412 horsepower and 400 lb-ft of torque. Top speed is also set at 180 km/h and the maximum electric range is listed at 422 km/h, a mere 20 km's less.
While I could never honestly say that spending $50-$60K for a new vehicle is cheap, it is the price you pay for a comparably equipped combustion engine vehicle in today's market. The advantage here is, once you buy the EX30 in either version, your days of visiting a fueling station are over for good. For the good of your budget and the general benefit of society.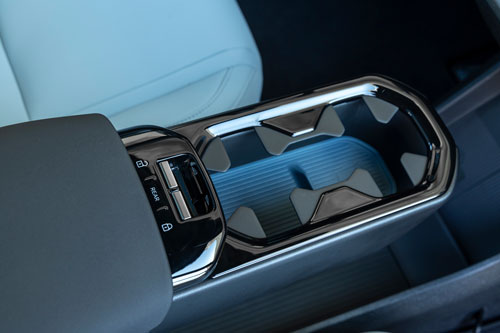 I spent much of my time driving the twin motor model which also highlights all-wheel drive in Canada. It has a starting price of $59,900 for the Plus or $62,100 for the Ultra. Our test vehicle was the range-topping Performance model which adds 20" 5-spoke alloy wheels and lists at $63,600.
Both models feature unique interior design elements that standout from the moment you take a seat. Firstly, look up and you see nothing but sky. A large panoramic roof lets the light in and accents the already airy feel of the interior. It's impressive for both front and rear seat occupants and a great way to experience the best of Barcelona's bustling cityscape.
Typical door handles have been designed to maximize style and function, so too the controls for the air vents. Everything about the interior has been carefully crafted to stand out from the crowd. An open center area adds to the feeling of space, while the center console features a useable dual-cupholder and a comfortable place to rest your arm. Whether you get the Flax décor theme (made from renewable linseed) or Particle décor (made from ground up PVC window frames and shutters) depends on your choice of either the twin motor (Flax) or single motor extended (Particle).
Front seats are comfortable for both short commutes and longer country drives, as I experienced no discomfort at the end of a busy day around Barcelona. Rear seat legroom and headroom is equally impressive and should be a perfect fit for most families of four, with the potential to seat up to five occupants.
The 2025 Volvo EX30 is part of Volvo's lofty goal to be fully electric vehicle company by 2030. Volvo states 80% of the current hand raisers waiting to experience it in person are new to the brand. From my initial experience, it has the potential to be the most successful Volvo to date as it has the right size and price for the market. Sales are expected to start next year.