The family of Ram trucks is a well respected and popular brand in the pickup market.
For 2022, Ram has added some extra punch to the lineup, with the introduction of the Ram 1500 Big Horn BackCountry edition we recently tested.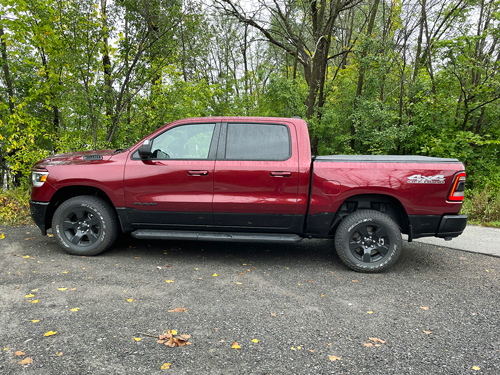 The variant arrives from the factory with off-road features already on board, including the 4×4 Off-Road Group, which adds tow hooks, skid plates for the front suspension, transfer case, power steering and fuel tank, rear electronic locking axle, off-road calibrated shocks, hill-descent control, and all-terrain tires.
It also comes with the Bed Utility Group, adding upper adjustable tie downs, bed extender (available with RamBox only) deployable bed step, bed lighting and spray-in bed liner.
The entry price for the Big Horn BackCountry is $57,145, but the tester came equipped with a host of extras that pushed the final price to $75,220 with shipping costs included.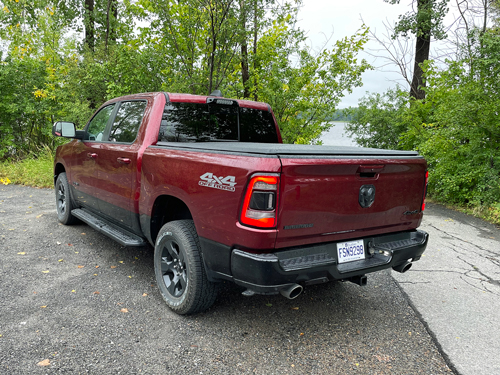 The additional costs include $3,595 for the BackCountry package, which add a very long list of features to the truck, a technology package ($1,595) with heads up display and digital rear-view mirror, Big Horn 2 package ($3,245) and $1,995 for the 5.7-litre V8 HEMI under the hood among the extras.
Powertrain: The Ram 1500 has a few engine choices, and our tester would normally come with a 3.6-litre Pentastar V6.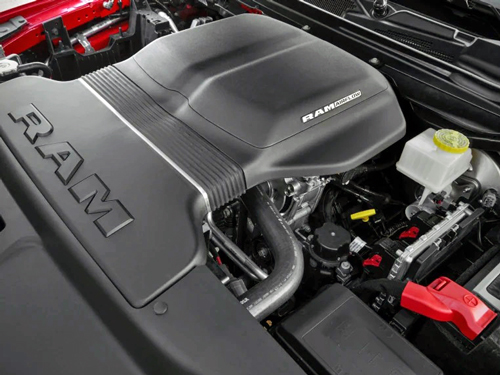 But we were able to experience the larger 5.7L HEMI V8 and its 395 horsepower and 410 pound-feet of torque, nothing to sneeze at for sure.
It is paired to an eight-speed automatic transmission and a 4X4 system that can be controlled via buttons next to the rotary dial for the gearbox.
The transmission does a good job controlling the HEMI's power, with little fuss on gear changes.
The Ram 1500 offers an eTorque 48-volt mild hybrid system that adds up to 130 lb-ft of launch torque on certain trims, but our tester did not have that feature.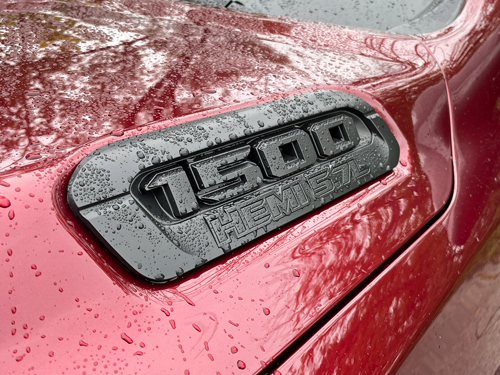 Exterior: The BackCountry edition of the Ram 1500 not only has some extra goodies for off-road prowess, but it also gets some styling enhancements that make it stand out.
With the optional Red Pearl paint ($395) selected, the black features of the BackCountry Edition really look good.
They include 18-inch black wheels, a two-tone exterior paint (red/black), black badging and mirrors, exhaust tips, running boards and a body-coloured grille surround.
That front grille, in black on this model, leaves little doubt that this is a Ram truck, of course, but the way it is framed is well done in the BackCountry.
The package also adds things like a spray-in bedliner, off-road decals, hill descent control, a raised ride height, tow hooks, a tonneau cover, heavy duty shock absorbers and more.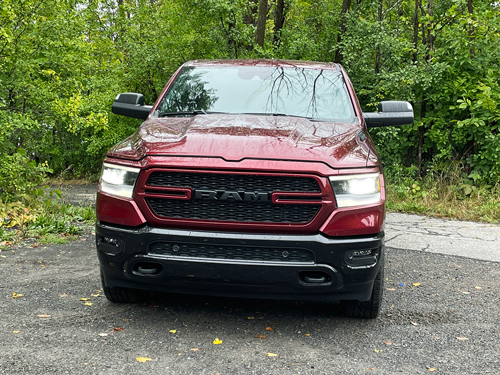 The HEMI has a combined estimated fuel economy figure of 13.8 litres per 100 kilometres, but I find that to be a tad optimistic as I did no better than 19.9 L/100 km and that is with a fair bit of highway driving.
The Ram 1500 with the HEMI also has a maximum towing capacity of 12,750 pounds in 4X2 setup, and 11,140 pounds when running in 4X4 mode.
 Interior: There are a few distinctive BackCountry features in the cabin, like a badge on the instrument panel, but this is otherwise the same cabin as most other Ram models.
No complaints with that, though, as the Ram interior is one of the nicest in the pickup segment, in my opinion.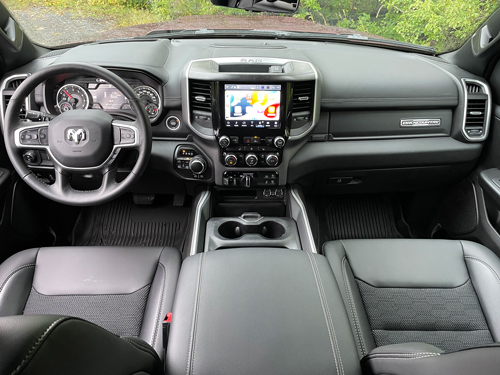 It is very spacious and well laid out. Given the utilitarian nature of the Ram, controls for most features and done through large knobs or buttons that are easily operated even if you are wearing gloves.
The centre console is massive and has several compartments to store things for the job site, and the all-weather floor mats are also a welcome feature for those who will use this as a work truck or take if off road.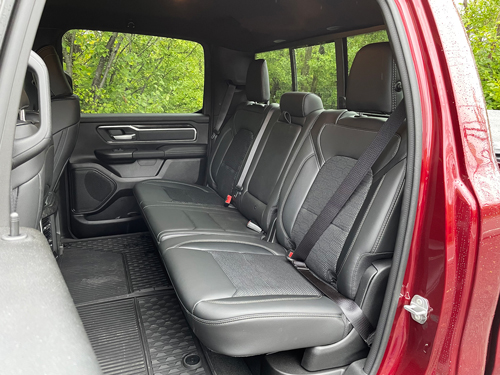 The back bench offers a ton of legroom, even when you pile items onto the floor and your occupants are of shorter stature, they will have enough room. For time when you need more space, the seat bottom flips up in a 60/40 fashion, so your groceries don't need to go into the truck bed and bounce around!
This is also a good place to hide items from view with a little storage area under the seat.
Infotainment: The Uconnect infotainment system on the Ram, like most Stellantis products, is very good and user friendly. I found it easy to setup and to navigate through the menus, with almost no lag in operation.
The 8.4-inch screen is good, but knowing there is a 12-inch version available on other Ram 1500 trims left me wanting more.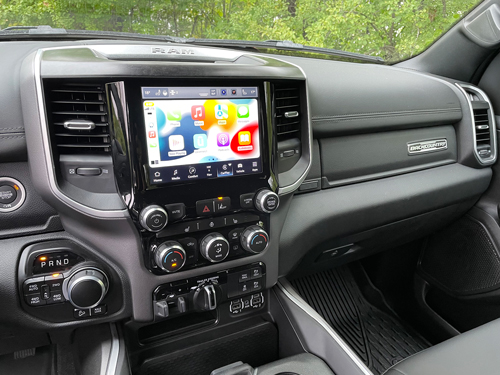 It does have all the features you could want, such as wireless Apple CarPlay and satellite radio. The system also allows you to create user profiles so that each driver will have their own unique settings saved.
Drive: For a big truck, I was impressed by just how easy it was to drive the Ram around town, including even parking at a tight parking lot at my son's school.
The engine delivers plenty of power, so you should never really experience an issue there, and out on the highway at cruising speed, the Ram just hums along with little effort. Passing manoeuvres are a breeze as the engine responds instantly to your pedal input.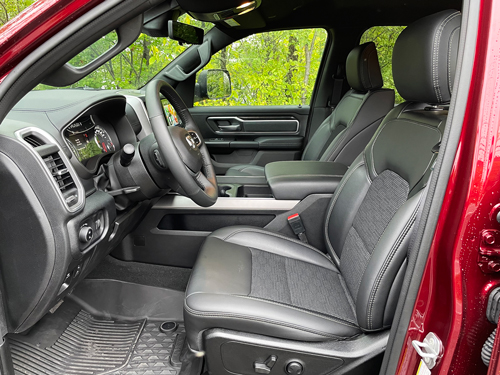 The off-road tires can be a little noisier than usual, but it's nothing that would really be of concern to a truck owner. The ride itself is pretty smooth on city roads and highways, and the modified suspension for the BackCountry means it should also keep everyone relatively comfortable when taken out into the, well, back country.
Conclusion: Ram pickup trucks can be seen in just about every job site or fleet for cities and large companies that require pickups, so they are definitely popular work trucks.
But many consumers also like their pickup trucks to add some flair and comfort for their purpose, and the Ram 1500 Big Horn Back Country definitely has both.
The exterior styling touches make this version of the truck stand out, and the optional HEMI engine certainly delivers the goods for those who need more power than a V6 would offer.
2022 Ram 1500 Big Horn Back Country
Price as tested: $75,220.00
Freight: $2,095.00
Configuration: Front engine/All-wheel drive
Engine/transmission: 5.7-litre HEMI V8/ 8-speed automatic
Power/torque: 395 horsepower/ 410 lb-ft of torque
Fuel (capacity): Regular (98 L)
Combined fuel economy ratings (L/100 km): 13.8 L/100 km
Observed fuel economy (L/100 km): 19.9 L/100 km
Warranties: 5-years/100,000 km (basic)
Competitors: Chevrolet Silverado, Ford F-150, GMC Sierra, Toyota Tundra
Link: Ram Truck Canada