It won't arrive for a year but as of the very minute this article goes live, you can pay $100 to reserve an electric Ford truck at Ford.ca. Go ahead, we'll be here when you get back. These first ones will probably become collector's items like their original namesakes. That name Lightning harkens to the F-150's past but its makers call this the truck of the future.
Take Kumar Galhotra, Ford President Americas & International Markets Group. He calls the new Lightning a gamechanger "following in the footsteps of the iconic SVT F-150 Lightning" whose 2003 rendition was celebrated in the Guinness Book of Records as the World's Fastest Production Truck. Such reasons have made the F-150 the bestselling truck in North America for nearly as long as Guinness has been around. We love world records!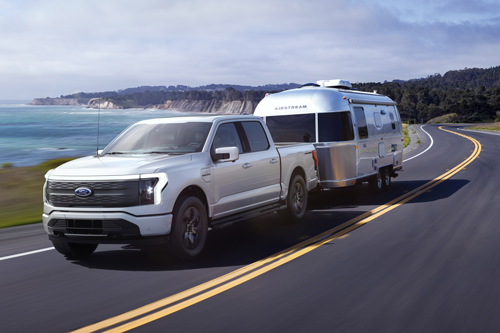 But this new Lightning will kick the Guinness Recordholder's ass. It's electric. Mind, pretty much any electric vehicle (EV) would. Lacking a combustion engine that trundles through gears, an EV offers full torque available almost immediately.
In the Lightning's case, that's 775 lb-ft of torque right now. So, it explodes — no, it strikes — from 0 to 100kph in just over 4 seconds. (Remember this is a pickup truck, not a motorcycle.) Complementing that bowlful of torque is 462 targeted horsepower in the standard model with an upsell of 563 targeted HP available. Front- and rear-drive units provide 4×4 capability.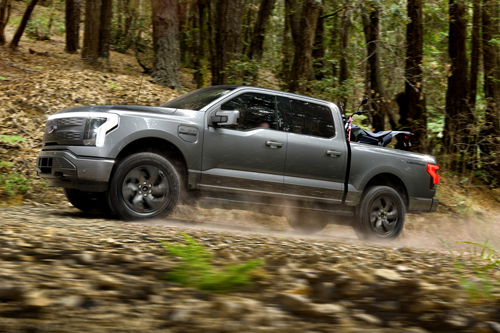 As you'll have surmised, the new F-150 Lightning hasn't been built yet. Hence, we haven't tested it. But we await the opportunity with bad breath! Judging by the online launch event, its manufacturers seem to have thought through the entire ownership experience, from the driver's lifestyle to the wider infrastructure and electrification context. Read on and wonder, what's not to love?
According to Gitanjili McRoy, Manager of Ford's Electrified Propulsion Systems Engineering Group, the new Lightning's power is stored in "lithium ion pouch battery cells with nickel manganese cobalt cathodes" wrapped in a "cover made of a single piece of sheet-moulded composite." What a mouthful! When's the last time anyone lobbed such egg-headedery around to describe their gas tank? I've said many times in this magazine that EVs are wholly different animals from the gasoline-powered. That's just one example of what I was getting at.
But what does all that jargon add up to? An estimated EPA range of 230 miles (370km). Not bad, especially for a pickup. And that's just the standard model. You can upgrade your battery capacity to an EPA estimated range of 300 miles (480km).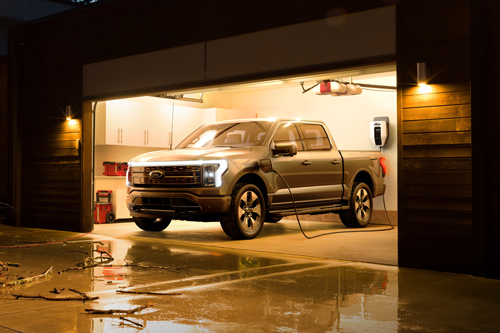 EPA, in case you missed the last five years in America, stands for Environmental Protection Agency, a government body. Estimated is just that: a rough calculation or ballpark figure. Like Canada's EnerGuide numbers, the EPA's estimates provide 3rd-party impartiality but they apply in ideal circumstances. Other factors, including whether you drive gingerly enough to achieve those numbers, apply too. Immediate realities, from the weather to your payload and traffic, all conspire to kick your EPA and EnerGuide numbers directly in the shins. So, a clever app that helps you milk the most from your Lightning provides a better range estimate for your conditions. Using GPS and running low on power? The app prompts you to charge at a convenient stop on the way. Yes, they've thought this through.
What about charging? Your purchase comes with a home charging station, which juices the truck from 15% to 100% in about eight hours while you sleep. Great for a place like Ontario where day- and nighttime hydro rates went into effect on May 1.
And when you're not spending the night at home (you naughty so-and-so)? On a 150kw DC fast charger, the extended range version can upload about 85km of range in 10 minutes, and charge from 15% to 80% in just over 40 minutes.
OK, what about when you have no power at home? Think of Texas a few months back when the grid failed. If plugged in when a power outage occurs, the Lightning will automatically reverse the current, powering your home for up to three days on a fully charged battery (9.6kw). Then when power is restored, it automatically starts recharging — all with no need for you to intervene.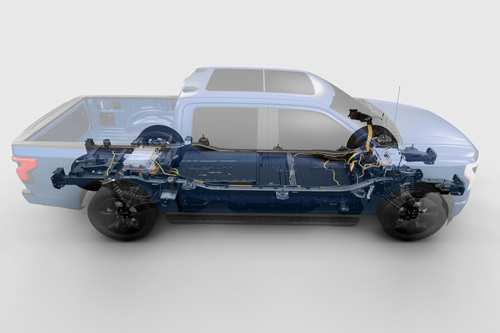 You can do more than power your home in an emergency. Think of this summer when we can all finally camp again! Lovely mental picture, right?
Except we've all gotten addicted to grinding our own espresso beans, juicing a bowl of fruit, watching eight hours of Netflix, and so on. The Lightning's (up to) 11 outlets will power everything from speakers to power tools. When the power's down to 1/3, you get an alert and can choose to turn things off or down. So, if you run out, it's your own fault.
Moreover, you can preprogram the computer to stop powering external devices when the depletion approaches the level needed to get you to the closest charge station. A floating threshold: great idea!
Speaking of parking in front of the TV for 15 months, have you forgotten how to drive? There's available hands-free tech for highway driving with a driver-facing camera that constantly assures Big Brother your eyes are open (even in sunglasses) and pointed at the road.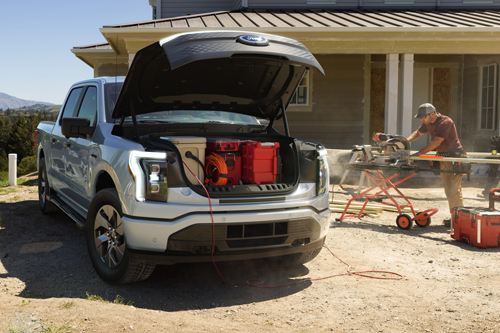 We all pray that situations like Texas won't happen much — at least not here. Ford is investing US $22 billion in electrification globally through 2025 "providing an ecosystem of customer services to assure the transition of customers from gas to electric" says Galhotra.
The entry model all-electric F-150 Lightning starts at $58,000 MSRP.