The 2022 Hyundai Kona lineup has received a host of upgrades for the current model year, including the introduction of an electric version and a sportier N Line trim of the ICE variant.
On top of the overall redesign the model has been given, the introduction of the N Line we tested receives additional styling enhancements, as well as coming with all-wheel drive.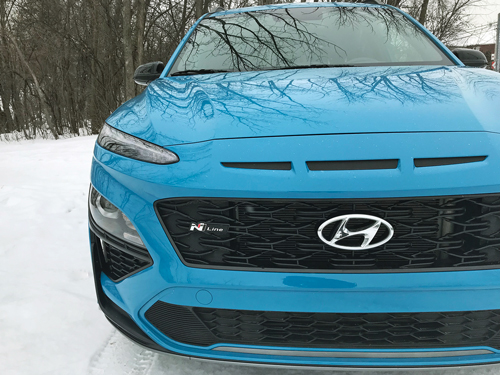 The new N Line is visibly different from the rest of the lineup thanks to an aerodynamic lower front lip, larger air intakes, body-colour cladding and a nice set of 18-inch alloy wheels. The cabin also gets some trim-specific changes like red accent stitching, metal pedals and the N logo.
The starting price for N Line trim is $28,199 before fees and taxes, up from $22,099 for a base Kona. The Kona EV is considerably pricier at $43,899.
While our tester did not have any extras, there's an optional Ultimate Package that buyers can add to the N Line at a cost of $5,600. It includes items such as highway driving assist, forward collision-avoidance assist, adaptive cruise control, a 10.25-inch touch-screen display, power sunroof, leather seats, harman/Kardon premium audio with 8 speakers, heads up display and more. A lot of nice items in that list, so it could prove to be a popular option.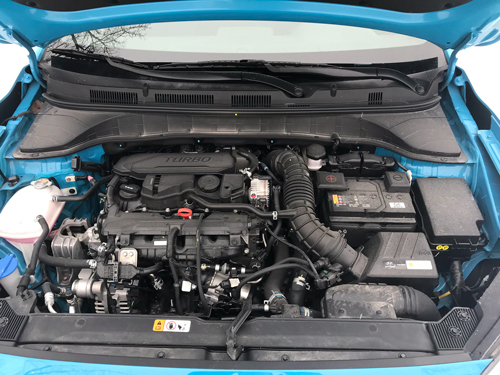 Powertrain: The Kona has two available gasoline engine options depending on trim with the N Line features the 1.6-litre turbocharged four-cylinder powerplant, delivering 195 horsepower and an equal amount of torque. Non N Line trims get a 2.0L engine which is much less potent, with 147 horses.
The N Line also gets an upgraded transmission to go with the turbo engine in the form of a seven-speed EcoShift dual-clutch transmission.
The estimated combined fuel economy for the N Line is 8.2 litres per 100 kilometres, a figure I could not match with my 10.2 L/100 km result.
Exterior: On top of redesigning the Kona lineup for 2022, the introduction of the N Line also gave Hyundai designers the opportunity to give the model a little more flair.
The first thing that stands out is the body-coloured cladding around the wheel arches (rather than the standard black), while the entire front fascia has a sportier look. That includes larger air intakes with a mesh design, a more aerodynamic lip, and the N logo in the grille.
Unique to the N Line are LED daytime running lights, roof rack side rails, heated power-adjustable side mirrors, projector headlights, rear privacy glass and 18-inch wheels.
The rear design features a large aerodynamic diffuser, dual exhaust tips and a slim taillight design.
Interior: The Kona N Line's cabin also receives a few unique elements, including black seats with red stitching, a black headliner, metal pedals, and N logos for the seat, steering wheel, and gear shift lever.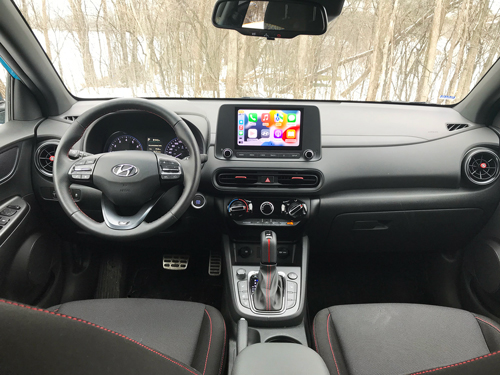 It also comes with a heated steering wheel and heated front seats.
The cabin is awash in black, so the red stitching is a nice touch to break up an otherwise monochromatic interior.
There are some pretty old school large control dials for the ventilation system's temperature and settings. Given the current trend to go digital for almost everything, a simple dial for a simple task was almost … refreshing!
Rear legroom and headroom are both good for a vehicle of this size, as is the cargo hold.
Infotainment: The standard 8.0-inch infotainment screen sits atop the centre stack and is surrounded by an excessive amount of black plastic trim. That is no doubt to leave room for the larger optional screen to fit into the same box, but it does tend to make this setup less than ideal.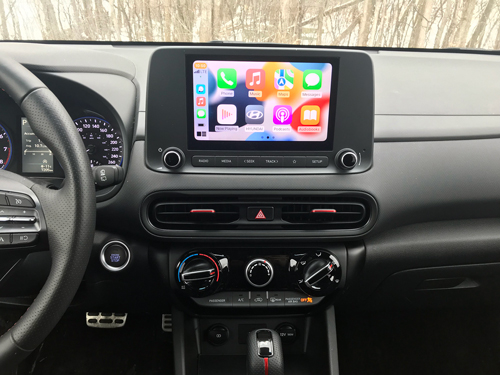 Thankfully though, the system itself is easy to use and features wireless Apple CarPlay and Android Auto, a feature I appreciate.
You do need to upgrade to the larger screen to get things like satellite radio and navigation, so this version was still missing a few items off the wish list of some buyers.
However, on the whole, it's a good system from Hyundai.
Drive: The extra boost given to the Kona N Line from the turbo makes this a surprisingly fun and nimble little driver. It won't blow you away, but it is a nimble little crossover that handles well and offers pretty good steering response.
For the most part, the transmission does a good job in its duties, but there are some hiccups when it comes to shifts between first and second gear. Beyond that, the gearbox is excellent at higher speeds.
Conclusion: Hyundai tried to add a little spice to the Kona with the N Line option, and it certainly does mark an improvement in my view, especially in terms of styling and the overall appearance.
The turbo engine also means that the N Line could appeal to whole new segment of consumers who are in search of a vehicle of this size, but with a bit more character and performance.
The addition of an all-wheel drive option on the trim also could make it more desirable for those who might want to spend their winter weekends on the ski slopes.
The Kona N Line is an affordable vehicle that can deliver a sporty-ish drive while still offering good cargo space and excellent fuel efficiency.
2022 Hyundai Kona N-Line AWD
Price as tested: $30,838.00
Freight: $1,825.00
Configuration: Front engine/All-wheel drive
Engine/transmission: 1.6-litre turbo 4-cylinder/ 7-speed EcoShift Dual Clutch Transmission
Power/torque: 195 horsepower/ 195 lb-ft of torque
Fuel (capacity): Regular (50 L)
Combined fuel economy ratings (L/100 km): 8.2 L/100 km
Observed fuel economy (L/100 km): 10.2 L/100 km
Warranties: 5-years/100,000 km (basic)
Competitors: Chevy Trax, Ford EcoSport, Kia Niro, Nissan Kicks, Honda HR-V, Toyota C-HR
Links: Hyundai Canada