While it probably comes as little surprise that the re-imagined GMC Hummer will be getting an SUV style, it is a little surprising that the pickup came before this more "traditional" take on the Hummer.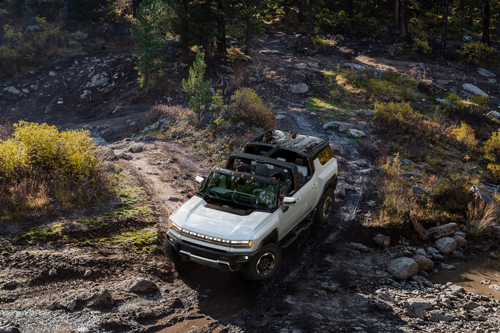 Of course, the military vehicle on which the GMC Hummer's precursors drew inspiration from came in all sorts of forms. Many of them, however, had a pickup bed in which to mount all sorts of hardware but those that most civilians in Canada are familiar with are SUVs.
Not to mention that GM themselves are making no bones about which of these two will be most popular amongst buyers.
"SUV remains the dominant segment of the market," said Duncan Aldred, vice president of GMC global. "We do think the SUV will be the dominant seller."
The SUV version has arrived as a slightly smaller vehicle than its pickup sibling. It gives up nine inches of wheelbase to the pickup truck so GMC is claiming that it is the more maneuverable vehicle of the two. SUV or no, GMC maintains the styling still reflects GMC's "professional grade" ethos, although we're not sure if the Infinity Roof system that provides open-air motoring necessarily fits that bill. The more workmanlike pickup also gets it, though, so if it works there, it should work here. The SUV also gets unique underfloor storage inside, mounting spots for all manner of accessories from lights to racks, and barn door-style tailgate (though GMC refers to it as "vault door". Sounds tougher, I suppose) that offers a 48-inch opening.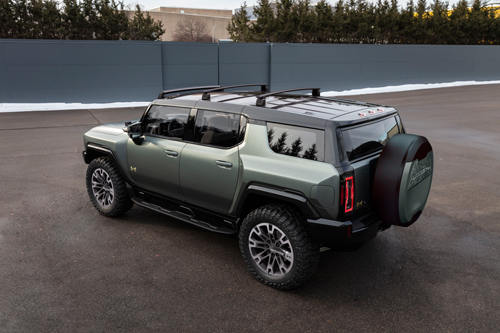 In their media presentation, GMC was quick to point out the ways the Hummer beats the Ford Mustang Mach-E in departments such as power and turning radius, a nod to the Hummer SUV perhaps being aimed more at urban dwellers. After all; nobody's mistaking the Mustang Mach-E for anything else other than an urban vehicle that just happens to offer the space and some of the capability afforded by SUVs. Regardless of that, the Hummer's available monster truck-style four-wheel steering plus "crab mode" (whereby the vehicle can move diagonally from stop) means that even though it has a longer wheelbase and more room inside than does the Mach-E, it's actually the more maneuverable of the two vehicles.
"The crab-walk feature could also prove useful in urban settings (along with off-road settings)," said Al Oppenheiser, chief engineer of the GMC Hummer EV. "Imagine being able to maneuver around a delivery truck that stops directly in front of you, blocking your path. Crab walk can help you get around it, and get you on your way." It is true, though, isn't it? I know I've thought to myself on more than a few occasions "if I could just slither my way through there, I may just be able to make that left-turn arrow…"
Power is down slightly on the SUV when compared to the pickup for the simple reason that there just isn't as much room in the SUV's footprint to allow for the Pickup's 24-module battery pack. As a result, the SUV is restricted to a either a 16- or 20-module pack for a total claimed output of 830 horsepower and 11,500 pound-feet of torque and up to 482-plus km of range.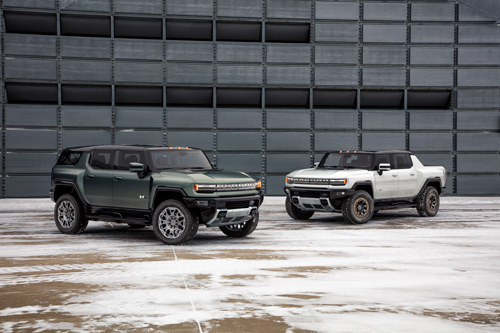 Speaking of the range: much time has been spent on the SUV's infotainment interface to firstly make it look ultra-modern and almost video game-esque (GM has partnered with Epic Games, whose Unreal Engine has underpinned many video games and graphics programs) with its 13.4" display, but also intuitive and a great partner when it comes to planning the various charge points you require for any trip – regular or otherwise – you may undertake. They've also developed a database of various off-road trails that drivers may want to attempt, and where along (or, more likely, around) those trails they may find a spot to charge the vehicle. In addition to being compatible with 300-watt DC fast charge systems that get you 100 miles of range (about 160 km) from a 12-minute charge, the SUV can also output power as it has an on-board 3kW generator. A mite less than what you can get in the top-spec F-150 Powerboost pickup, but still nice to have.
All that's well and good but this is a Hummer, and a Hummer needs to be able to go off-road in the harshest trails and for that, you're going to need more than a quartet of trick wheels.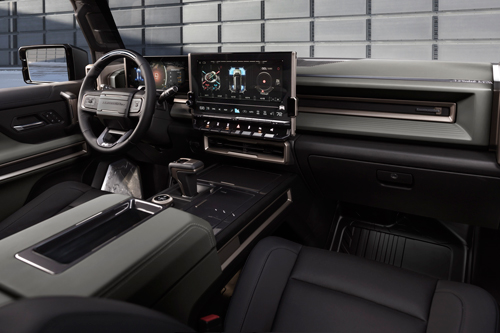 In addition to the 13" of suspension travel, 34.4-degree breakover angle as well as approach and departure angles that sit below 50 degrees and the ability to ford water two feet deep, the SUV will have an Extreme Off-Road Pack option that adds 35" Goodyear Wrangler Territory off-road tires, reinforced underbody, rock sliders, cameras that look down at the terrain you're traversing (each with its own washer), front eLocker and rear virtual locker.
On top of all that, the SUV gets all the on-road goodness new GM products are becoming known for such as Super Cruise autonomous tech, one-pedal driving with brake regen and Ultium battery tech.
Exciting times for sure, but unfortunately we Canadians are going to have to wait until the Fall of '23 before we can actually get our hands on one of these.
Why so early with this reveal, then? Well, the pickup will be coming to the US soon and while the SUV will be arriving in the US at the same time it does in Canada, the Hummer is part of the next-generation of GM products (along with the likes of the Cadillac LYRIQ) so according to GM, it's time to start generating buzz right now.
Let's hope for GM's sake that it will be worth the wait.
Link: GMC Hummer EV Canada