This past January, I hit the big 4-3. While not exactly a milestone, I bought myself the recently reissued Seiko SNJ031, to celebrate. Known colloquially as the "SafArnie", it is an olive drab version of the analog/digital hybrid watch worn (the Seiko H558) by Arnold Schwarzenegger in Commando, The Running Man and, most importantly, the first Predator movie. I grew up on those flicks, continue to re-watch them now and have a deep seated love for Seiko so — much like those flicks, actually — it was a no-brainer.
Like the characters portrayed by the former Governator, the SafArnie is deadly accurate (thanks to its quartz movement), affordable, tough as nails (thanks to a beefy plastic shroud), and proudly wears its bulk on your sleeve. It's a go anywhere, do anything kinda watch that you won't whimper about if it gets bonked. Basically, it's the perfect timepiece for rugged outdoor adventures.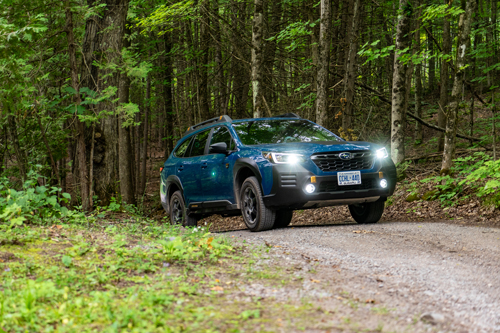 The 2022 Subaru Outback Wilderness feels very much like the automotive equivalent to the SafArnie strapped to my wrist. There's extra cladding at the fenders, the hood wears a strip of eye-black to dull shine, it rides 25mm taller than a Jeep Grand Cherokee and its relatively affordable: It's a go-anywhere, do anything kinda station wagon that you won't whimper about if it gets bonked.
But is it the perfect vehicle for rugged outdoor adventures?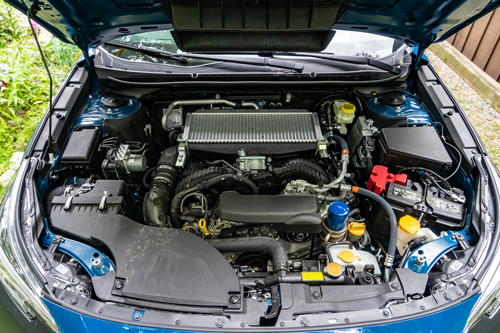 Powertrain:
Even if adventure and exploration isn't your primary motivator, know that the Wilderness is the least expensive Outback variant to be powered by the turbocharged, 2.4L boxer motor that debuted in the Ascent SUV.
There are 260 horsepower on tap with this mill and 277 lb-ft of torque, which is a nearly 80hp bump and 100 lb-ft increase over the naturally aspirated 2.5L option. Trust me when I say that the turbo provides a welcome boost, especially when you're lugging 1,789kg of car around, before you've packed it to the rafters with MEC goodies.
To paraphrase Predator's Dutch (which I may do a few more times), "If it spools, we can flog it!"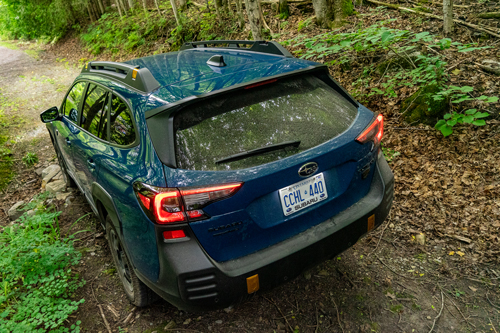 Mated to a revised version of Subaru's High-Torque CVT transmission, the Wilderness features both lower gearing and a shorter ratio (4.44:1). That, coupled with the all-wheel-drive system, not only means you can launch this Subie a little quicker off of the line but it should also crawl more readily through more adverse terrain.
Mileage does suffer accordingly, but it's certainly not SUV levels of bad. Subaru reports 10.9 L/100km city and 8.9 L/100km hwy. In my nearly two weeks with the Wilderness in a variety of mixed conditions, I saw an average of 9.5 L/100km.
Exterior:
If my predilection towards thick n' chunky wristwear didn't clue you in, let me be clear when I say I think this is also the best looking Outback Subaru has ever produced. Instead of masking it's capabilities behind plasti-chrome adornments and blingy alloys, it fully embraces its rough and tumble nature.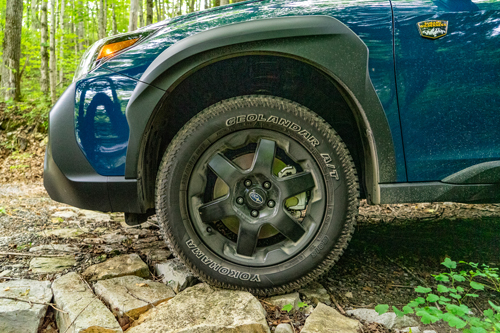 Sure, the breadth and reach of those fender flares are a little "Bro-Dozery", those slab-like bumpers appear monolithic and there are a lot of different shapes in that grill but, combined with the Geyser Blue paint (or even better, Autumn Green Metallic), it's a damned handsome ride that's certainly on trend. Think more Bronco Sport Badlands or Cherokee Trailhawk and less Volvo Cross Country and you'll see what I mean. It's a look that, every time you peer at it, will challenge, "What's the matter, your office gig got you pushing too many pencils?"
Interior:
That character carries over beyond the doors and glass too. All of the seating surfaces are wrapped in Subaru's water repellent and infinitely wipeable StarTex fabric. All floor mats are rubberized, complete with Wilderness branding and the hatch houses an equally rugged cargo tray. Again, even if your brand of adventure only involves dog parks or hauling the kids to school, you will come to appreciate these features.
The plasticy touch points are sadly all piano black. Which means they look good for about 30 seconds after you enter the car. Magnets for fingerprints, dust, dirt and grime I would have preferred some equally tough-wearing choices here as there's no need for elegance here. Something with a matte finish would certainly go better with the character of the car but hey, parts bins gotta empty themselves somehow, right?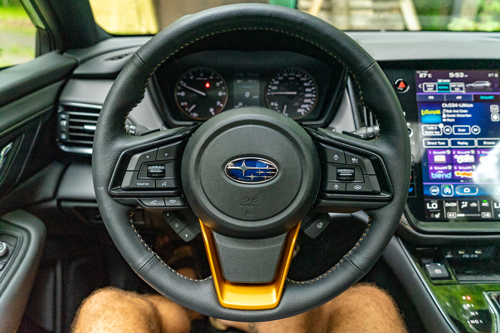 The seats, both front and rear, are heated and the steering wheel is too. While July's temps didn't have me using either, it adds to the Wilderness' winter appeal.
Up front, everything is comfortable with power adjustments and tweakable lumbar support. Even the rear seats will recline and they continue to offer enough room for full-sized humans.
Cargo space behind those seats rings in at 920L and, once folded, you get a whopping 2,144L, which is more than you score in a Defender 110 — and the Wilderness also packs a full-sized spare tire, too.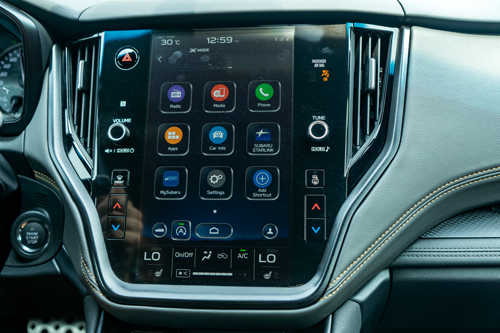 Infotainment/Technology:
Where the Wilderness (and Subaru in general) drops the ball, is in the infotainment department. The 11.6-inch touchscreen is bright and well placed but it's numerous menus and submenus are off putting. I'm sure there are ways to streamline things, via apps, to ease the user experience (Android Auto and Apple CarPlay help) but I found it finicky at best.
Most OEMs are coming around to the fact that a smattering of buttons and knobs for fundamentals is a good idea, but that hasn't happened yet here. I would have loved to have seen dedicated switchgear for climate control and the dual-mode, X-Mode at the very least.
Regardless of how it's activated though, that new X-Mode is a useful bit of tech. One of the issues with the X-Mode that populates all non-Wilderness branded Subies is that it was speed sensitive and once you accelerated past its limit, you'd need to first slow down and then physically reactivate it. Now, with the addition of "deep snow/mud" mode, the system will automatically reactivate itself even after (a now elevated) overspeed event. What that means is, in a situation where a quick and forceful use of the accelerator could actually benefit your traction situation or placement in a precarious spot, the system accommodates.
The integrated hill descent feature also works quite well. Just remove your foot from the loud pedal on a decline and the Wilderness will crawl along. If you need to add a bit of speed, the adjusted throttle then becomes the norm — it's a great little feature and it even works in reverse.
Drive:
Any time you start modifying a vehicle for a more specialized purpose — racing, drifting, off-roading — it inevitably loses chunks of its all-around drivability. Strangely, that just isn't the case here. The Subaru Outback Wilderness drives exactly like its non-lifted, more suburban-styled brethren.
There isn't any extra discernible body roll, no added howl from the Geolandar tires. It accelerates with appreciable promptness and while I'm not a huge fan of CVTs, using the wheel-mounted paddles to choose "gears" certainly feels about right. In fact, everything feels very Outback-like. And believe me, that's a compliment.
I sadly can't comment on how the Wilderness handled any truly rugged terrain. The only real options I had available to me included gravel cottage roads and some slightly washed out sections of the same. None of those posed any real threat to traction nor the approach or departure angles of this rig (19.6 and 23.6 degrees, respectively). They're roads I've driven and ridden on hundreds of times before in far less-capable vehicles but I honestly wouldn't hesitate to venture further in one.
I'm not talking about tackling Moab or crossing the Rubicon mind you — it would take some beefier rubber before I'd consider those — but for a family looking to avoid trailer parks and find virgin campsites or even make some fresh tracks on the mountain, in the middle of a blizzard, the Wilderness should be a willing and capable companion.
Conclusion:
Driving around in the Subaru Outback Wilderness makes me feel 38% more Oregonian. It's equal parts outdoorsy and woke. It's a car that tells the world "I too am intrigued by the youths' new version of #vanlife and climbing slick-rock sure sounds neat, but I've got normal crap to do too. There's work on Monday, junior has hockey Tuesday night and an easy access hatch is a must for groceries on Thursday".
The Subaru Outback Wilderness is the practical alternative to the fantasy world that spurs people to buy Jeep Wranglers or Ford Broncos. It's the Seiko SafArnie, not the Rolex Explorer II. It's a roomy, comfortable wagon that will accomplish 90% of your overlanding dreams while still schlepping you and the fam around town in absolute comfort. And you probably won't care when it gets roughed up a bit. At least not the second time.
2022 Subaru Outback Wilderness
Base price: $41,995.00
Configuration: Front engine, all-wheel-drive
Engine/Transmission: 2.4L turbocharged, horizontally opposed 4-cylinder / CVT automatic
Power/Torque: 260 horsepower / 277 lb-ft
Fuel economy (litres/100 kilometres): 9.5 observed
Alternatives: Ford Bronco Sport Badlands, Jeep Cherokee Trailhawk, Toyota Rav4 Trail AWD
Link: Subaru Canada