A Mustang SUV, and an electric one at that, still certainly feels wrong in some respects.
But a week behind the wheel of this EV definitely goes a long way in convincing me that this is a worthwhile vehicle, even if there were some minor things that could be worked on.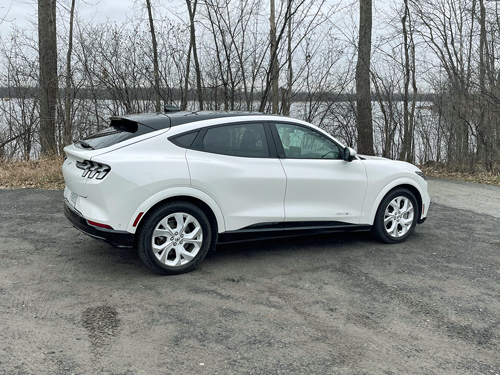 Our tester has a base price of $64,745, with $9,950 in options – with $8,000 of that for the larger 91kWh battery. The final cost, as tested, is $76,690.
Depending on where you live in Canada, you may get some relief from your provincial government in the form of a rebate, but the Mach E is not eligible for any incentives from the federal government.
Powertrain: This electric Mustang may lack some of the traditional features of the legendary sports car, but its power numbers are certainly nothing to sneeze at.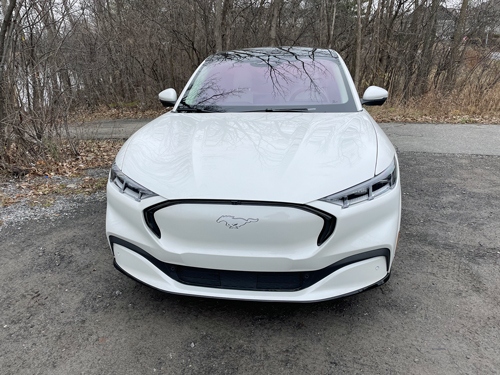 The Mach-E Premium we tested is rated at 346 horsepower and 428 pound-feet of torque, and that's plenty of motivation for this vehicle.
Our tester had the larger 91 kWh battery pack (an $8,000 addition) and Ford lists a range of up to 418 kilometres on a fully charged Mach-E Premium eAWD. However, the highest I ever saw with a full charge at home was slightly over 300 km. There's obviously a number of variables that affect that range, but the weather was not one of them for the week I had the Mach-E.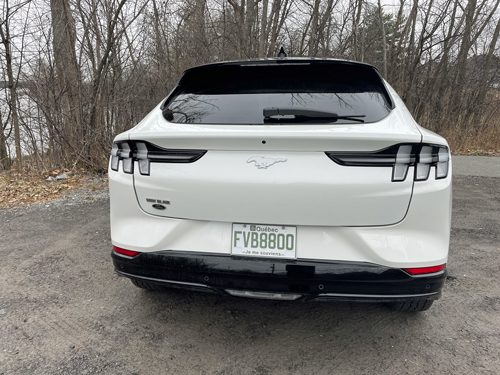 The Mach-E Premium eAWD is rated for an electricity consumption of 23.1 kWh per 100 kilometres (combined highway and city driving), and I achieved a result of 29.9 kWh with quite a bit of highway driving in there.
One thing I really enjoyed out on the highway, where you can really push the Mach-E, was the fact you could select the "unbridled" drive mode and the vehicle pumps sound into the cabin to make it feel like you are accelerating with a throaty V6 under the hood. Yeah, it's fake and all, but I enjoyed using it – and you even get some cool graphics in the display cluster.
Exterior: While the logo might be the same as the iconic sports car, the look is vastly different.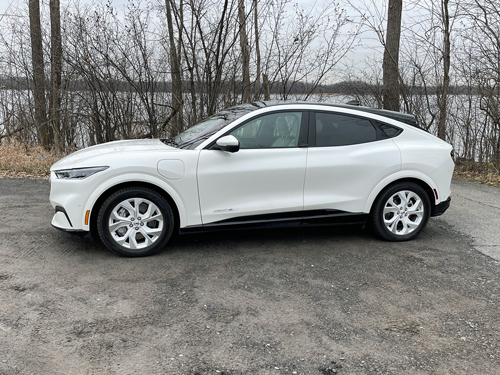 Let's start with the fact that the Mach E is an SUV.
Thankfully it retains some muscle lines on the hood – which now hides a storage compartment rather than a powerful engine – as well as a nice shoulder line and haunches over the rear wheels.
At the front, you have a solid grille area framed with nicely shaped slim headlights.
As mentioned above, the white painted wheels definitely give our tester a unique look.
White is not usually my favourite colour on a vehicle, but when you add the Ice White Appearance Package on the Mach-E, it wins me over. For $1,500, you are making quite the impression thanks to the 19-inch alloy wheels with white painted pockets on them.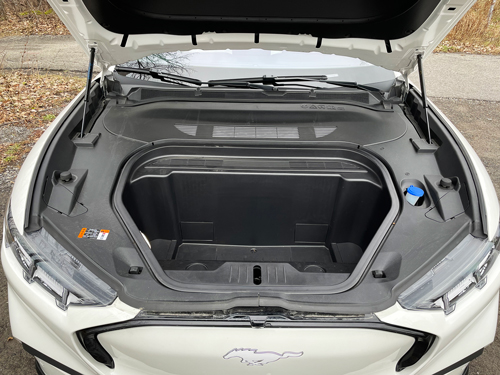 While I am used to seeing black on black, this white-on-white treatment is equally appealing.
At the rear is an ode to its namesake with the triple light design for turn signals.
And if you are looking for door handles on the Mach E – inside or out – you will be disappointed.
Instead of handles, you simply press a button on the black trim and the door pops out ever so slightly for you to grab and open. It definitely tricked a few passengers who couldn't figure how to get in or out of the vehicle at first.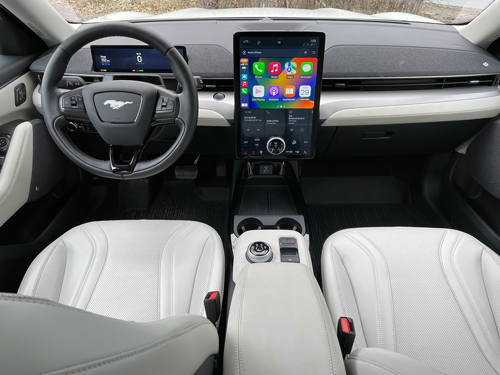 Interior: The roof of our tester is a large glass panel that just floods the cabin with natural light.
Also making sure the cabin always feels airy on our tester was the white interior materials for the seats, dash, and door inserts.
It's a pretty clean and simple design inside the Mach E, with controls centralized around the large central screen, and a very minimalist gauge cluster behind the steering wheel.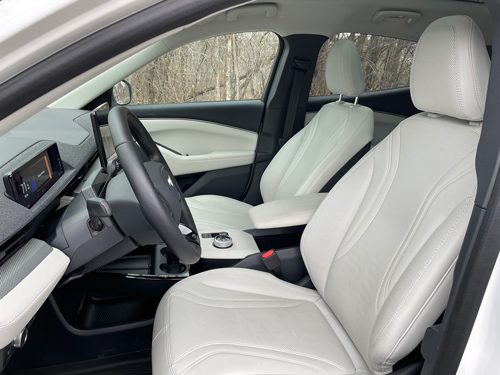 The design of the dash, including slim air vents, definitely helps the cabin feel wider.
Rear seat occupants get plenty of room, and the Mach E has a very good amount of storage room behind the seats.
Infotainment: The focal point of the cabin is the large, vertically orientated 15.5-inch infotainment screen.
It's really hard to miss and is the brains of the whole operation.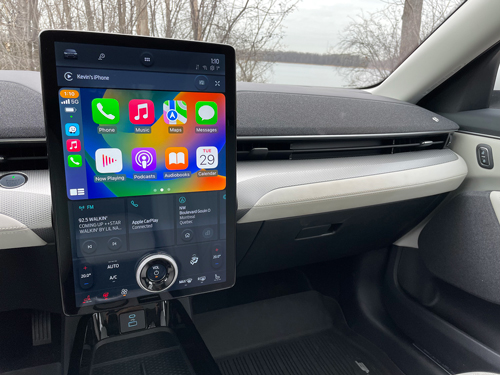 With wireless Apple CarPlay and Android Auto, wireless charging, satellite radio and navigation, it checks all the boxes you have come to expect from a modern vehicle.
It also does much more – for better or worse.
Like many vehicles, this screen is now used to control things like heated seats, ventilation, and other functions.
While mostly trouble free, it does take some getting used to where everything can be found in the various menus. Most EVs seem to be going the route of less buttons, but there is still something to be said for more traditional controls.
Drive: It took me a few days to get fully accustomed to the one-pedal driving on the Mach E as I have been accustomed to the EV our family owns. But once I did so, it was actually quite good, and I preferred having it on rather than deactivated.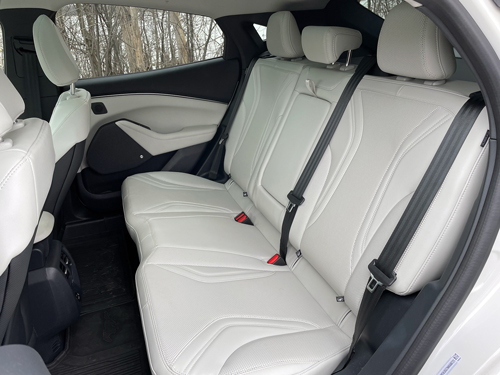 With this system, the Mach E will essentially bring itself to a complete stop simply by releasing the accelerator. I have learned, however, that while this system is great, it's probably still a good idea to use the brakes on the Mach E, or any EV, regularly to avoid issues down the road.
The Mach E has a lot of pull thanks to that torque, so acceleration is never an issue. Passing power is also easily called upon.
The driving feel is smooth, and I had no real issue with how the vehicle drove or handled. Given that it's an EV and there's no engine noise, you may notice some outside noise a little more, but that is not a major issue.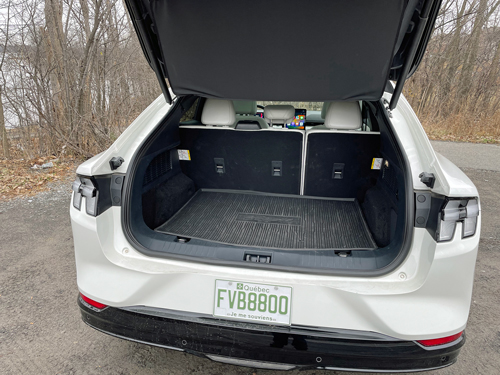 Conclusion: This may not be the Mustang of yesteryear, but it certainly has some cachet of its own.
Purists may deride the use of the name, but as EVs go, this one delivered a solid week of driving enjoyment.
Like any EV – or any vehicle for that matter – you will need to be patient to get your hands on a Mach E. It may not be perfect, but it does have some things going for it, but also one big hit against it, at least as tested: The price.
While you wait for your Mach E, shop for a charger for your home and have it installed. Although the car comes with a cable you can plug into any outlet, I was happy I had a Level 2 charger at home to recharge the Mach E quicker after a few long highway runs and highly recommend that for anyone buying this or any other EV.
2022 Ford Mustang Mach-E Premium eAWD
Price as tested: $76,690.00
Freight: $1,995.00
Configuration: Front engine/All-wheel drive
Battery/transmission: 91 kWh/ Single-speed automatic
Power/torque: 346 horsepower/ 428 lb-ft of torque
Estimated Range: 418 kilometres
Combined energy economy ratings (kWh/100 km): 23.1
Observed economy (kWh/100 km): 29.9
Warranties: 3-years/60,000 km (basic)
Competitors: Audi E-Tron, Hyundai Ioniq 5, Kia EV6, Tesla Model Y, Volvo XC60
Website: Ford Canada