Let me be completely transparent here, there is no rationale explanation as to why the Lamborghini Urus exists in a world that is rapidly going down the road of electrification. In fact, it is twice compromised with regards to sensibility because who really needs a 600+ horsepower SUV that can dust off many exotic sports cars at a stoplight, then continue the dusting by getting down and dirty when the pavement ends and the road ahead is nothing but rocks and dirt.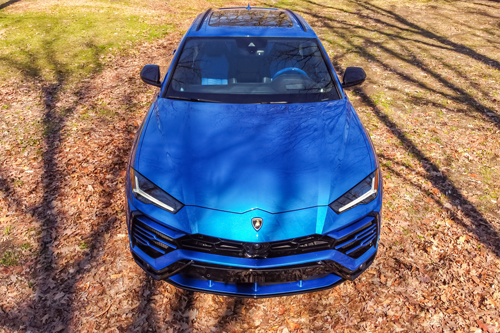 If there is a practical argument for the Urus, I can't think of it. And that's what makes it so perfect. It defies common sense and I find that a refreshing concept in a world where everything must be justified to the nth degree or risk being out of synch with the market.
"The Lamborghini Urus is a visionary approach based on the infusion of Lamborghini DNA into the most versatile vehicle, the SUV. The Urus elevates the SUV to a level not previously possible, the Super SUV. It is a true Lamborghini in terms of design, performance, driving dynamics and emotion as well as drivable every day in a range of environments," says Stefano Domenicali, Automobili Lamborghini Chairman and Chief Executive Officer. "The Urus fits perfectly within the Lamborghini family as a high performance car. It is the culmination of intensive development and passionate skill to create a new breed of bull: a Super SUV that transcends the boundaries of expectations and opens the door to new possibilities, for both our brand and our customers."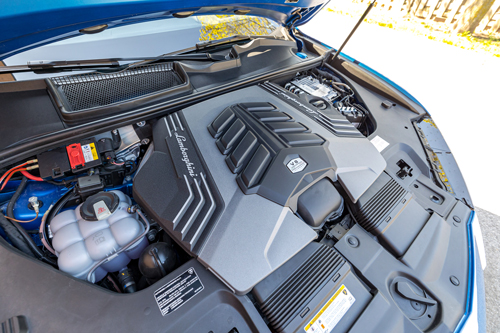 Powertrain: Driving the Urus isn't that much different than driving an Aventador, it's just that you sit higher and feel in command of all road surfaces, not just flat, winding asphalt. Power figures for the 4.0L twin-turbo V8 engine highlight 650 horsepower at 6,000 rpm and 627 lb-ft of torque at 2,250 rpm. Matched to an 8-speed automatic gearbox, zero to 100 km/h takes 3.6 seconds and 0-200 km/h is equally impressive at 12.8 seconds. Top speed crests at 305 km/h.
Braking from 100-0 km/h requires a mere 33.7 metres. It's the kind of stopping power you would expect from an exotic sports car, especially one that features front aluminum 10 piston brake calipers and carbon ceramic brakes at all four corners. You can get anywhere fast, but equally important is the fact you can stop anywhere almost just as quickly. Getting in and out of 'trouble' shouldn't be this easy.
Exterior: The body design delivers an edginess that only Lamborghini seems to master currently. Sure the new upcoming Tesla Cybertruck is all corners and angles, but in picture form at least, it lacks the styling and aggressiveness inherent in the Urus. Short overhangs and a coupe-like profile deliver an aura of strength and dynamic performance that never gets tiring. There is no mistaking this SUV for anything than what it is; fast, loud and a gut-punch to market sensitivity.
The true litmus test for me as to whether or not a vehicle is a hit is the reaction from my neighbours when I arrive in the driveway with something a little bit different. In the case of the Blu Eleos 2021 Lamborghini Urus, car alarms were sounding, small children and teenagers were clamoring for a look inside and parents kept knocking on our front door asking if they could take selfies. Try getting the same reaction from a lesser vehicle, it's just not going to happen.
Interior: The similarities with other current Lamborghini's continues on the inside. Seats are grippy in all the right places, holding you in place through a fast corner or wading through mud-slicked roads. Drive modes range from Strada which is normal through to Sport, Corsa, Sabbia, Terra and Neve. From sunny to snow-covered, you are always in control.
Of course, what would driving a Lamborghini be without having to flip the red cover and expose the engine Start/Stop button. It may seem trivial, but its all part of the experience. You feel cool just doing it. Paddle-shifters engage each gear with tenacity and it is so easy to drive on winding backroads or around town.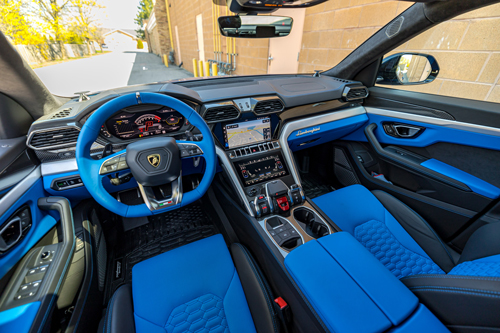 Our test vehicle features a brilliant blue and black interior combination referred to as Nero Ade/Blu Amon. It is as much a shock to the eyes as the exhaust is to the ears. Combined with the optional Big Interior Carbon Fibre package ($6,956) Sportivo Leather Seats ($3,288) Seats in Leather with Q-Citura ($4,173) Contrast Stitching ($866) Embroidered Shield on Headrest ($1,138) Ambient Light Package ($4,047) Full Electric Comfort Seats w/massage ($4,173) and much more, this is a great place to get energized by the colour combination while relaxing to the touch of a lower back massage. Seating is for five adults, with excellent rear storage as expected in an SUV.
Infotainment: Not to be outdone by all the pomp and circumstance provided by the power and design of the Urus, audio sounds are provided by an Advanced 3D Bang & Olufsen Sound System. It delivers a symphonic quality to whatever you might be playing at a level that would make any music aficionado cry tears of joy. The interface is surprisingly easy to use, with obvious home, music and sync buttons available on the touchscreen interface. The HVAC system, also touch sensitive, is complex in features, but equally simple to use.
Drive: It would be natural to assume the four-wheel drive system on the Lamborghini Urus is excellent given the Italian bull is part of the Volkswagen Group and it doesn't disappoint. Whether or not you plan on taking this $300K+ SUV off-road is another issue, but it can handle almost anything should you want to try. The Torsen central locking system defaults to a 40/60 front/rear bias, but has the capability to deliver up to 70% to the front and 87% to the rear as needed. Active Torque Vectoring further enhances traction as it can deliver power to each individual wheel when required.
Rear-wheel steering delivers added control, providing the Urus with a serious dose of spontaneous cornering abilities. It is not a sports car, but it is also so much more than an SUV. Plus the sound resonating from the rear exhaust as you accelerate away from a stop or into a tight hairpin, especially in CORSA mode, is enough to convince you to push harder in the corner and ride the magic carpet.
Conclusion: In the end, you come to realize there is a practical side to the 2021 Lamborghini Urus. It's just way to much fun to crackle the V8 engine and watch as people stop in their tracks to see it's passing. The line-up for selfies starts at 3 pm, bring your smartphones!
2021 Lamborghini Urus
Price as tested: $319,855.00 CDN
Configuration: Front engine/four-wheel drive
Engine/transmission: 4.0-litre twin-turbo 8-cylinder/ 8-speed automatic
Power/torque: 650 horsepower/ 627 lb-ft of torque
Fuel (capacity): Regular (85 L)
Combined fuel economy ratings (L/100 km): 16.9 L/100 km
Warranties: 3-years/Unlimited km (basic)
Competitors: Aston Martin DBX, Bentley Bentayga, Porsche Cayenne Turbo S
Links: Lamborghini Canada