Just when you think Chrysler has gone as far as they're going to go with one of their Hemi engines – first the 300, Challenger and Charger triplets were the only Chrysler models (or are we supposed to say "Stellantis models" now? Nah) to get the Hemi, which makes sense. Then the Ram 1500 got one; somewhat less traditional, that, but sure. Then the Grand Cherokee gets one, and then another, and then another to the point where it's the most powerful SUV you can buy and it seems they're starting to lose their marbles a bit.
Then the Ram TRX debuts and you're like "whoa. Yeah, we saw the concept years ago but these guys have always made crazy concepts and WHAT?!!? It's for REAL?!!?" and you think they've gone as far as they're going to go.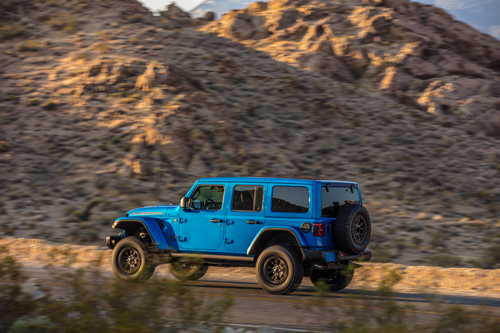 Which brings us to November 2020 – that's 2020, one of the craziest years most people ever remember experiencing – and they've given us this absolutely crazy 6.4-litre Hemi-powered Jeep Wrangler Rubicon 392. It's not a concept like 2016's Trailcat, it's not a tease – it's not even a special edition, really; it's a full-bore, honest-to-goodness, blue-blooded production-ready Jeep Wrangler.
Of course, this isn't the first time we've seen a V8 in a Wrangler (though it is the first time we've seen a Hemi); the CJ had one but the last time we saw it was in 1981, when the hard-working AMC 304 unit finally gave way to late OPEC-era fuel misering as there just wasn't a business case any more.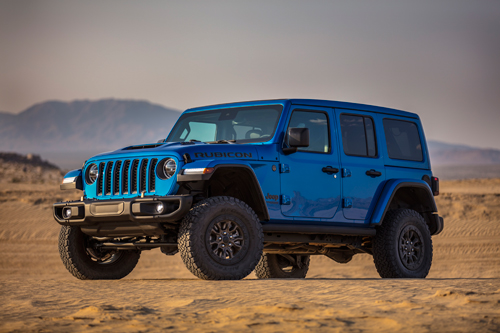 Of course, the 392 uses a far more powerful – and sophisticated – V8;  one that's good for 470 horsepower and 470 pound-feet of torque, but can run in four-cylinder-mode to save on fuel while cruising. It's cute that they include that, but we're fairly certain that most Wrangler lovers aren't really going to pay much attention to it; the Wrangler's boxy shape has never really led to great fuel efficiency anyway but it doesn't really need to because that's not really what a Wrangler's about. Plus, if fuel savings are what you're after, there's always the 4xe plug-in hybrid model, which, conveniently, will be arriving around the same time this one does.
Indeed, a Wrangler is supposed to be more about rock-climbing and off-roading, both practices that aren't exactly the gold standard when it comes to fuel efficiency.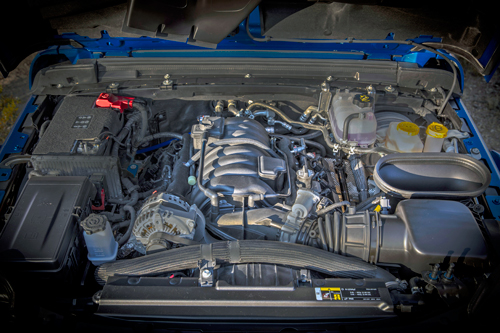 And don't think that just because this Wrangler gets a V8, it's going to be some boulevard and beachcombing queen – ohhh no. Like all Wranglers have to be, it's Trail Rated, has Dana 44 axles, a two-speed transfer case with 2.72 low-range gearing, rock crawling drive modes and a crawl mode that does all the throttle and braking work for you, so you can focus on your steering inputs. Not only that, the 392 rides higher than other Rubicon models and has been given a Hydro-Guide intake system so the V8 doesn't drown when fording through water up to 32.5" deep. There are also upgraded Fox shocks, frame rails and upper control arms so the 392 will be able to handle anything you throw at it when off the beaten track.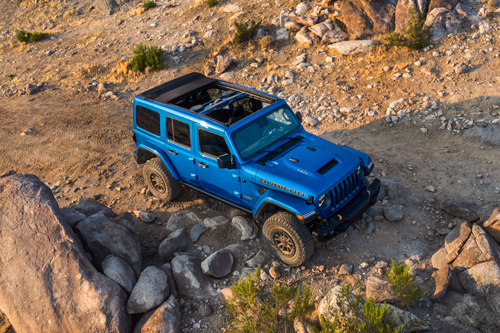 Back on the beaten track, though, the Rubicon 392 will sprint from 0-100 km/h in about 4.5 seconds and reach a top speed of about 160 km/h. You thought the V6- and four-cylinder powered Wranglers were loud at speed on the highway? Well, just wait for this baby.
There are some sacrifices that had to be made, however; the 392 Rubicon comes only as a four-door Unlimited model, so the two-door and Gladiator trucks are going to have to wait on the sidelines for now. With the flared wheel arches, hood bulge and bronze colouring accents on the body, it will be hard to mistake the 392 for anything but.
Of course, if you want to stand out even more, Chrysler's Mopar division is already hard at work developing all sorts of parts and accessories for the 392, including tube-style doors, beadlock-capable wheels, and LED off-road lights.
No pricing has yet been available but we won't have to wait too long for it as the 2021 Jeep Wrangler Rubicon 392 will be arriving in dealers early next year, so we expect to hear word on pricing some time soon.