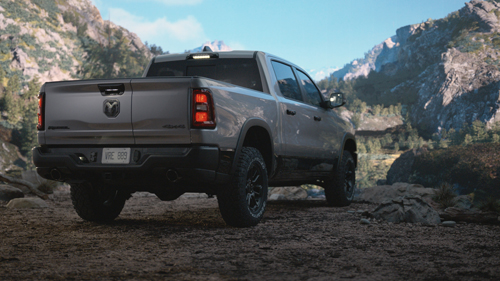 While the writing may have been on the wall as soon as Dodge announced the end of the Hemi V8-powered versions of the Challenger and Charger muscle cars, it does come as a small surprise that Dodge's partner company Ram has announced their new line-up of light trucks will be eschewing Hemi power as well.
Instead for 2025, what we'll be seeing with the arrival of the all-new Ram pickup are three powertrain choices, none of them rhyming with "semi": a twin-turbo straight-six Hurricane option – that's one of two gas-only options along with a 3.6L Pentastar V6 – as well as the all-electric Ram REV ("Ram EV") and something entirely new: the Ramcharger plug-in hybrid (PHEV).
Only, if you ask Ram, the Ramcharger isn't a PHEV but rather a "power station on wheels," according to chief engineer Joe Tolcaz. He's not wrong; if it were a PHEV it would follow that the 3.6L Pentastar V6 motor on board would propel the truck, but it doesn't. Instead, the engine is used as a power generator for the charging system. And what a charging system it is; it makes use of a 130 kW on-board charger that can return 50 miles of charge in 10 minutes of charging. Charging that starts, by the way, as soon as your range dips below 145 miles (total range is a claimed 660 miles, or about 1,060 km). Power-wise, look for the Ramcharger to make 663 horsepower and 615 pound-feet of torque, plus the ability to tow up to 6,350 kg. Those are some proper workhorse figures, though the range will dip one you start to tow or begin to test the 1,190 kg payload. Either way; we're talking what looks like a serious entry in the world of alternative-powered trucking.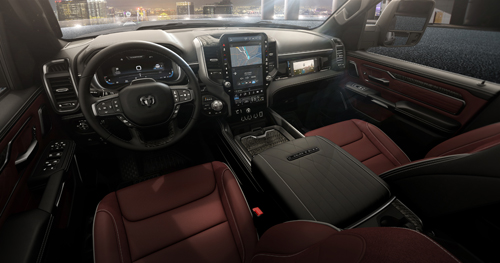 Speaking of that: let's not forget the Ram REV, a fully-electric truck set to do battle with the Ford F-150 Lightning. It promises 500 miles of range, and the ability to charge at up to 150 kW, meaning a recharge time of 10-80 per cent in about 30 minutes or so. Its towing figures equal that of the Ramcharger, so while you lose the range-extending benefits of the PHEV version, it still has the performance.
The Hurricane-powered trucks, meanwhile – including the new high-luxury Tungsten trim, which adds patina metal accents, 24-way power adjustable front seats, 23-speaker Klipsch audio (seems McIntosh and Ram didn't get along) and special indigo interior and dual wireless charge pads – are good for no more than 5,375 kg of tow, meaning they lag behind the electrified trucks and all the torque those make. However; at 540 hp and 521 lb-ft in high-output form and 420/469 in standard form, the Hurricane-powered trucks do make more power than the old 5.7L Hemi did.
While Ram is playing coy on the possible return of the high-performance TRX model – all RAM CEO Tim Kuniskis would say is that "we're putting the TRX name on the shelf – for now" – they are coming with two performance models: the off-road special Rebel and RHO high-output model.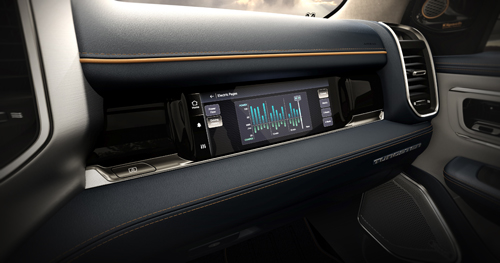 All 2025 Rams, meanwhile, will be bestowed with a 12" central display and the latest Uconnect infotainment (a 14.5 incher is optional), upgraded materials and premium touches, and an optional 14.5" display ahead of the passenger, as seen on the Jeep Grand Wagoneer.
They also look new thanks to a new grille style with enlarged "RAM" lettering thereon, a new optional power tailgate and new headlights.
On the safety front, look for an optional digital rear-view mirror, adaptive cruise control with hands-free lane change-assist and trailer line-up assist that will help you line up your trailer and even steer the truck in for you.
It's a new day for Ram in '25, and with electrified models and all-new styling and interior build quality, that means the always hot pickup market will be heating up further still.