With the rest of the automotive world sprinting to get to a full-electrified vehicle line-up, it appears that even the most hardcore and some would say "old school" brands aren't exempt.
Enter the Jeep 4xe – no, that's not a typo – line-up of SUVs, the next horizon for one of America's most storied brands.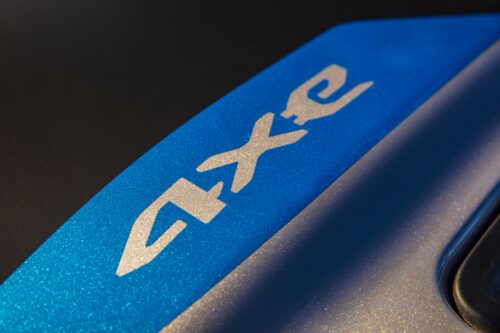 Speak of "storied": it doesn't get much more storied than the Jeep Wrangler, and it will be one of the three Jeep models to get 4xe tech at the outset, joining the Renegade and Compass small crossovers that are already on sale in Europe. The Wrangler, however, is the only 4xe Jeep model that will be making its way to our shores — for now.
"I'm very interested in bringing (the Renegade and Compass) available to  North America as well," said Christian Meunier, Global President of Jeep. "It's a very good potential market for them."
Essentially, "4xe" designation turns the Wrangler into a plug-in hybrid electric vehicle (PHEV), boasting 375 horsepower and up to 40 kilometres of all-EV driving. There will be three Wrangler models that get the 4xe designation: 4xe, 4xe Sahara and 4xe Rubicon. That's right: even the most hardcore Wrangler model will get the PHEV treatment, because according to Jeep, slowly climbing rocks on off-road trails is actually one of the best uses of the EV boost thanks to the extra torque it provides.
Power is made from the combination of a 2.0L turbocharged four-cylinder and two EV motors: a 33 kW unit mounted to the engine and a 100 kW motor mounted to the transmission. Combined torque, meanwhile, is rated at 470 lb-ft which is a pretty stump-pulling number.
Thing is, this is still a Jeep Wrangler and Jeep Wranglers are all Trail Rated, meaning they have to work off-road.
In that light, the Wrangler 4xe maintains the off-road chops of other Wranglers. Both the 4xe and Sahara get a full-time 4×4 system, Dana 44 axles and two-speed transfer case with a 2.72:1 low-range ratio. You can also add a Trac-Lok limited-slip rear differential for even more off-road performance.
The Rubicon 4xe, meanwhile, gets a 4:1 low-range ratio, electronic front and rear locking axles and Dana 44 axles both front and rear. It all helps to provide a 77.2:1 crawl ratio, which is just right for all your rock-crawling needs. There's also electronic sway-bar disconnect for even better wheel articulation.
So that's the more traditional Wrangler stuff. What about the new stuff?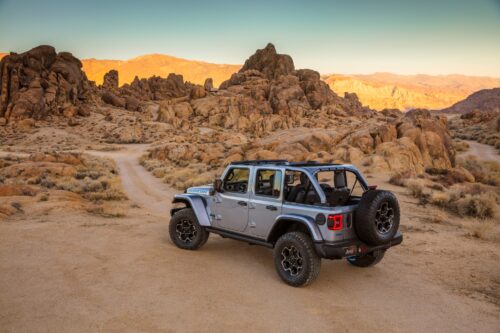 In order to ensure that the Wrangler 4xe loses no ground clearance or interior room, the 96 cell, 17 kWh lithium-ion battery pack gets stuffed beneath the second-row seat to both save interior room and ensure the battery itself doesn't get banged up by errant stones and so forth. As a result, the Wrangler 4xe is even able to ford through up to 76 cm of water.
As many modern hybrids have, the Wrangler 4xe gets a number of driving modes to help you achieve efficient progress: Hybrid, eSave and Electric.
Hybrid mode works as it sounds: when activated, it blends torque from both the gas and electric motors, using all the battery power force and only activating the gas engine once battery power is spent.
eSave works at the opposite end of the spectrum by prioritizing the gas engine over the EV motors. This way, you can preserve EV power for when you need it the most: during stop-and-go traffic, where internal-combustion engines (ICEs) tend to be at their least efficient. When in eSave, meanwhile, you can select between either battery save and battery charge modes if you want to better control how much work the ICE has to do, and how much fuel is going to be used.
Finally, Electric mode is exactly as it sounds: when activated, the Wrangler 4xe operates as a completely zero-emission vehicle (ZEV). Electric mode will deactivate once the battery reaches minimum charge or when more torque is demanded, such as in instances of hard acceleration.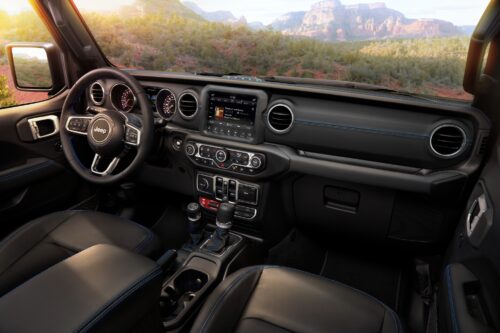 The customization doesn't stop there; drivers can also set a max-regen mode, which slows the Wrangler 4xe down more quickly once the throttle is released, for more regenerative braking.
It all combines to ensure that even though it looks like an old-school Wrangler (the main visual differentiators include some electric blue colouring on the tow hooks, the Trail Rated badging and hood graphics. Inside, blue stitching on the seats are your main differentiators) and works as the Wrangler always has, it's also firmly rooted in the new world of hybrid powertrains and electrification.
Look for the 2021 Jeep Wrangler 4xe PHEV in Canadian dealers later next year.