In the never-ending arms race that is the full-sized pickup truck segment, manufacturers are turning their design pencils and engineering might to areas on their vehicles that weren't given but a second thought a few short years ago. Lights and power outlets in the bed? Check. Innovative storage solutions inside the cab. Yewbetcha. Macho trim levels equipped with checkered jackets and a beard in the glovebox? Well, maybe that's a bridge too far.
What's not a bridge too far are innovations at what is, quite literally, the tail end of a pickup truck. The lowly tailgate, once simply a thin piece of sheet metal that had to be wrestled with to provide and semblance of functionality, is now offered with more addenda than the average TikTok video. Ford introduced an integrated pull-out step in the last-gen F-150 and GM recently jumped on board with the MultiPro tailgate that folds like an origami puzzle.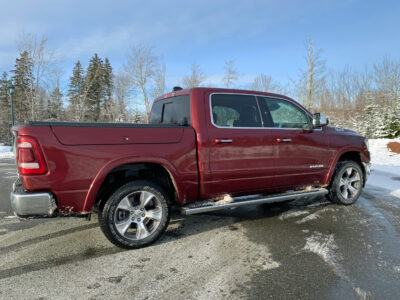 Ram joined the tailgate party with its own take on the theme of added functionality. One addition to dropping in the traditional horizontal manner, the optional 'gate shown here can also open in a 60/40 split, permitting owners the freedom to walk right up to the bed floor when trying to reach tools or gear that may otherwise be out of reach.
Officially called the Multifunction tailgate, two buttons are hidden inside its release handle – one to open it normally and one to pop open the larger of its so-called barn doors. A robust series of hinges have been engineered to ensure smooth operation and, in practice, it works like a charm, allowing easier loading and retrieval of items into the bed. According to Ram engineers, the Multifunction tailgate has the same performance level as a normal 'gate, meaning it can bear the same load weight as a standard tailgate when dropped normally. This latter detail is of no small consequence to owners who wish to load an ATV into the bed.
Be sure to check the Multifunction option box if you're interested, as the 60/40 tailgate cannot be fitted as an after-purchase option. Why? Eagle-eyed shoppers will notice extra bracing in the forward corners of a bed non-Rambox truck equipped with the Multifunction 'gate, not to mention the myriad of latches and hinges, driving home the point that Ram engineers thought out this $1,095 option thoroughly rather than just sawing a tailgate into two pieces and calling it a day. This is a Very Good Thing.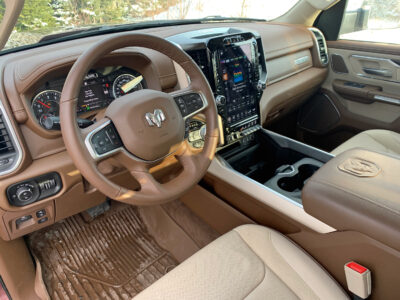 Our test truck was a Laramie model, laden with options including a phalanx of driver safety aids and the brand's dandy 12-inch infotainment touchscreen system. The front seats are a pair of thrones, covered in buttery leather and smelling like a pair of new Cole Haan loafers. The aft compartment will keep young urchins from complaining about any discomfort, with a split bench that slides and reclines to take full advantage of the stretch-em-out legroom. USB ports abound and the centre console is big enough to consume a Costco-sized bag of potato chips. If you can't get comfortable in this environment, then Princess Winnifred Woebegone would like to have a word with you.
Under the hood of this 2020 Ram 1500 Laramie is the brand's take on a mild hybrid system, called eTorque. Appended to the hairy-chested HEMI V8 is a 48-volt generator which takes the place of an alternator. It is powered by an engine-driven accessory belt and captures braking energy, storing it in a thin battery that resides behind the rear seat. This energy is said to boost the engine at low speeds, though the official rating of 395 horsepower is unchanged from non-eTorque HEMI engines.
In the real world, eTorque does seem to add a sliver of sprightliness around town when sampled back-to-back with a standard HEMI. On its own, though, it will likely go unnoticed. The eTorque system also imperceptibly smooths out the HEMI's start/stop system, relighting the internal combustion fires with little fuss. It has no impact on the V8's full-throttle growl, which remains gloriously delinquent.
All of this comes at a price, of course. Despite standing two rungs down from top-tier status in the Ram hierarchy – Laramie Longhorn and Limited trims reside above the Laramie – its sticker price checked in at an alarming $88,515. This is made doubly hard to swallow by a Ram styling decision, one which places stylish and narrow headlights on the Longhorn and Limited but saddles the Laramie with more basic peepers. It's a dead giveaway to anyone in the know (and truck fans definitely know) that you're not driving one of the top rung Rams.
This 2020 Ram 1500 checks all the right boxes (and, according to sales data, checks all the right boxes for a lot of other Canadians, too) but don't expect the brand's engineers to rest on their laurels. In the pickup truck arms race, innovation never sleeps.
2020 Ram 1500 Laramie Crew Cab 4×4
Price as tested: $88,515.00
Engine: 5.7L HEMI eTorque V8
Horsepower: 375 hp @ 5600 rpm
Torque: 410 lb.-ft @ 3950 rpm
Drivetrain: Four Wheel Drive
Transmission: 8-speed automatic – inc: start/stop
Fuel Consumption: 14.2/ 10.9/ 12.8 (L/100km, City/ Hwy/ Combined)
Fuel Capacity: 124L
Links:
Ram Truck Canada