Who here remembers the Dodge Ram T-Rex? Nobody? One? Two? Bueller?
Well, the T-Rex was a concept pickup from 1997, whose main party trick was that it had three axles. It was like a cross between a standard Dodge pickup and the 6 x 6 WWII-era Dodge WC trucks that did almost as much work as the venerable Jeep Willys, but received about a tenth of the notoriety.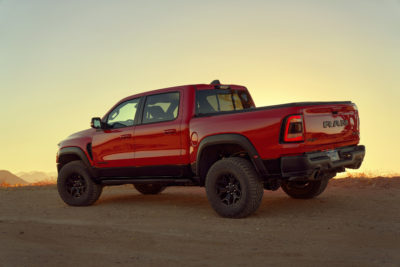 Dodge never made the T-Rex available to the public (though you could virtually drive one in the Test Drive Off-Road video game which came out about a year after the T-Rex debuted), but they have now scrapped the hyphen and the "e" and come out with something even crazier that will, in fact, be available in RAM dealerships all over North America.
It's called the TRX, and it's a Hellcat supercharged V8-powered, towing, hauling and off-roading behemoth that makes about as much sense as…well, coming out with yet another Jurassic World movie, I guess.
Thing is, though, "sensibility" in the car and truck world – well, in the performance car and truck world, anyway – is not really something we harp on too often. No supercar or hypercar makes practical sense, really. That's because they're not supposed to and because "sensibility" is boring and not all that much fun.
However; being able to traverse quote "harsh terrain" at over 160 km/h sounds like a whole heck of a lot of fun. As does 702 horsepower, 650 lb-ft of torque and specially-tuned off-road dampers from Bilstein. Oh, and a "Baja" mode that tweaks the suspension, 4 x 4 system and powertrain for those who want to hit "maximum attack trophy truck" mode out on the sand, snow and mud.
Of course, we've seen a "Baja" mode before in the Ford F-150 Raptor (and will do so again; rumour has it that Chevy's about to release an extreme version of their Colorado pickup that will also get a – yep – Baja mode of its own), which is clearly the vehicle that the TRX has in its sights. Well, if we're talking power, then the TRX has a big leg up – the twin-turbo V6 in the Raptor makes "only" 450 hp and 510 lb-ft of torque, so there's that.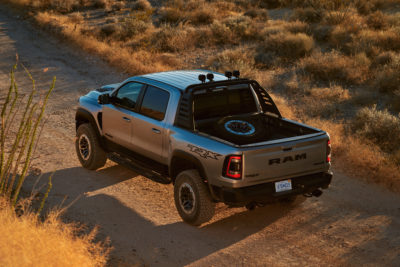 As ornery as the TRX looks, though – and we'll delve further into that in just a moment – it is a pickup, and as much as one likes to drive in Baja mode across sand dunes at 160 km/h, a pickup has to work, too.
To that end, the TRX is good for towing 8,100 lbs and hauling 1,310 pounds in its bed (the TRX comes only as a quad cab with 5.7-foot bed). Add a 3.55 Dana 60 rear axle and 2.64:1 crawl ratio, plus bespoke 35" Goodyear Territory rubber, and you've got kind of an all 'rounder here.
Looks like anything but an all-rounder, though, and it starts with that massive ground clearance (to the tune of about 300 mm) and massive girth. Girth that's been increased by 203 mm over a standard Ram 1500 courtesy of some carbon fender flares for a total 2,235 mm. That increase allows the fitting of 229 mm wheels, which themselves represent a 26 mm increase in width.
Other body swelling comes courtesy of an enlarged grille and hood bulge, each opening responsible for 50 per cent of the air flow into the engine, which is crucial for an engine this big. In case that wasn't enough, Ram has gone ahead and fit a string of LEDs to each front fender and to the hood scoop. That's all stock; Ram says that FCA's Mopar tuning arm is already hard at work developing over 100 bespoke parts for the TRX, from off-road lights to a trophy truck-style bed-mounted spare tire.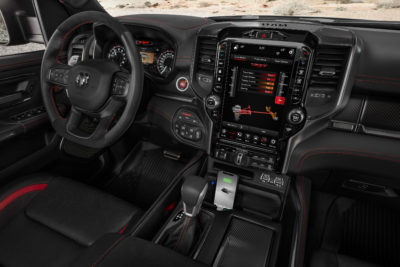 Inside, the TRX come in two colourways: black and suede, or black with red and carbon inserts. Other interior tweaks include an SRT-style flat-bottomed wheel and standard fitment of the massive 12" Uconnect infotainment screen previously seen on some Rams. New stuff includes an optional digital rear view mirror and you can opt for a heads-up display, too.
That Uconnect screen can be split in two, allowing occupants to mix-and-match various displays; you can have your Apple CarPlay in one spot, and your navi in the other. Or, you can go full-data and choose to display your Off-Road pages (insights to your angle of attack, wheel articulation, etc.) or SRT Performance Pages (G's undertaken, acceleration times and so forth) on there. The TRX, meanwhile, marks the first time we've been able to display those info pages on the main display as they've hitherto been limited to the in-gauge TFT cluster. Which is also here, and can still display the Performance Pages and Off-Road pages — both at the same time, if you so choose.
To top it all off on the display front, there's a forward-facing camera that looks down at the terrain below you. That way, when you're climbing steep hills and can see nothing more than the great wide open through the windshield, you can glance at the infotainment display to see what's going on below the wheels. Or if there happens to be some exotic Saharan beast crossing the path ahead of you.
If all that's not quite special enough for you, Ram is building 100 TRX Launch Edition trucks for Canada, which brings special exterior colouring, an interior number plaque and…not that much more, really.
Pricing for the 2021 Ram TRX starts at $93,995 for the standard version, and $114,995 for the Launch Edition.