I had an idea a few years ago, it was a great idea, at least in my mind. I seem to have a lot of those. I wanted to do a YouTube video series where we would stuff a Hellcat engine into almost anything, with or without wheels. Imagine mowing the lawn with a 700+ horsepower engine strapped to your riding mower. Or, powering a bass fishing boat with Hellcat-power, it would take no time to get to the next great fishing spot. How much faster would that leaf blower clear your driveway if it was supercharged? Think about it!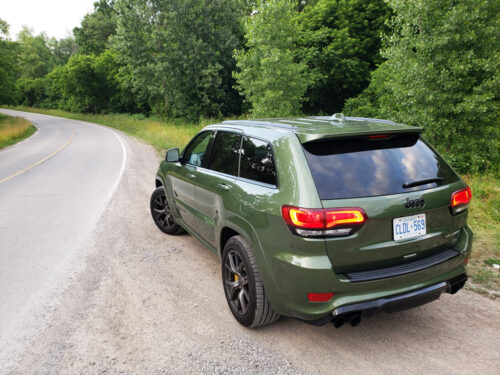 What if you took a Hellcat and put it inside a Jeep Grand Cherokee, how many more mountains and jagged stream banks could you climb in record time? Well, I guess Jeep must have been listening to my idea, or thought of it on their own; go ahead Jeep, take the credit. Because here I was sitting behind the wheel of the 2020 Jeep Grand Cherokee Trackhawk and realizing, I may actually have been on to something good. Hell on Wheels Jeep-style is something you don't get to experience everyday.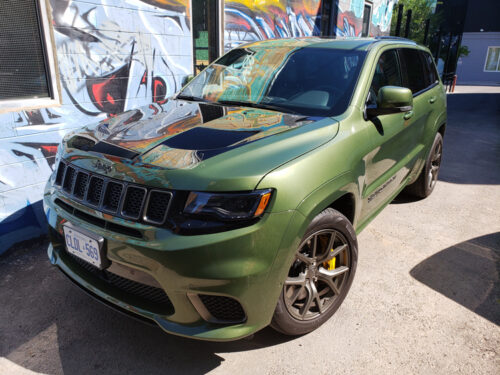 Truth be told, much like my jacked-up riding lawn mower or pavement blistering leaf blower, the 2020 Jeep Grand Cherokee Trackhawk doesn't really make any sense. But then it doesn't need to, this is all about showcasing Hellcat power and making a statement to the world that the Jeep brand can do a lot more than climb every mountain or ford every stream at a controlled crawl. It can also kick you in the gut with serious horsepower and accelerate from 0-100 km/h at the same rate or better that some of Europe's finest exotic SUV's for less than half the price.
Power comes in the form of a 6.2L SRT HEMI supercharged engine. You know it as the Hellcat motor and it is the driving force behind many other vehicles in the Dodge, SRT and now RAM family, including the upcoming 2021 RAM 1500 TRX. Performance numbers are revered in the automotive world, 707 horsepower at 6,000 rpm and 645 lb-ft of torque at 4,800 rpm.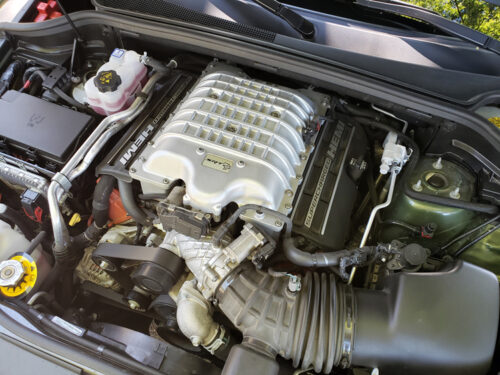 Matched to a smooth 8-speed automatic transmission, zero to legal highway speed takes approximately 3.6 seconds and top speed is listed at 290 km/h. Who would have thought a stately vehicle with all-world 4X4 capability and 4-wheel traction control like this Grand Cherokee, could come close to touching the magical 300 km/h number. But it does and I can attest, it is wickedly fast and sounds imposing.
Brembo brakes are solid (6 piston front/4 piston rear) and true to what you would expect when combined with stratospheric acceleration. Stops are controlled and quick, which is a significant accomplishment given its nearly 3,000 kg curb weight. Fuel economy is not a reason to consider the Trackhawk as the Hellcat delivers unprecedented power, but pays for it dramatically at the pump.
Electrically assisted steering is equally impressive, especially when you consider the roots of the Grand Cherokee are its off-road prowess and ease of driving. Our test vehicle was equipped with optional 20-inch Titanium aluminum wheels and significant rubber at all four corners. A thick steering wheel feels good in my hands, but does sacrifice a little on feedback. It is no sports car when taking corners at speed, but it can handle its own weight with aplomb on your favourite back road or maybe even a weekend track experience.
Ride quality is where the Trackhawk suffers a little from its performance capabilities as I found driving through suburbia and its obligatory speed bumps, or playing to Jeeps strength and going down a dirt road, delivered a little too much jostling and bounce inside the cabin to be completely comfortable. But if you want all this acceleration and the opportunity to go anywhere, this is the compromise required.
Inside, there is a lot to like about the ultimate Grand Cherokee. Jeep has left nothing to your imagination. Well, almost nothing as I do wish it had massaging seats like many of it's competitors, but that is a minor grievance compared to everything else you get.
Our test vehicle offered the signature leather-wrapped interior package ($6,995) with Laguna leather seating, lower and door panels and #7 foam cushion seats for comfort. Red seat belts look amazing, the perfect racy component to any personal rocketship for the road.
Seating for five is abundant and there are enough plug-ins to keep everyone happy. The optional rear DVD entertainment center ($2,150) in our tester was also a nice touch, as was the SRT high performance audio package with 19 harmon/kardon speakers and an 825-watt amplifier ($1,995).
Storage space throughout the vehicle is easily accessible and abundant as it is expected road trips and wilderness excursions will be part of the story. With a small $825 investment, you can tow anything with this Hellcat-powered family-hauler. It can't eliminate traffic jams on the way up to the cottage, at least not legally, but you will arrive in style and be the talk of the lake.
There is no logical reason to own a Jeep Trackhawk other than to want a piece of the growing Hellcat phenomenon. And maybe that's all the reason you need. It stands above the crowd with obscene power and delivers everything you expect from a Grand Cherokee, so what more does any power-hungry SUV owner really need? I still think a Hellcat-powered lawn mower would be amazing, but somehow this seems like better use of SRT performance technology.
2020 Jeep Grand Cherokee Trackhawk
Price: $133,735.00
Freight: $1,895.00
Configuration: front engine, four-wheel drive
Engine: 6.2L V8 supercharged
Transmission: 8-speed automatic
Power/torque: 707 hp/645 lb-ft
Fuel economy ratings: 17.7 L/100 km combined
Warranties: 3 years/60,000 km (basic)
Competitors: BMW X5 M, Maserati Levante GranSport, Mercedes-AMG GLE 63 S, Porsche Cayenne Turbo
Link:
Jeep Canada