Purple. But not just any purple, this is Plum Crazy Pearl. And it is intense! If I were to ever actually own one of these modern day muscle cars, purple or maybe Sublime green for an extra $100 would be an easy choice. If you're going to spend a king's ransom for something so totally outside the boundaries of what most people think is a sensible car, you may as well have some fun.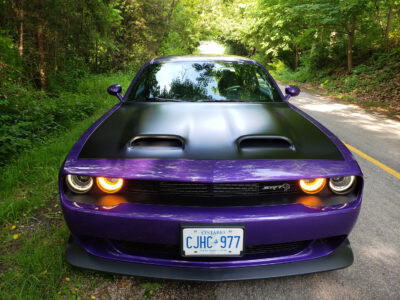 What sets a car like this apart from other automobiles capable of reaching astonishing speeds in mere seconds, is that it can easily carry 5 adults inside a spacious cabin and an absolute ton of stuff in the huge trunk. So, you might even say there is a certain level of sensibility to it. Sounds plum crazy, I know.
The 2019 Dodge Challenger SRT Hellcat Redeye is rear-wheel drive, a nod to the past in this unprecedented era of high-powered super sports cars. Performance numbers are quite simply off the chart. A 6.2-litre High-Output (HO) Supercharged HEMI SRT Hellcat V8 engine, with 25 major upgrades over the "regular" Hellcat engine, including a larger supercharger, produces a ground-shaking 797 horsepower and 707 lb-ft of torque.
This is matched to a TorqueFlight 8-speed dual-shift mode automatic transmission making the experience of launching the Hellcat Redeye as easy as driving the base Challenger SXT with a V6. But there is nothing normal about driving this car when it comes to how fast it goes from 0-100 km/h (3.4 seconds) and its top speed of 326 km/h (203 mph).
The thrill it provides is otherworldly, like a Hot Wheels racer of old suddenly come to life and underfoot. Spooling up the supercharger sounds like a jet fighter, or the world's largest vacuum cleaner. I half expected to hear pop cans and Timmy's cups being sucked into the illuminated air-catcher headlamps hidden so perfectly in the front grill. Two thumbs-up is a regular occurrence as people on the street watch me drive by, thankfully no toupees or ball caps are lost in the passing.
Four-wheel disc Brembo brakes, with fixed 6-piston calipers at the front, bring the Hellcat Redeye to a rapid and controlled stop. Standard 20X9.5-inch low gloss SRT alloy wheels are wrapped with 275/40ZR all-season performance tires. Our test vehicle is equipped with the optional Widebody Package ($8,000) that includes widebody fender flares, competition suspension and 305/35ZR20 all-season performance tires mounted on 20X11-inch Devil's Run aluminum wheels. It stirs the soul as I step back and take it all in.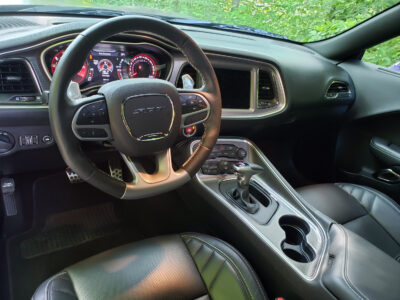 Electric power steering makes for a near effortless drive in the city and on the highway. Of course, punch the accelerator to the floor and you need to be fully aware of what nearly 800 horsepower will do to chassis dynamics. On that note, the Hellcat Redeye is well thought out with Electronic Stability Control (ESC), a rear stabilizer bar, anti-spin differential rear axle and a competition suspension with adaptive damping. Line Lock launch control and launch assist are a must to play with for those who understand a Christmas tree is more than just a seasonal decoration in the family room.
Inside, there is an equal number of thoughtful touches and tech to keep the modern day exotic car lover happy. A Uconnect 4C 8.4-inch touchscreen controls the majority of functions related to comfort, sound and navigation. The 340 km/h indicating speedometer and tachometer, along with the fuel gauge and other important information is housed in a 7-inch fully adjustable, digital gauge cluster. It is easy on the eyes, simple to use and compatible with both Apple CarPlay and Android Auto. Our test vehicle featured the optional harmon/kardon 18-speaker premium audio system with a trunk mounted subwoofer ($1,495).
A flat-bottom leather-wrapped steering wheel includes audio and cruise control access, plus it features satin finish paddle-shifters with performance shift indicator. Of course, you can choose to change gears in a more conventional style with the center console shift knob.
Front bucket seats are heated and ventilated. They proved to be supremely comfortable as I get to experience the optional Laguna Leather Package with leather door trim. Red seat belts are a nice $125 touch. Back seat room is ample, especially when you consider this is a two-door sports car, albeit a larger one. Trunk space, as previously mentioned, is plentiful. A true throwback to the original 70's era Challenger.
The 2019 Dodge Challenger SRT Hellcat Redeye is not for everyone looking to drive a very fast, very loud and very bright super sports car. It is big and brawny and offers a completely different take on life in the fast lane. But if you want to make a statement and have a soft spot for the good old days of hot rods and fat tires, it is an excellent choice and is certain to leave a lasting impression on the neighbours.
2019 Dodge Challenger SRT Hellcat Redeye
Price as tested: $117,220.00
Freight: $2,595.00
Configuration: Front engine/ rear wheel drive
Engine/transmission: 6.2-litre HEMI V8/ 8-speed automatic
Power/torque: 797 horsepower/ 707 ft-lb of torque
Fuel (capacity): Premium unleaded recommended (70 L)
Combined fuel economy ratings (L/100 km): 14.5 L/100 km
Observed fuel economy (L/100 km): 15.1 L/100 km
Warranties: 5-years/100,000 km (basic)
Competitors: Chevrolet Camaro ZL1, Ford Mustang Shelby GT350R
Links:
Dodge Canada
Wheels.ca