The Jeep Wrangler has added a new trick to its already impressive list of features:
Diesel power!
Lots of it, in fact, with 442 ft-lb of torque from a new for 2020 engine offering.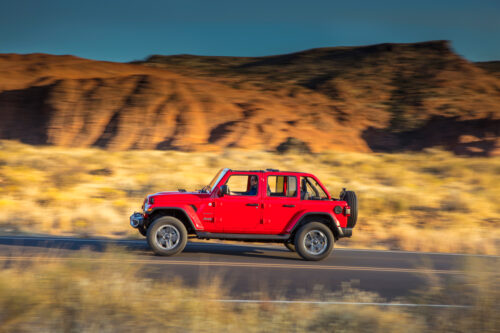 So now, on top of looking bad ass, the 2020 Jeep Wrangler Unlimited Sahara 4×4 I drove recently also sounds like a beast and has the muscle to back that up.
With competitors coming after its dominance in the hearts of off-road aficionados, this is surely to be a welcome addition to the lineup.
However, it comes at a steep (pardon the pun) cost.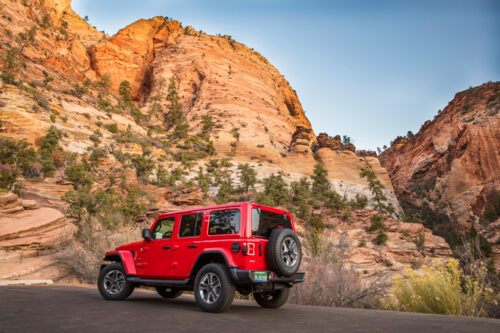 The Wrangler Unlimited Sahara starts at $48,095, but our dark blue tester came in at just above $70,000 thanks to a lengthy list of optional equipment.
The priciest by far is the EcoDiesel engine ($7,395), which is coupled with an 8-speed automatic designed to handle that much torque ($1,795). Add to that things like the Sky One-touch powertop ($3,995) and an upgraded infotainment system, as well as some less expensive options, and the final bill is quite high.
But Jeep says the introduction of a diesel engine is in response to consumer demand, so those passionate about the model will likely not be bothered by the extra cash outlay.
So where does all that torque come from? The new 3.0-litre EcoDiesel featuring start/stop technology, which also produces 260 horsepower. As mentioned, all that gets moved through an 8-speed automatic transmission in an efficient manner.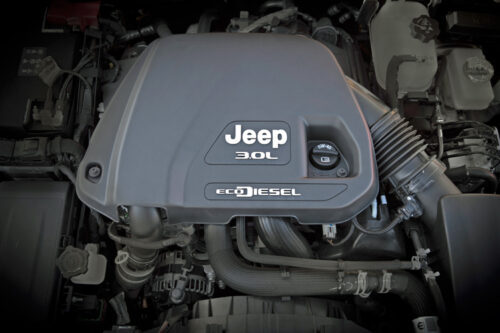 What was less efficient, for me at least, was fuel economy. The Wrangler EcoDiesel is rated for a combined average of 9.5 litres per 100 kilometres, but I did no better than 10.9 L/100 km.
In terms of off-roading capabilities, the Wrangler Sahara a ground clearance of 10.9 inches, with a 44-degree approach angle and 37-degree departure angle, numbers the competition can't match.
Unlike most of the Wrangler lineup, Jeep has equipped the Sahara (and Sport) model with the Command-Trac part-time, two-speed transfer case. It also offers an optional Trac-Lok limited-slip rear differential that provides extra torque and grip in low-traction environments, such as sand, mud or snow.
Also assisting with your adventures in the Wrangler are standard features like electronic stability control (ESC), electronic roll mitigation, trailer-sway control, hill-start assist and brake traction control.
Not much needs to be said about the Wrangler Sahara's styling. It is simply iconic, with the round headlights, seven-slot grille, large wheel flares and the full-size spare tire bolted to the rear hatch.
On the tester, the Sky One-touch powertop is a sleek addition that is barely noticeable from the ground, but when fully retracted gives a front-to-back open-air experience. And it can be operated at speeds up to 96 km/h (60 mph).
For even more open-air driving, you can remove the roof and walls behind the rear passengers, not to mention all four doors.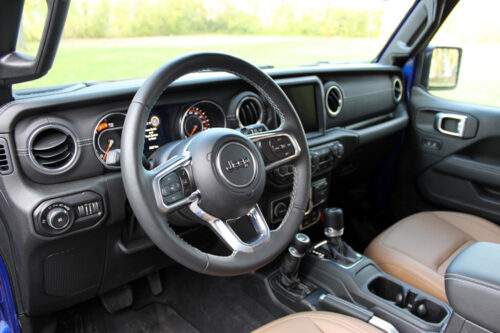 Whether the roof is open or closed, the cabin on the Wrangler Sahara is stellar. Made even more so on our test vehicle is the fact the cloth seats were replaced with Heritage Tan leather – embossed with the Sahara logo ($1,095). That optional package also adds leather to the parking brake, shifter and the mid-dash panel.
The leather option would certainly be easier to clean if you are doing some off-roading through mud with the roof and doors off, so it might be a good investment.
Being so far off the ground does make getting in a bit of a challenge for those with shorter legs and kids, but once inside, there is little to complain about.
The back seat offers good amount of passenger room, and the front seats are quite comfy.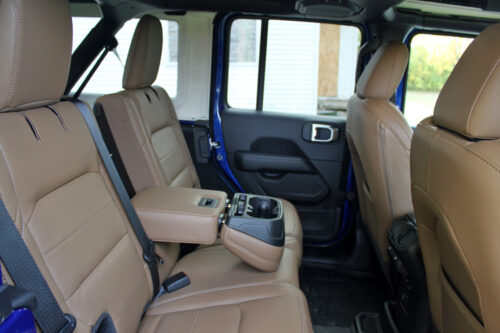 The cabin is laid out in a very utilitarian manner, with large dials and easy to understand buttons within reach.
The tester was also equipped with the optional ($1,395) 8.4-inch infotainment screen, premium Alpine audio system and built-in navigation. The fourth generation of the Uconnect system is a good one and is compatible with Apple CarPlay and Android Auto.
The user interface is excellent, I found, with easy to understand menus and functions, and a good reaction time.
This being a Jeep Wrangler, the ride is a little bit rougher on the street, but that is a trade-off most – if not all – Wrangler owners will gladly make. Even with the bumps, occupants are really never punished too badly, but the bumps are certainly more noticeable than in other rides.
The aggressive 18-inch off-road wheels are partly to blame for the ride, but they are critical to ensuring the Wrangler delivers on what its intended purpose is – which is going off-road.
Whether on road or off, the Wrangler Unlimited Sahara makes a statement anywhere it goes and based on the waves I received while driving it, definitely has the respect of Jeep owners everywhere.
It looks great inside and out, and certainly has what it takes to be an off-road king thanks to all that diesel power and Jeep DNA.
2020 Jeep Wrangler Unlimited Sahara 4X4
Price as tested: $70,935.00
Freight: $1,895.00
Configuration: Front engine/All-wheel drive
Engine/transmission: 3.0-litre V6/ 8-speed automatic
Power/torque: 260 horsepower/ 442 ft-lb of torque
Fuel (capacity): Diesel (69.2 L)
Combined fuel economy ratings (L/100 km): 9.5 L/100 km
Observed fuel economy (L/100 km): 10.9 L/100 km
Warranties: 5-years/100,000 km (basic)
Competitors: Ford Bronco, Jeep Grand Cherokee, Land Rover Discovery Sport, Toyota 4Runner
Links:
Jeep Canada