What's better than a new Chevrolet Bolt?
Well, how about two new Chevrolet Bolts? If that is a vehicular dream of yours then read on, because Chevrolet is more than happy to oblige with these: the redesigned 2022 Chevrolet Bolt hatchback and the all-new 2022 Bolt electric utility vehicle, or EUV. It's all part of The General's plan to release 30 new EVs globally by 2025. Which, don't look now, is just under four years away.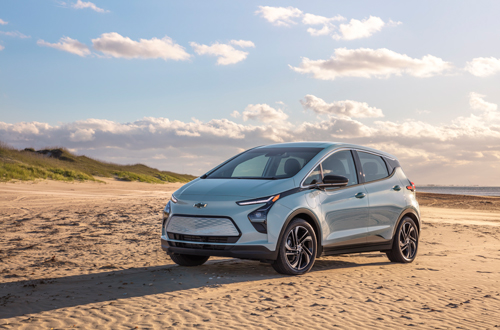 It's a big step for GM but also not an unsurprising one, as they've managed to sell over 100,000 Bolts globally since 2017, with over 13,000 of those going to Canadians.
While both the Bolt and Bolt EUV share the same platform, GM maintains that not a single exterior sheet metal part was shared between the two vehicles. The EUV is also 152 mm longer than the standard Bolt, which means more room inside.
It's hard to tell from looking at the two, though, as the Bolt was already kind of a tall hatch in its own right and both the new vehicles look so modern that, chances are, you're more likely to pay attention to the new detailing as opposed to any stylistic differences the size may present.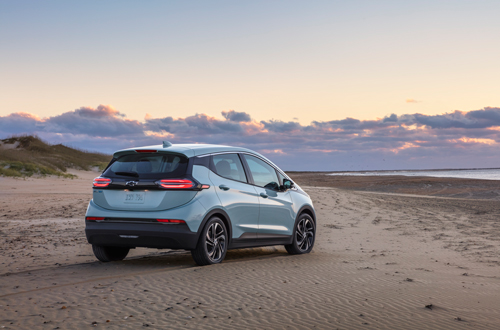 Said detailing includes narrower headlamp lenses than previous, a much more streamlined front fascia, foglights with cool black surrounds, contrast-colour wing mirrors, two-tone spiral wheels and a much lower-profile rear fascia as well. Even though the current Bolt is a fairly modern-looking thing, put alongside these two new vehicles, it's starting to look a little old school.
The interior environs are punctuated by a 10.2 inch infotainment display, push-button transmission, two-tone colouring and eight-inch digital gauge cluster.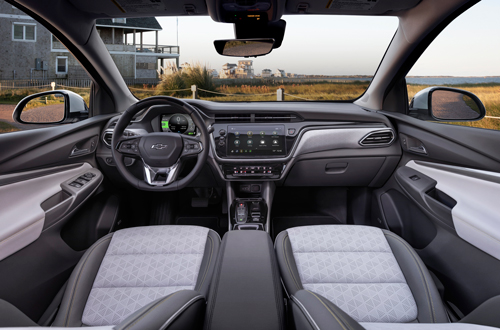 That's the tech you can see; perhaps more remarkable is the tech you can't, namely the Super Cruise autonomous driving system that has hitherto only been available on some Cadillac models. It is the industry's "first true hands-free driver assistance system" according to Chevrolet, although that is really only true if you're on one of the roads — all highways — that Chevrolet has mapped to the system. It will change lanes for you, keep your speed, keep your distance and keep all your blind spots in check with the press of a button. When I sampled the Cadillac CT6 with Super Cruise back in 2018, about 210,000 km of highways had been mapped in North America. One suspects that number will have grown substantially by late '21, around the time these two are on the road.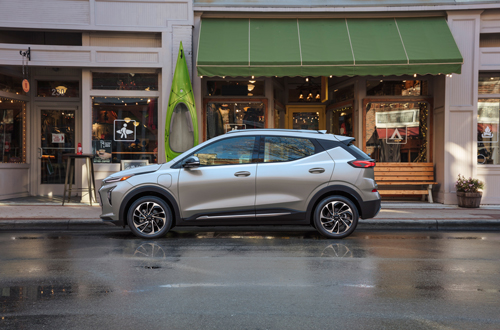 Another first for the two Bolts is the addition of a level I/level II combo charge cable with every purchase. That means that you don't need a level II wall charger at home in order to get 240V charging; just a 240V outlet. However: if you do go for the wall charger, you'll get an 11 kilowatt charge rate as opposed to the 7.2 kW rate you get with just the cable. Both Bolts will also be DC fast-charge capable and Chevrolet's myChevrolet app contains a database of more than 10,000 charge locations throughout Canada. Owners will be able to use said app to plan their routes — or, they could just use one of the many apps currently in service from Petro-Canada, Chargepoint, Electrify Canada…
All that being considered, Chevrolet is claiming a 417 km range for the Bolt and 402 km for the Bolt EUV as it is the larger of the two vehicles, so there's more weight to haul around, but with the same powertrain. Power, meanwhile, is rated at 200 horsepower and 266 pound-feet of torque; those are the exact same figures made by the current-gen Bolt. For the record – those range figures aren't that much different, either.
So, taking into account all the interior features like wireless Apple CarPlay and Android Auto, Alexa hands-free communication and also one-pedal driving (with the push of a button, brake regen is cranked to max and you no longer need to hit the brake pedal to stop) and what we have here is an interesting case.
You see, GM is in the process of rolling out their modular Ultium EV platform (that will be underpinning everything from hatchbacks to Hummers) and this new Bolt doesn't get that. So, it's a bit of an old-gen car in a new-gen body, a Bolt with more room in the EUV's case and a showcase for the Super Cruise tech. Which, admittedly, is some very cool tech.
For now, though, buyers are going to have to turn either to the GMC Hummer or the Cadillac LYRIQ to get a taste of what GM really as in store, powertrain-wise, for their future EV line-up.