Like so many manufacturers today, the future of Cadillac – indeed, the future of parent company General Motors – is electric. GM is planning on releasing 20 new EVs by 2023 – just three short years away – as part of their Zero Vision plan which involves zero emissions, zero crashes and zero congestion.
And for Cadillac, the future start with this: the Lyriq crossover concept.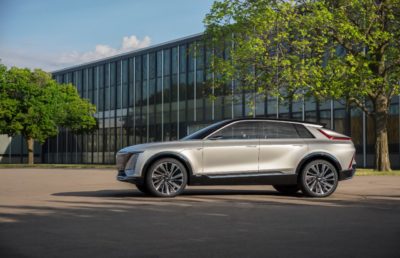 Roughly the size of an XT5 compact crossover and with styling that GM says will shape the palette for all Cadillacs to come, the Lyriq takes at least two of those "zero" ideas very seriously. Since it's a full-EV – Cadillac's first – it ticks off the "emissions" box and since it displays the next generation of Cadillac's Super Cruise autonomous tech, it takes on the challenge of zero crashes, too. More on that in a minute.
First, the vehicle itself.
Style-wise, it's defined by sharp edges, big, sparkly 22-inch wheels and that front grille, which actually isn't a grille at all (EVs don't require the cooling a grille provides), but an array of LED lights that form a choreographed "greeting" as owners approach. Complimented by the ultra-slim vertical headlights, the front fascia is as distinctive as the side profile. 'Round back, hockey stick-shaped tail-lamps dominate the proceedings, while a subtle roof spoiler and vertical rear fog lamps complete the look.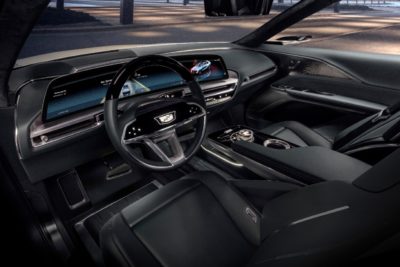 Inside, meanwhile, the defining element is the massive 33-inch ultra-HD display that acts as both the gauge cluster and infotainment display, and even reaches into the front passenger's seating area so they, presumably, will be able to set their own climate controls and so forth from there. There are also displays for each rear passenger (of which there can only be two as the second row is made up of two bucket seats) as well as a dual-tiered augmented reality heads-up display; one tier for your speed and other trip info, the other for your navigation system which can display navigation commands on the windscreen ahead. Just think Mercedes' MBUX augmented navi system times a thousand.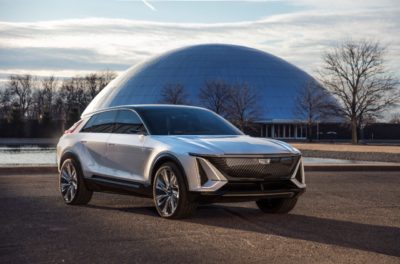 The big news on the powertrain front is that the Lyriq represents the first usage of GM's new Ultium battery system. It makes use of less battery cells for a flatter battery – which, in turn, provides a lower centre of gravity for better ride and handling – and its battery pack also forms part of the vehicle's structure to help keep things quiet and smooth. The Ultium platform, meanwhile, is modular, meaning it will be able to underpin a number of GM products of all sizes going forward. The system also uses less cobalt so less of that rare earth material is required to build the battery.
Power figures have not yet been revealed, but Cadillac is saying that the range is expected to be "beyond 300 miles" – which it needs to be, with competition from the likes of Tesla's Model X and Jaguar's I-Pace claiming over 400 miles depending on spec. That figure, of course, depends on which powertrain buyers select as there will be both rear-wheel- and all-wheel-drive options, with the latter likely not having as much range as the former. The Lyriq, meanwhile, will be able to be charged by level I, II or III DC fast charging systems. No charge times have yet been revealed.
With that, we finish where we started: Cadillac and GM's commitment to a zero crashes future and the next generation of Super Cruise tech. Currently, the autonomous technology can follow traffic, keep you centered in-lane and make highway exits, all without the driver ever having to lay a hand on the wheel and since it is classified as a level 4 autonomous system, in never asks drivers to put their hands back on the wheel.
What it couldn't do, however — and what Tesla's Autopilot system can — is change lanes. With the arrival of Super Cruise 2.0, it can now perform that task as well so you never have to put your hands back on the wheel when on properly designated roads – that is to say, the approximately 200,000 miles (about 320,000 km) of dual-carriageway highways in North America.
Cadillac is a brand that's been struggling with its identity a little bit lately, but with the Lyriq (and yet-to-be-officially revealed Celestiq sedan) they may just be finding their way. Exciting years to come over at Cadillac. It's just too bad that with the Lyriq being officially designated a 2023 model, we'll have to wait until late 2022 to see the "new Cadillac" in action.