No GR Yaris? No Problem
If you don't pay attention to the World Rally Championship, or the Paris-Dakar Rally, or the Le Mans Endurance Series, or…pretty much any major racing league this side of the open-wheel world, you may never have heard of Gazoo Racing.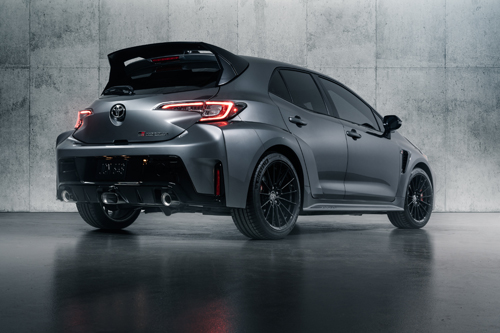 What started out as a "skunkworks" racing team in the halls and garages of Toyota HQ has become an international phenomenon. It has entries in all the aforementioned disciplines, as well as becoming a de facto tuning house for Toyota's performance models such as the 86 and Supra. One car we didn't get with that badge, however, and which has been turning heads in all the markets it's available is the GR Yaris compact, a turbo'd three-cylinder pocket rocket with AWD and a manual transmission.
Well, we may not be getting that but we are getting this: the 2023 GR Corolla. It gets that same 1.6L three-cylinder turbo banger, here good for 300 horsepower and 273 pound-feet of torque, fed to all four wheels. Those are Subaru Impreza STI figures and that's good, because as we reported right here on these pages, that particular version of the Impreza has been deep-sixed going forward. Indeed, Toyota has taken up the reins in the four-cylinder rally-bred AWD compact world, and we can't wait to see how she runs.
VinFast To Turn To North America Production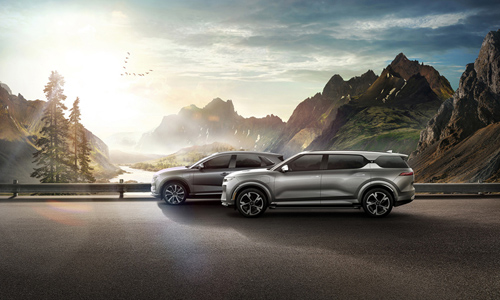 VinFast, a Vietnamese manufacturer through-and-through, announced this week that they have gotten clearance to build a manufacturing plant in the Triangle Innovation Point, just outside of Raleigh, NC. The company says the $2 billion investment in the region will help create thousands of jobs, probably in the 13,000-15,000 range.
It's no small-time op, either; VinFast is saying that phase 1 of the plant will be able to produce 150,000 of its VF 8 and VF 9 EV SUVs a year, starting in 2024. There's no word yet on what a "phase 2" might look like, but combined with their already-functioning plant back home in Haiphong, Vietnam, VinFast will equipped to produce over 1 million vehicles a year once phase 1 gets rolling.
Lucid Teams Up With Electrify Canada To Provide Free Charging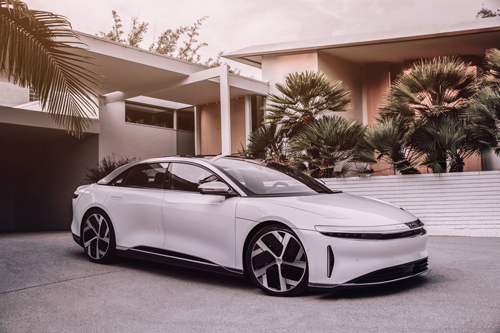 Anyone who reserves their Lucid Air sedan by June 30th will be entitled to two years' free charging at the nation's extensive network of Electrify Canada DC fast chargers. They will take advantage of the Lucid's ability to charge at 350 KW, meaning a gain of about 350 km in 15 minutes.
Electrify Canada's network is currently enjoying a bit of a growth spurt, and should be up to 500 chargers over the next 3-4 years.
At a recent launch event in Toronto, Lucid turned the spotlight on their newest shopping mall showroom complete with the striking Lucid Air pictured here. A grander 4-door sedan when experienced in person than you might imagine, and filled with every conceivable amenity today's discerning luxury EV buyer is looking for, the showroom provides an ideal setting to view the car, learn about the company and its unique approach to building EVs, choose your vehicle options using VR technology, all while enjoying a warm cup of espresso in a climate controlled setting.
Alfa Romeo Gets Estrema With Giulia
Alfa Romeo will be releasing an "Estrema" model of their Giulia performance sedan, adding even more performance to the top-spec (aside from their Quadrifoglio offering) Veloce model.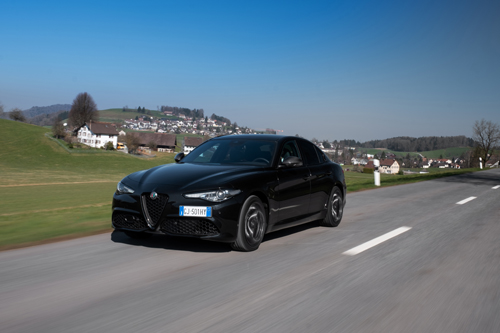 The switch to Estrema (yes, that is Italian for "extreme") adds adaptive suspension and a limited-slip differential, as well as carbon fibre mirror caps and grille veneer. It also gets gloss black wheels and the option to select staggered wheel sizes. Inside, we find red contrast stitching as well as carbon fibre trim pieces shared with the hi-po Quadrifoglio. The Giulia Estrema will be available with either RWD ($55,090) or AWD ($57,090) while the Stelvio crossover comes standard with AWD in Estrema form.