Sport mode engaged. Tires warm. Sun shining. Eager passengers.
These elements made for a near perfect day of piloting the 2020 Toyota Supra around the driver development track at Canadian Tire Motorsport Park the summer of 2019. Fortunate to be at the wheel, introducing Toyota Canada brass to their new sportscar, I got enough seat time to know that Toyota nailed it in building this track day superstar.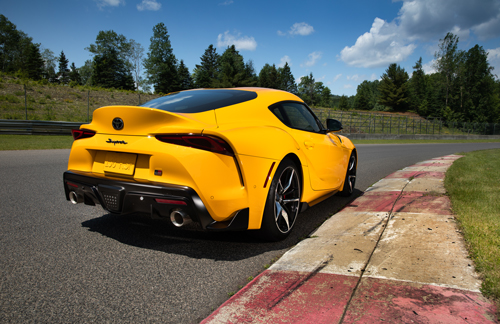 Hyped and anticipated, the Supra is built from the ground up to be a track car. It's light, nimble, powerful, and no detail escaped the designers and engineers in crafting this machine for this purpose.
For 2021 the BMW-built 3.0-litre turbo inline 6 was tweaked with an extra 50 horsepower. The Supra is giggle inducing thanks to 383 horsepower and 368 lb-ft of torque, blasting you from zero to 100 km/h in just 3.9 seconds. It's especially fun when the incredibly snorty exhaust delivers tremendous explosions on downshift or throttle lift.
And about those shifts: Here's where I expected to be underwhelmed. The Supra is automatic only. As a fan of the manual transmission, on track and off, I didn't want to be deprived of the joy in heel-and-toe shifts.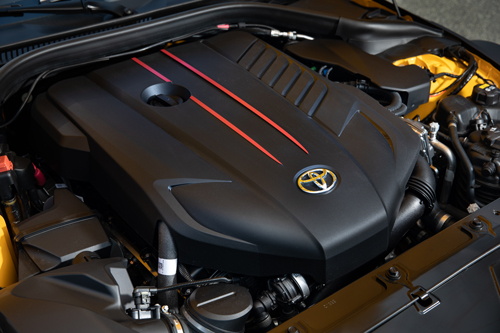 While the Supra has perhaps not converted me completely to the paddle-shifter, the ease and speed of shifting this beauty are integral to its success as a track day champion. Gear changes with ZF 8-speed transmission are lightning fast, and the rev matching means faster, smoother laps than you could ever execute with a manual in the same car.
Lap after lap after beautiful lap a few things became crystal clear about this car. Its smooth, easy driving character never gets mean, it just gets a little more manic when pressed. The Supra is the kind of track day equipment that will make a beginner love the sport, yet can still satisfy an experienced driver who chooses to push it.
It never gets tired – even after dozens and dozens of fast laps demonstrating its capabilities to the execs in the right seat the brakes did not fade. And thanks to comfortable, supportive sport seats and great visibility the driver doesn't tire either.
The Supra's only flaw became apparent when unfamiliar drivers tried to get it into and out of park. Thanks to the cryptic BMW gear lever, even seasoned 'car guys' were left poking and prodding the shifter and trying to decipher on screen instructions. Of course, this is a non-issue once you own one.
If you get a chance to drive one, don't pass it up. The Supra is not only gorgeous on the outside, but it also has the heart and soul, power and handling to match.