Ford revealed the updated, 2024 F-150 at September's North American International Auto Show in Detroit and displayed the rallycross-inspired Mach-E Rally, fire-breathing Mustang GTD and stealth-mode F-150 Lightning Platinum Black.
Thirty-year Blue Oval veteran, Dave Pericak has a connection to all of these vehicles. Currently Ford's Director of EV Truck Programs, in previous roles Pericak led the engineering and development of the current Mustang Mach-E and was chief engineer for the 2013 Mustang. In between came a stint as the global director of Ford Performance, including collaborating on the Ford GT with Multimatic, as Ford has done again with the development of Mustang GTD.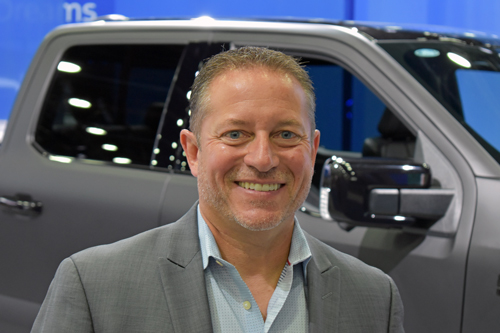 Chicago-native Pericak is an enthusiast with multiple Mustangs in his garage, among them a '68 and a 2000 Mustang GT convertible. "I'll never get rid of them," he says, and recently added a 1927 Model T to his collection. Vicarious caught up with him on the Detroit show floor next to a Lightning – Pericak's current daily driver.
Vicarious: What does your Ford Performance background bring to the EV role?
Dave Pericak: The experience of working in a performance environment enables me to do a couple of things. One is to bring the true customer's perspective to the EV world. If you're going to excel in the Ford Performance world, you have to know every intricate detail of what your customer wants. Same thing here. We're exploring new ground. The more we can engage with the customer and know the customer, the better we can be at developing products that will resonate with them.
The other thing is learning how to break the rules. When you're doing EVs, we're breaking a lot of rules. Knowing how to break them, but still operate inside a company as big as Ford, is really important, and it's helping the team. As we look at the next generation of EV trucks for instance, we're challenging the way we think we should do things – how we used to do it, versus the way we need to do it now. That includes timing. In performance, [everything] is now, now, now. I think that experience helps to move the team a lot faster because we have to react a lot quicker in this new world to get updates and new features out to the customer.
V: One of the criticisms leveled at EVs is that they can be a little characterless. How do you bring the character and desirability of old cars like the '68 Mustang to EVs?
DP: Those cars did have a lot of character and I think they had a soul to them. When we did the Mustang Mach-E, we talked about how to bring that Mustang soul and character into the vehicle. It's really important that we bring that into every product that we do, electric or not – that you can get in that vehicle, feel its personality and relate to it. A lot of EVs are very sterile. I think the differentiator [in the future] is going to be when you can truly bring that character to life, then you will have a winning recipe. We're working hard on doing that. It's why we picked our iconic vehicles to electrify first. But our next generation of those vehicles is going to show you even more character.
V: Sum up the state of the nation, as you see it, for EVs in North America.
DP: You always get early adopters, and they come in quickly, but you're working towards the majority of people now. Demand is still strong, especially after we did a recent price drop. For Lightning for instance, we did a price drop of almost US$10,000 and we have seen a massive influx of traffic to the website, and retail orders, since we made that change. I think that it's [about] finding the right balance of the price point versus the cost that it takes to produce the vehicles. Once you get that equation [right], I believe there's a lot of interest in electric vehicles. We're [only] just uncovering the next wave of the majority starting to adopt the technology.
V: What do you think is key to driving that mainstream adoption?
DP: One of the key things is education. I'm the guy with a garage full of muscle cars, but I love the performance, quietness and smoothness of the Lightning. I think that many people don't yet fully understand what an EV is or what it's capable of. There are a lot of misconceptions out there among the public. The biggest thing for us is to figure out how to continue to educate that consumer. I think getting butts in seats is really important. People need to get behind the wheel and experience what it's about. I'm amazed by the questions I get at parties and events, the misconceptions that people have about EVs. Once we break through the education piece and allay people's fears or misconceptions, I think you'll see a bigger adoption.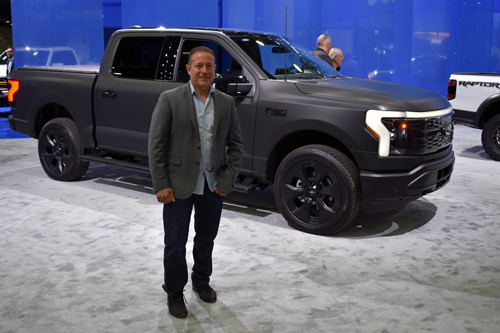 V: Ford's data shows that the median daily use for a Mach-E is 30 miles, but you still hear comments on range anxiety. How do you bridge that gap?
DP: We're continuing to work on this within Ford, but I think it's a problem for the industry to figure out. We have to be like the MythBusters on that Discovery Channel show: get out there and myth-bust! We knew that 300 miles (500km) of range was an important number for people adopting but now I think it's charging anxiety that people are worried about: how will I charge, where will I charge, and for how long?
V: What difference do you think it'll make to Ford EV owners, having access to the Tesla Supercharger network from 2024?
DP: I think it will make a big difference. Anytime you increase the number of chargers available, it's a good thing. And the reliability of the Tesla charging system is good, you can't deny it. But most people don't realize that most charging happens at home. Not too many people are fast-changing their cars, except when they drive a long distance. The Tesla chargers will be very helpful for people doing those journeys because they are usually in the places that you want them and they are pretty reliable.
V: You mentioned price reductions. In Europe there are many more, smaller, relatively affordable EVs on the road, including from Chinese brands, What's your take on another common criticism leveled at EVs, the high price here in North America?
DP: Without getting into future product plans, I can tell you that we are very focused on reducing the cost of using an EV. We must continue to drive the cost down and one of the strategies that you'll see we're taking, that maybe others aren't, is not just going 'bigger is better' on batteries. We're looking for overall efficiency – using the smallest battery to do the job you need to do and keep the cost down. Whether it's the motors themselves, the entire driveline, or the aerodynamics, we're looking at every piece so that we can continue to drive down the kilowatt hours that you need. Because that's where the real savings are. It's no secret that the money in EVs is in the battery.
V: Do you have a number target in mind for dollars per kilowatt hour?
DP: We do. [The market] is very volatile right now, so I'm not going to comment on what our targets are, but we're going very aggressively on the dollars per kilowatt hour. We need to do that to get to very affordable EVs. Right now, without quoting numbers, the equation between what the battery costs and what the rest of the car costs, is pretty staggering.
V: Is lithium-ion still the answer for the next few years? What about solid-state batteries, which might have better cold-weather performance?
DP: There's a ton [of work] going on in that space to crack the nut and address some of the things that we know are going to be challenges for us. We are exploring everything under the sun to figure out the right answer. Solid-state is in the group of things that we're looking at. But it's not the only one by any means.