It was obvious in 2017 that to remain competitive in the market, Alfa Romeo would need to release an SUV. So when the Stelvio first arrived, with that classic Alfa front-end but without all the other classic Alfa-ness such as two doors, a drop top, or rear-wheel drive, it felt like somewhat of a compromise. To its credit, the Stelvio fit right in, even amongst established competition from the likes of the Porsche Cayenne and BMW X5, making it a little easier to give the storied Italian manufacturer a break. And since Alfa Romeo was now under the control of Fiat-Chrysler Automobiles (FCA), compromise would be necessary for the Stelvio in order to appeal to the broader SUV market in North America.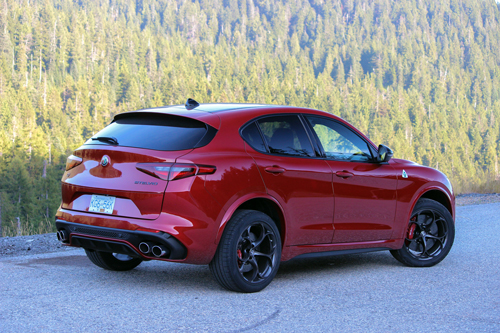 Well, "compromise" was all before we tried the hot "Quadrifoglio Verde" (QV) version, and classic Alfa-Romeo lines or not, it has taken the Stelvio up a notch in the destination viewing department – never mind the powertrain, which we'll touch on that later.
Styling-wise, it ticks all the right boxes; the QV designation adds huge cannon-like quad tailpipes, a darker traditional scudetto triangular grille and gorgeous – gorgeous — 20" rims that are lingerie-like in the way they hide – but only just — the red brake calipers and ceramic discs behind them. The Rosso Competitzione tri-coat paint, meanwhile, is the cherry on top of what is a stunning styling package. The stance and profile are right on, too, which is no doubt helped by the fat 255-section Pirelli P Zero performance rubber.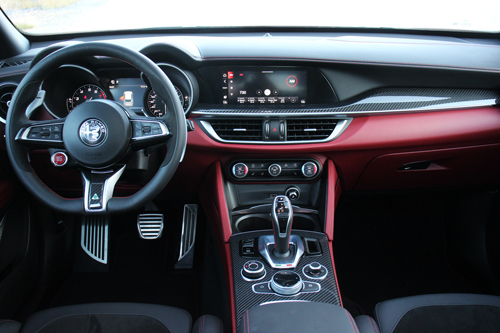 Inside – on my car especially – there's little denying that you're in a special Stelvio. The black leather/Alcantara seats with red contrast stitching, the huge metal sickle-like paddle shifters and carbon fibre inserts sprinkled throughout the cabin are sure to see to that.
Power from the twin-turbo V6 (which, it has to be said, looks like it belongs in a SUV this good looking thanks to its shiny black valve cover crowned with the traditional four-leaf clover emblem) is rated at 505 hp and 443 lb-ft of torque, enough to propel the Stelvio QV to 100 km/h in about four seconds, on to a top speed of 285 km/h. That latter figure, of course, doesn't matter so much in the real world but the accelerative force cannot be denied as it will pin you back in your Recaro under full throttle like few other SUVs this side of a Jeep Grand Cherokee SRT or Porsche Cayenne Turbo.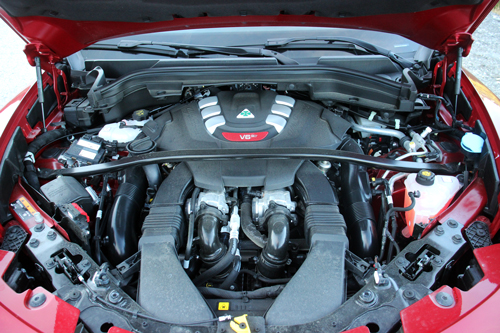 You tip in, hold on, and proceed to do your best to snag the right shift paddle (easy to do because of their size) for an upshift lest the car get mad at you for not keeping pace. I've driven the Stelvio's Giulia sedan sibling, and I don't remember it feeling quite this assaulting on the senses. What pace this SUV has! What panache! What's the point?
Whoa, hold on there, cowboy. What do you mean, "what's the point?" SUV or not, this is still the top performance spec of an Italian sports utility vehicle that needs to prove at this price level ($92,700 before options), it can compete with the establishment. It must, as it is a halo vehicle and that's kind of what halo vehicles are all about. I'll tell you what: when it comes to powertrains, this is right on the mark.
Of course, power is all well and good, but it has to be able to handle itself, too. It needs to be able to eviscerate bends the same way it does the quarter mile (or the time between stoplights).
To achieve this, Alfa has fit the Stelvio QV with standard adaptive dampers; you can either set them yourself or let the computers do this for you. There are four drive modes – Normal, Advanced (read: eco) and Race – select Race, and the dampers are automatically firmed up. You can loosen them with the press of a button but curiously, you can't turn them on with the press of the same button in any of the other drive modes. I guess it makes sense since the QV is quote firm in general, let alone with the dampers set to "firm", but it, along with inability to turn off traction control, smack of a little bit of short-sightedness when it comes to the Stelvio's development.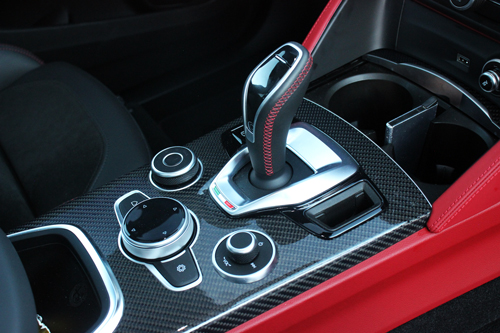 You won't hear any complaints from me when it comes time that you actually want the firmer settings, however; the Stelvio can carve a corner just as well as the competition, and does so with a nicely-telegraphed attitude that lets you know what's happening underneath each wheel, plus an ultra-responsive steering rack. Which, it has to be said, is great for aggressive driving but a little nervous when highway cruising.
Those brakes, meanwhile, look the business because they are the business – once you warm them up. At first, as ceramic rotors often are, they're loud, rumbly and grabby so you have to be wary. After that, though, they grab and hold for dear life almost as soon as you depress the pedal, and they will not fade. My guess is you could probably track this thing, and they still wouldn't fade; when you've got 15.4" of surface area up front and 14.4" at the rear (and six and four piston calipers, respectively), they tend to be pretty resilient.
Which you have to monitor yourself because there are hardly any driver aids to speak of; there's no lane-keep assist or active cruise control, because Alfa obviously wants you to focus on the driving when it comes to the QV. Sure; there are the cursory SUV bits like a cargo bay with adjustable rail-mounted dividers (I just took them all off in order to better fit my wares), room for a family of four, AWD and a backup camera (though it only take sup half the display; wish it took up more) but if you want all that, you surely don't have to drop this kind of coin on your Stelvio, which starts at $54,545.
Indeed, you're spending that amount of money on your Stelvio because you want to be heard (you will be as those tailpipes aren't just for show, they emit a proper, burbly, muscular report), be seen and you want your hair set on fire when you really mash the throttle pedal. In short, you want what the Italians – and indeed, Alfa Romeo itself – is best known for: power, panache and style and thanks to the Stelvio QV, we now know that you can have all that, regardless of body type.
2020 Alfa Romeo Stelvio Quadrifoglio
Price as tested: $109,590.00
Configuration: Front engine/all-wheel drive
Engine/transmission: Twin-turbo V6
Power/torque: 505 horsepower/ 443 ft-lb of torque
Fuel: Premium
Combined fuel economy ratings: 12.3 L/100 km
Competitors: Audi SQ5, BMW X5M, Jaguar F-Pace SVR, Jeep Grand Cherokee SRT, Mercedes-AMG GLE 63, Porsche Cayenne GTS
Links: Alfa Romeo Canada