In the world of high-performance automobiles, Porsche is uniquely positioned to rest on its laurels. It is one of the benefits of designing an automotive icon. The Porsche 911 has been around for almost six decades and while it has experienced monumental revisions with each new generation, it still highlights the curved facade first sketched by Ferdinand Porsche in 1959. And let's be completely candid here, that classic silhouette reflects throughout the Porsche line-up. You never look at a Porsche car or SUV and wonder if it is built by another automaker. You just know, it's a Porsche.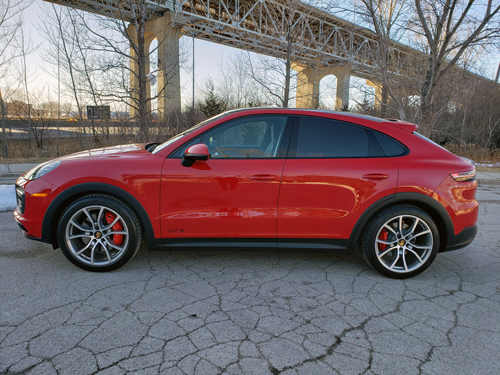 While the inspiration for all of their vehicles starts with this historic shape, it cannot be said that the German automaker is somehow stuck in the past. In fact, the exact opposite is true. In a world that seems determined to buy anything that remotely resembles an SUV, we forget that Porsche was one of the first to demonstrate that a vehicle built for on and off-road excursions could be cool, exotic and might even be considered iconic in it's own right.
Think back to 2003 when the Cayenne first launched and what else was available at the time. The pinnacle of luxury meant you could purchase a Cadillac Escalade or BMW X5. While they still represent an excellent choice in the luxury SUV marketplace today, the word exotic doesn't come to mind. The thought of a Porsche SUV incorporating many of the design elements from the 911 Coupe was not only hard to fathom, it was for some, heretical. But it worked, and forever established the company as a benchmark for others to follow. No resting on their laurels here.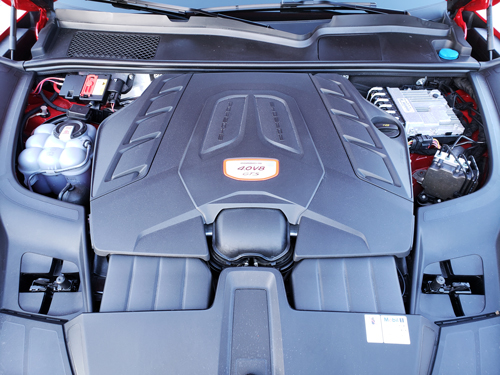 Powertrain: In Porsche-speak, the GTS designation means that it is typically the most sporty, fun-to-drive, passionate vehicle for that particular model range. It is not necessarily the fastest, but there is a very good chance it will sound the best and be, from the driver's perspective, the most in tune with curving through twisty pavement at speed. The 2021 Porsche Cayenne GTS Coupé is no exception.
Power comes in the form of a twin-turbocharged V8 engine that sounds raspy, especially in Sport and Sport+ mode. Matched to an 8-speed Tiptronic S automatic transmission, it delivers 453 horsepower at 6,000-6,300 rpm and 457 pound-feet of torque at 1,800-4,500 rpm. The result is a zero to 100 km/h blast in 4.5 seconds and a top speed of 270 km/h with Sport Chrono Package.
That should be fast enough for anyone of sound mind and body, especially here in North America. But when you compare it to the technical specs of the Cayenne Turbo Coupé which delivers 100 km/h in 3.9 seconds and achieves a top speed of 286 km/h, it has the potential to sound a little underwhelming. But the proof of its true potential is in the driving.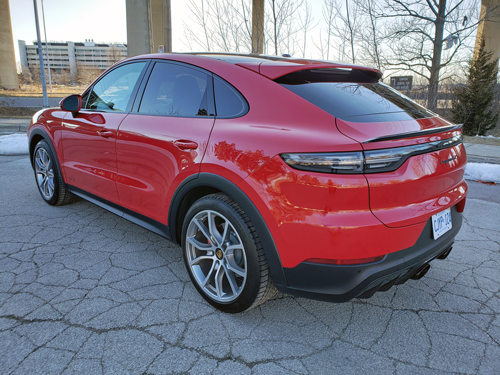 Exterior: The 2021 Porsche Cayenne GTS Coupé moves the needle forward into the future, while once again drawing on the past with its sleek 4-door coupe styling. There is no mistaking it for anything other than what it is, a true Porsche, with the lineage of a high-performance sports car coursing through its veins.
Fully galvanized steel is used throughout to strengthen the body of the Cayenne GTS Coupé, it is an SUV after all, but lightweight material is also found in abundance. The hood, tailgate, doors, fenders and roof are all constructed of an aluminum hybrid to save weight and provide strength. Black cladding surrounds the lower body, providing a little added protection from everyday driving while at the same time maintaining its sporty visage. Dual high-gloss tailpipes look aggressive and provide a distinctive exhaust note and an integrated rear roof spoiler aids aerodynamics.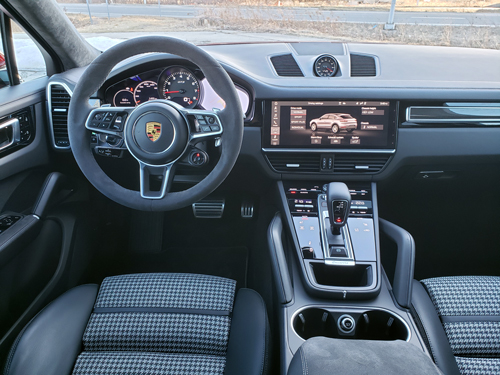 Interior: The options list when buying a new Porsche has always been extensive, with the prospect for bespoke treatment seemingly endless. Opening the drivers door to get in, I am greeted with classic houndstooth fabric covering the center portions of the 18-way power sport seats. It is a welcome change from the more typical all-leather interiors found in most sporty vehicles and a throwback to the classic era of Porsche.
A thick 3-spoke steering wheel is also a Porsche hallmark, this one is wrapped in Alcantara with thumb rests for comfort and a host of controls aiding functionality. It also includes what I like to call the round "fun knob" to adjust vehicle performance with a simple click of the dial. And every Porsche features a tachometer at the center of the gauge pod and ignition switch to the left of the steering wheel. Guarding tradition on the inside is just as important to Porsche as it is on the outside.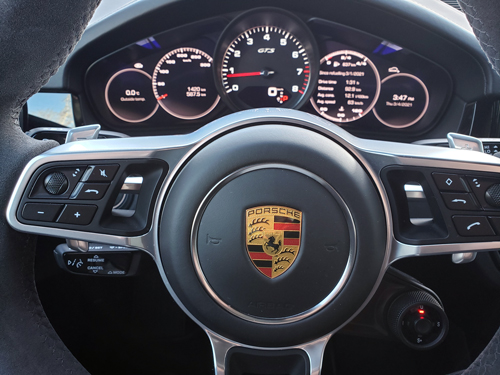 Drive: On the road, our test vehicle performs the way you expect a Porsche should and there is very little sense that you are driving an SUV. Yes, it is somewhat stiff on city streets; potholes and speed bumps do get noticed and you will feel the road through the sculpted sport seats. But that connection to the pavement is what you want in a sporty vehicle and any temporary discomfort is quickly abated by punching the accelerator and listening to the glorious sounds of that sweet V8 engine work its magic.
Ground clearance is part of the reason why many people choose an SUV over a sedan or wagon, not just excellent rear storage space and room for four, both of which this offers as well. The Cayenne GTS Coupé highlights a maximum air suspension off-road height of 520mm between the road surface and any parts that may be sensitive to water. It's impressive to experience firsthand.
However, this is not your typical heavy duty, rock-climbing, trail-forging SUV. The vast majority of driving the GTS Coupé will be done in Sport or Sport+ mode, meaning maximum air suspension ground clearance is limited to approximately one third of that. It should also be noted, you may want to think twice before subjecting the optional 22" GT design wheels on our test vehicle to rocks and gravel. A scratch of the flat black coating could be costly. And go easy on the $3,590 Carmine Red paint, it's worth every dollar!
It is interesting how an exotic, modern-day SUV such as the 2021 Porsche Cayenne GTS Coupé can fully embrace the history of an iconic sports car almost 60 years in the making. Maybe that is one of benefits of holding firm to a glorious past, staying rooted in family values, all the while fully embracing the need to keep moving forward and change with the times.
2021 Porsche Cayenne GTS Coupé
Price as tested: $157,920.00 CDN
Configuration: front-engine, all-wheel drive
Engine: 4.0L 8-cylinder
Transmission: 8-spd PDK
Power/torque: 453 hp/457 lb-ft
Fuel economy ratings: 14.0 L/100 km combined
Warranties: 4 years/80,000 km
Competitors: Alfa Romeo Stelvio Quadrifoglio, BMW X5 M, Dodge Durango SRT Hellcat, Jaguar F-PACE SVR, Jeep Grand Cherokee Trackhawk, Maserati Levante Trofeo V8
Link: Porsche Canada