If there's an upside to the ridiculous performance SUV trend, it's that each model has its own distinct personality, offering consumers something unique on its own. It's also a market that's dominated by exquisite German offerings, things like the overachieving BMW X5 M or the equally capable Mercedes-AMG GLE 63 S. And let's not forget the quasi-perfect Porsche Cayenne Turbo, or the brutish, yet deeply charismatic Jeep Grand Cherokee Trackhawk. Heck, if you're going talk Italian, why not throw the Alfa Romeo Stelvio Quadrifoglio in the mix as well?
Indeed, consumers have a lot to choose from in this class. So why on Earth would they turn to a Maserati?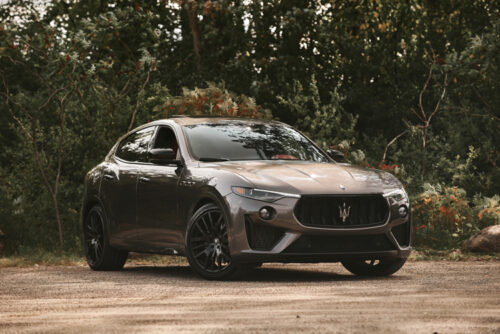 I would ask myself the same question each time I'd see a Levante Trofeo on the road. At least, on paper, this Maserati has a lot going for it. It has a Ferrari engine; that alone could be enough to seal the deal. But at $170,210, or roughly $40,000 more than a base Cayenne Turbo, it also remains a think-it-twice transaction.
But after spending an entire week in one, I understand a bit more why Maserati is asking so much for these things. Albeit some irritating pitfalls, the Levante Trofeo nevertheless deserves its spot in the ring, as it boast qualities you can't find in the competition.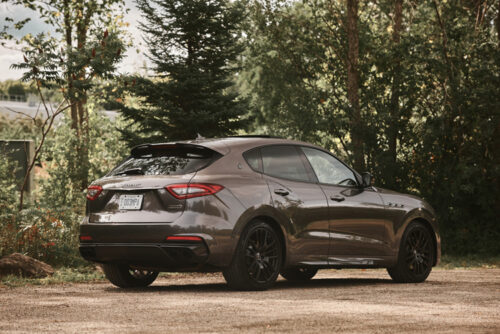 Before I go in depth on the Trofeo experience, allow me to give you a little crash course on what this thing is. It sits at the very top of the Levante food chain as one of four available trim levels. It therefore sells alongside the base Levante, Levante S and Levante GTS.
Two variations of the same 3.0-liter V6 power the first half of the lineup, while the GTS and Trofeo models get a Ferrari-built and tuned 3.8-liter twin-turbocharged V8. It's good for 550 horsepower in the Levante GTS, but in the Trofeo, it gets cranked up to 590. Torque is however the same at 538 lb-ft.
The Trofeo also comes with an upgraded adaptive air suspension, beefier brakes and improved chassis rigidity, allowing it to sprint from 0 to 100 km/h in just under four seconds, or 0.3 second faster than a Levante GTS.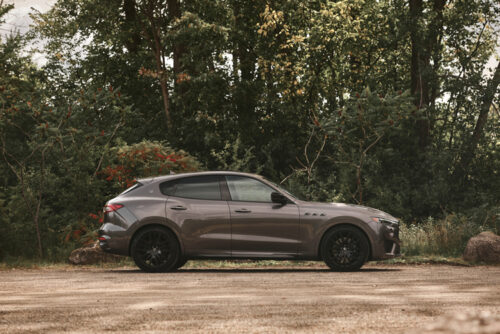 All-wheel drive is of course standard, as is an eight-speed automatic ZF-sourced transmission across the lineup. Contrary to some online rumours, the Levante doesn't ride on a revamped Jeep Grand Cherokee platform, nor does it share its architecture with an Alfa Romeo Stelvio. It's actually built on its own bespoke structure, one that's shared with the Maserati Ghibli and Quattroporte.
The immediate sensation when driving the Trofeo is how much more wheel travel its suspension has compared to its stiff German opposition. This allows the Levante to be a lot smoother when driven in a pothole-infested city like Montreal, but also a much more enjoyable back road adventure machine.
While never as athletic as an X5 M in the bends, or as brutally quick in a straight line as a Cayenne Turbo, there's an enjoyable level of pushiness in the Levante's suspension – in all modes – that really gives it that grand tourer vibe. In the vehicle's most dynamic settings, the suspension squats down and stiffens up, but always remains compliant, while the more comfortable and off-road settings lift and soften the entire vehicle.
The force-fed V8 is an absolute masterpiece of Italian engineering as it provides a strong and linear surge of power. Most of that is due to the Ferrari's boost control computer, which straightens power delivery for a seamlessly endless torque curve. The system in effect flattens turbo lag to a point where it's barely noticeable.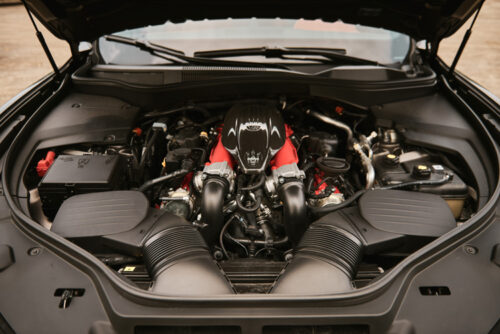 The eight-speed gearbox, in typical ZF fashion, shuffles gears quickly and effortlessly, allowing the majestic engine to sing its mechanical crescendo at will. Downshift two gears in Corsa mode – the Trofeo's most aggressive setting -, and its enormous quad exhausts spit out a satisfying yowl that echoes on the city's walls. While considerably more muffled than Ferrari's sports cars, it's a sound that nevertheless stirs your soul, allowing you to indulge in the Trofeo's flamboyant and exclusive personality.
Perhaps where the 2020 Maserati Levante Trofeo becomes a hard sell is in its overall cabin presentation. While the presence of rich materials and good quality leather give this cabin a styling edge – especially when painted in red like this tester -, the FCA parts bin specials are sadly quickly revealed. The headlight switch is taken out of a Jeep Cherokee. Window controls seem sourced out of a RAM pickup, and the wiper stalk comes straight out of a Dodge Caravan.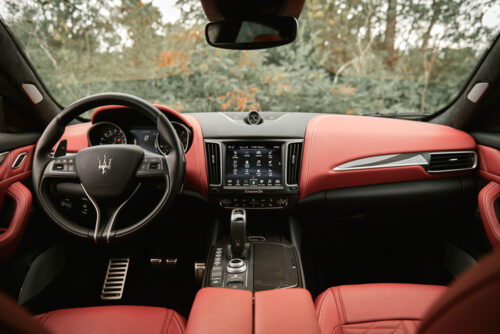 And don't get me wrong, I totally adore FCA's UConnect infotainment interface for its sheer common sense and user-friendliness, but at nearly $200,000 a pop for this Trofeo, you'd at least expect something that doesn't look like it could belong in a Chrysler 300. Why is the RAM's infotainment interface more modern than this Maserati's?  The Levante's interior simply feels like it's from another decade.
But not all is lost, as that cabin remains downright one of the most comfortable in its class. There are also neat design cues here and there, like the carbon fiber center console or the perfectly sized column-mounted paddle shifters, also made of carbon fiber. The Levante's rear seat is also roomy and plenty comfortable for long rides.
However cargo space is below the entire segment. This is expected given that the Levante is sized between the compact and the midsize category.  Its trunk will only engulf up to 1,624 liters of your gear with the rear seatbacks folded flat, which puts it behind a Cayenne (1,708 liters), an X5 (2,047 liters) and a GLE (2,011 liters).
The Levante Trofeo is indeed swimming in a vicious shark tank, and with barely 2,000 units sold in the US and Canada last year, it's not like it's ensuring any kind of profitability for Maserati. It's too bad, because the product itself has the substance, the performance, and above all, the character to deserve its spot in the big leagues, but the final execution is sadly not convincing enough to grab market share from the Germans.
Perhaps the next-generation Levante, scheduled sometime late next year, will fix all that, as Maserati is currently revamping its entire brand image with the MC20 exotic sports car spearheading its new ethos.
2020 Maserati Levante Trofeo
Price as tested: $170,210.00
Freight: $2,200.00
Configuration: Front engine/All-wheel drive
Engine/transmission: Twin-turbocharged 3.8-liter V8/ 8-speed automatic
Power/torque: 590 horsepower/ 538 ft-lb of torque 
Fuel (capacity): Premium (80 L)
Combined fuel economy ratings: 16.8L city, 13.1L highway and 15.7L/100 km combined.
Observed fuel economy (12.3 L/100 km lowest): 161 L/100 km average
Warranties: 4-years/80,000 km (basic)
Competitors: Alfa Romeo Stelvio Quadrifoglio, BMW X5 M, Jaguar F-Pace SVR, Jeep Grand Cherokee Trackhawk, Mercedes-AMG GLE 63 S, Porsche Cayenne Turbo
Links: Maserati Canada