There's a $127,000 question on my mind.
Who exactly is spending that kind of coin to get behind the wheel of the 2021 Dodge Durango SRT Hellcat AWD?
Yes, you read that correctly. The exact final price for this week's tester is $127,590, which includes an extra $3,000 tax relating to the fact the engine is, shall we say, not very green!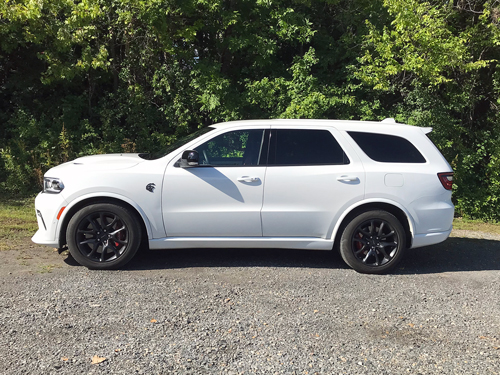 And just when I thought it was a question that had no answer, I spotted my tester's cousin out in the wild, so clearly there's a market out there for this supercharged SUV. But if you want one, get it now because it's only being produced for this model year.
With a base price of $116,415, I was also a little surprised to see some of the optional equipment added to the tester. Like $500 for a blind-spot monitoring system with rear cross-path detection and $95 for red seat belts.
Some of other options were the Laguna leather high performance seats ($1,500), Black Package ($495), a second-row console ($695) and a sweet 19-speaker harman/kardon sound system with subwoofer and an 825-watt amplifier ($1,995).
Powertrain: Now, as ludicrous as the pricing might sound, get a load of this.
The Durango comes with a massively powerful 6.2-litre SRT Hemi Supercharged V8 engine that growls like a beast and produces 710 horsepower and 645 lb-ft of torque. That's just bonkers.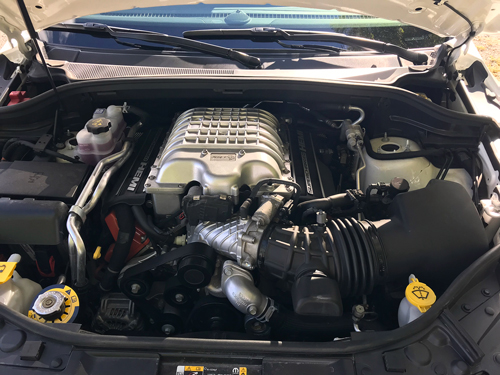 All that power means this Hellcat can gallop from 0 to 96 km/h in 3.5 seconds and has a top speed of 290 kilometres per hour! Not too shabby for a large seven-seat SUV.
While those numbers are huge, it's all handled through an eight-speed automatic transmission on the Durango SRT Hellcat.
And all that power is accompanied by equally potent brakes. Stopping the Durango is done with Brembo high-performance six-piston, two-piece (front) and four-piston (rear) calipers, as well as vented rotors.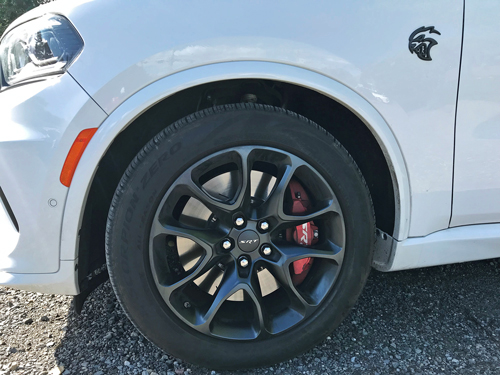 Fuel efficiency is not this vehicle's forte, with an estimated combined average of 17.4 litres per 100 kilometres of premium fuel. Not that anyone who owns one of these likely cares, but I did no better than 24 L/100 km. Ouch!! No wonder you are charged a special tax when you buy one of these.
Oh, and the Durango can do more than just go fast. It also has a best-in-class towing capability of 8,700 pounds.
Exterior: The Durango lineup received some styling enhancements for 2021, but the Hellcat takes it to another level with specific upgrades such as a unique low-gloss black grille with larger openings to help engine cooling, a hood scoop as well as a unique rear spoiler which Dodge says improves downforce by more than 400 per cent. With all that horsepower, every extra bit helps.
The Durango's new looks include elements of the Charger Widebody, with its forward-leaning profile, as well as LED headlight and LED signature daytime running lights.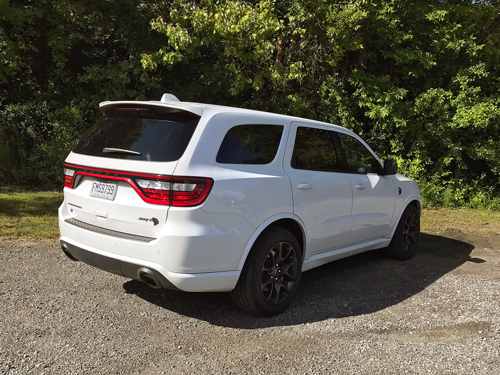 Our White Knuckle (an interesting name for the colour since driving this could make some people's knuckles go white) tester was outfitted with the optional black package ($495) which adds a few nice exterior touches. That includes 20-inch Lights Out wheels, black exhaust tips, gloss black exterior mirrors and some unique badging features.
Of course, the Hellcat logo was ever so subtlety added in the grille, front wheel wells and on the rear hatch.
Interior: The roomy cabin, with second-row captain's chairs, has been redesigned for the 2021 model year to introduce what Dodge says is a driver-orientated cockpit.
The most noticeable change is an upgraded infotainment screen (more on that later) and a redesigned central bank of switches below the screen.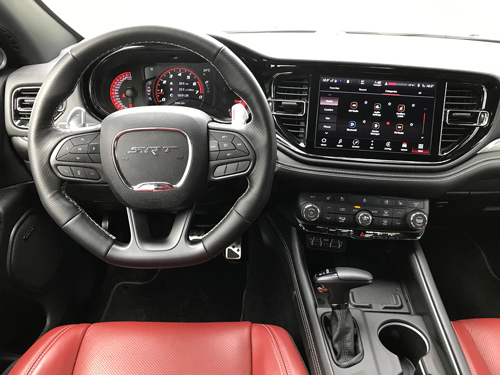 Some of those new buttons definitely make life easier for certain operations, especially the dedicated buttons for heated and cooled seats, eliminating the need to toggle through on-screen menus to activate the seat warmers.
In the Hellcat, our tester was equipped with the optional red Laguna leather high performance seats, featuring an embossed Hellcat logo. Not only are they elegant, but they are also extremely well cushioned to support you while driving.
Some other nice touches specific to the Hellcat include red-accented gauges and a flat-bottomed steering wheel.
Be warned that the cabin is a bit noisy, but I suspect that anyone buying this vehicle will welcome the sweet whine of the supercharger and loud rumble of the V8 rather than being turned off by it.
Infotainment: The Durango has an upgraded 10.1-inch screen for the Uconnect 5 infotainment system, which is a pretty good size considering how large the dash is.
As part of the Durango's retooling of the cabin, it's now angled toward the driver, which is a move I appreciate and wish more automakers would consider.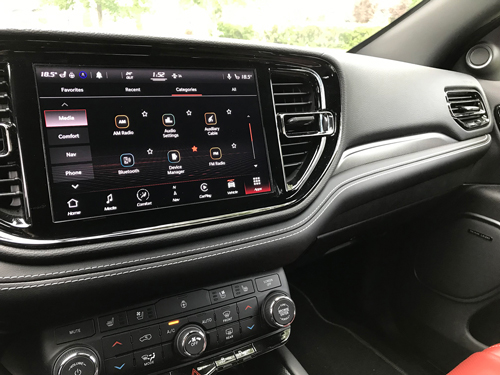 It comes with navigation, Bluetooth with streaming audio as well as wireless Apple CarPlay and Android Auto.
As loud as the engine is, the tester's optional 19-speaker harman/kardon sound system with subwoofer and an 825-watt amplifier allows you to tune it out should you chose to do so.
However, I found myself enjoying the notes from the supercharger more than the tunes from the sound system.
The infotainment interface itself is quite good thanks to an upgraded interface in Uconnect 5, which is up there as one of the best systems available in my opinion. It has clear menus and a good response time that makes it easy to operate.
Drive: Driving the Hellcat is no doubt a heck of a lot of fun.
I mean, with that kind of power under your right foot, the temptation to open it up is like an itch you have to scratch, and I certainly won't claim I didn't do that. When accelerating with the 710 horsepower at full throttle, you will definitely be pushed back into your seat.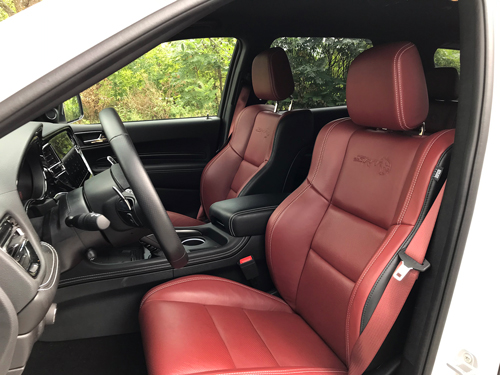 The Hellcat also features Launch control, which when activated will limit tire slip to make acceleration even faster.
The model receives an upgraded suspension from Dodge compared to other Durangos in order to improve handling, both in track mode and under normal driving condition.
That said, occupants will still experience a lot of rocking and rolling in the Durango, especially on rougher roads as bigger bumps in the pavement can send shockwaves through the cabin. Okay maybe that's a slight exaggeration, but you certainly feel everything.
Conclusion: Is there a reason for the Durango SRT Hellcat? Not really.
Is it excessive? Most definitely.
But that doesn't mean it won't find a home with some buyers, as evidenced by me crossing paths with one on the road.
It's an absolute beast in terms of brute power and the styling is equally aggressive. Not only that, but it delivers versatility thanks to room for up to seven passengers and an excellent towing capacity.
So, not only could you use launch control to take the Hellcat to a drag race, but it can also handle family vacations. But be warned, your gas bill will likely extremely high!
2021 Dodge Durango SRT Hellcat AWD
Price as tested: $127,590.00
Freight: $2,795.00
Configuration: Front engine/All-wheel drive
Engine/transmission: 6.2-litre SRT Hemi V8 Supercharged/ 8-speed automatic
Power/torque: 710 horsepower/ 645 lb-ft of torque
Fuel (capacity): Premium (93 L)
Combined fuel economy ratings (L/100 km): 17.4 L/100 km
Observed fuel economy (L/100 km): 24.0 L/100 km
Warranties: 5-years/100,000 km (basic)
Competitors: BMW X5 M, Mercedes-AMG GLE 63
Links: Dodge Canada