Have you ever been to Taos, New Mexico?"
It's not a question that I typically ask a colleague at a press event, especially when you happen to find yourself seated at a picnic table, sipping an early morning coffee, in bucolic Ontario one hour north of Toronto. Though the sense of tranquility may be similar, the geography of Hockley Valley couldn't be more different than New Mexico's high desert region.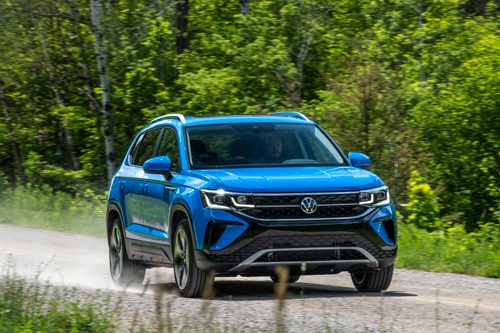 Located in the Sangre de Cristo Mountains, Taos is unlike any town I have visited in the United States. I spent several days there years ago and enjoyed its unique character as a long-time artist colony and centre for Native American culture. For me, the name evokes memories of relaxation, rest and peace. It isn't a flashy town in any way, instead, I left feeling grounded and thankful for the serenity it offered.
What is interesting to me is that Volkswagen has somehow managed to capture that same sense of well-being in the new 2022 Taos, the fifth vehicle in a growing line-up of SUVs from VW. Are you in need of a little family-vehicle serenity now? You may want to consider the new Taos.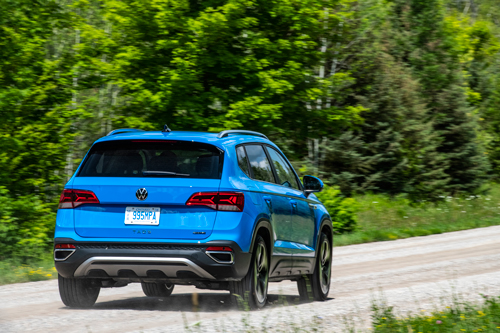 Powertrain: I was quite prepared to be underwhelmed by the 1.5L TSI gasoline-powered engine that resides under the hood of the Taos. It delivers 158 horsepower at 5,500 rpm and 184 lb-ft of torque at 1,750 rpm using regular unleaded fuel.
Matched to either an 8-speed automatic with Tiptronic in the front-wheel drive models, or a 7-speed DSG with Tiptronic in the 4MOTION AWD line-up, the option for manual shifting is a feature I found myself using more for fun than to help improve the performance of its somewhat diminutive 4-cylinder powerplant. The AWD models also feature a multi-link independent rear suspension for improved drivability and fun. Power assisted; dual circuit 4-wheel disc brakes are standard as is speed-sensitive power assist steering.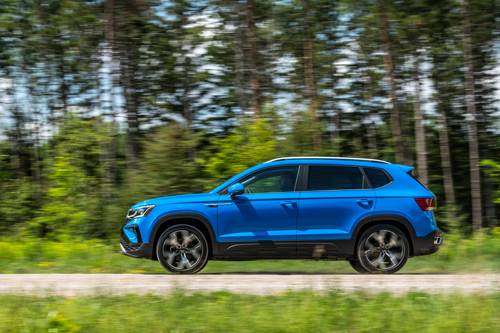 Taos is not overly fast off the line; this is no Golf R in compact SUV guise. But it does hold its own when accelerating away from a stop, or passing slower vehicles on the highway. The workload required to accelerate uphill while attempting to pass does impact your level of confidence and increase engine noise considerably within the passenger cabin. But it proved to be more than up to the task, as I spent a few hours driving up and down the hills surrounding the Hockley Valley Golf and Ski Resort.  Fuel economy is expected to be better than average and a 50L tank should allow for extended trips between fill-ups.
Exterior: There is no mistaking the Taos as anything other than a Volkswagen utility vehicle. The family resemblance is on point, and given VW's current design language, it is something to celebrate. In fact, I may even dare to say it is more attractive than its slightly larger sibling the Tiguan.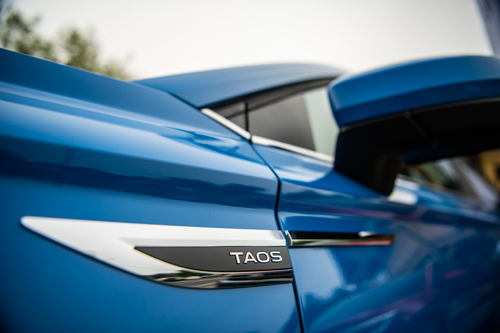 The Taos looks bigger than it actually is. When asked who its main competitors are in the marketplace, Patrick Danielson, Director of Product Planning Volkswagen Group Canada Inc., stated the Taos falls right in between the subcompact and core compact SUV segments. This is one of the strongest market segments in Canada, with sales in excess of 600,000 vehicles a year. That means Taos is up against the Chevrolet Trailblazer, Hyundai Kona, Kia Seltos, Jeep Compass, Mazda CX-30 and Subaru Crosstrek. It's a crowded field, but especially when it is decked out in full Highline trim, Taos should do very well.
Interior: First impressions are just that, first. But they can have a lasting impact if they are good or bad and in this case there is mostly only good news to report. The Taos is a well-designed, expertly-crafted, roomy five passenger compact SUV with exceptional rear storage given its modest exterior footprint.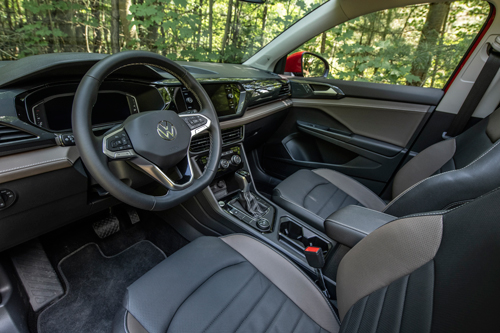 For those well-versed in the inner-workings of VW vehicles, this should come as no surprise. Volkswagens are renowned for their roominess, legroom (rear seat legroom is just 45 mm less than Tiguan), headroom, storage and the quality of materials used throughout the interior. Sometimes the hard plastic on the doors, dash and center-console can feel a little harsh to the touch, but even that seems improved in the new Taos.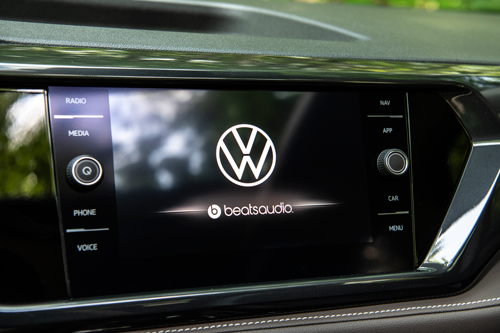 The dash is clean and uncluttered, with easy to use round knobs for adjusting HVAC settings, a leather-stitched steering wheel and excellent outward visibility. And I do mean excellent. There are no blind spots to speak of and the outward views of the road ahead and behind are outstanding. While it may not be all chrome and carbon fiber, it is functional and easy on the eyes, a quality that plays well in this segment of the market.
Infotainment: Apple CarPlay and Android Auto are standard on the Taos. Our Highline model is equipped with an 8-inch touchscreen infotainment system, which seems big enough in this case. At first glance, it looks a little bland with white on black icons, no razzle-dazzle like most of its competitors. But it works so well, I quickly accept the monochromatic interface and enjoy the system for what it offers; competent, straightforward and logical interaction.
Conclusion: The 2022 Volkswagen Taos has all of the markings of success. VW as a company is moving ahead with their electrification, in fact the fifth SUV in the family is the upcoming ID.4 arriving later this year. But, let's not forget that a well-engineered, small displacement, fuel-efficient, stylish and roomy compact SUV can have a long shelf life as the world slowly churns its way towards an inevitable EV future. Taos offers serenity now and it looks and drives great doing it!
2022 Volkswagen Taos
Price: Trendline: $26,695.00, Comfortline: $32,395.00, Highline: $36,395.00
Freight: $1,905.00
Configuration: Front engine/FWD/AWD
Engine/transmission: 1.5-litre TSI 4-cylinder, 7-speed/8-speed automatic
Power/torque: 158/184 ft-lb
Fuel (capacity): Regular (50 L)
Warranties: 4-years/80,000 km (basic)
Competitors: Chevrolet Trailblazer, Hyundai Kona, Kia Seltos, Jeep Compass, Mazda CX-30 and Subaru Crosstrek
Links: Volkswagen Canada