OK, show of hands: who thought the Impreza was Subaru's biggest-seller in Canada? What about the Forester crossover?
Well, you're all wrong on both counts.
The bestselling Scooby you'll find in our fair country is the Crosstrek subcompact CUV-slash-hatch on stilts. It looks cool with its butch fender cladding, higher ride height and two-tone wheels and it outsells the Impreza 2-1. That caught even your esteemed writer by surprise.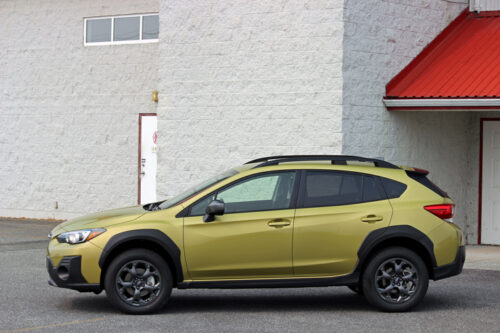 "SUVs are becoming so ubiquitous on the road," said Brad Evans, Crosstrek line manager. "Compact cars are being abandoned as buyers think they need an SUV because everyone else has one and because of that subcompact SUVs (and CUVs, like the Crosstrek) have gone crazy." Indeed, it wasn't always this way; the Crosstrek only just took the mantle for top-selling Subaru as of 2019.
They haven't rested on their laurels, though.
Two big changes punctuate the mid-cycle switch taking place for the 2021 model year: the addition of an "Outdoor" trim package and also that of a 2.5-litre four-cylinder engine good for 182 horsepower and 176 pound-feet of torque. That's up 30 and 31, respectively from the previous 2.0L engine which is still available today.
For 2021, meanwhile, there are eight trims to choose from: Convenience ($23,795), Convenience with Eyesight ($25,795), Touring ($26,195), Touring with Eyesight ($28,195), Sport ($28,795), Outdoor ($29,995), Sport with Eyesight ($31,395) and Limited ($34,495). The base Convenience trim, the Touring trim and the Sport all come with a six-speed manual, while the rest come with a continuously variable automatic transmission (CVT).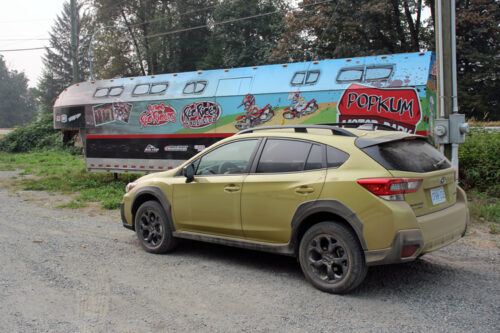 A quick note on Eyesight: it's made up of two cameras mounted above the rear-view mirror and it's how the Crosstrek gets adaptive cruise control, lane keep assist, pre-collision braking and throttle management, and advanced adaptive cruise control which also includes lane centering.
My tester was the Outdoor trim, which really is a bit of a sweet spot in the Crosstrek line-up. It's the least-expensive way to get the new 2.5L engine (in fact, the Sport with Eyesight, which sits one trim above the Outdoor, still gets the 2.0L but adds niceties like a sunroof and LED headlights), and is kind of like the Crosstrek taken to the nth degree; more aggressive fender cladding that actually adds 20 mm of width, special Plasma Yellow Pearl exterior colour with matching interior trim accents and dual X-Mode AWD, which adds a new deep snow/mud mode and allows for more slip for better off-road performance. You also get heated a steering wheel and seats – which is great, but in a vehicle like this, these are features that should come as standard lower down the line than Touring trim; there are some Crosstrek competitors that have these features as standard even at base.
Other styling changes that are seen on all new Crosstrek trims include new wheel designs and a new front grille.
You really do get the sense as soon as you step in to the Outdoor that you're in a special Crosstrek. The yellow piping is complimented by metallic yellow highlights on the steering wheel and 'round the tachometer and speedometer gauges plus some faux carbon fibre trim. It's a great place to be except for one thing, and that's the seat colour. It could have been black, but Subaru has instead elected to go with a shade of grey for a base colour that looks just a little too taxicab-spec for me. The darker contrasting seat insets do well to break up the monotony a little, but I think something just darker, maybe more charcoal-like would have been a better way to go. I do appreciate that the seat material is an easily-washable synthetic leather and fits well with the Outdoor's modus operandi.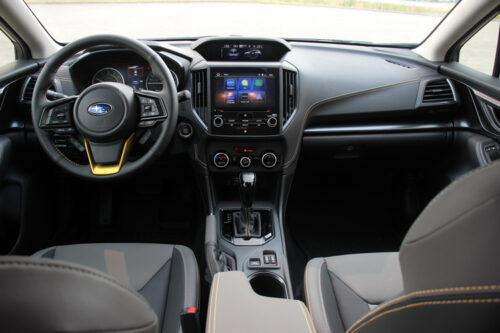 In addition to Eyesight, the tech on-hand is good; the Starlink infotainment system uses big, crisp graphics displayed on a responsive touchscreen, and it comes as no surprise that Apple CarPlay and Android Auto are here, as well as a host of other apps. In addition to the main infotainment display, there's a secondary display above it that kind of acts as an off-roading version of the supplemental gauges for oil pressure and boost pressure that you might find in a muscle car like the Ford Mustang.
In the Crosstrek, that supplemental display is your off-road guru, informing you of your angle of attack, what each wheel is doing and it's also where you'll find a camera that faces forward and down so that when you're on a steep grade with nothing but the wild blue yonder in your windscreen, you can see the ground below on the screen so you know where to place your wheels.
We had the chance to put the tech to the test on a dirt bike course just outside of Vancouver, British Columbia and it did not disappoint. It takes a little getting used to – looking at your dashboard instead of through the windshield while driving makes one uneasy at the outset – but once you get over that, you see how effective the tech is.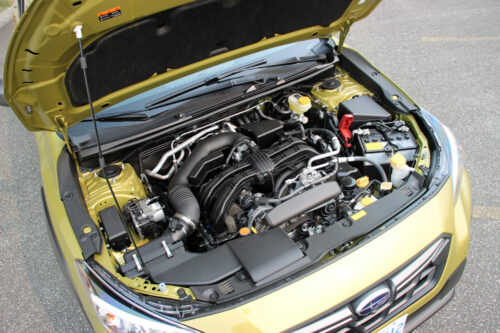 It's good that it's effective because the rest of the Crosstrek Outdoor package is so darn on-point that if you're going to be coming to this party, you had better bring your "A" game.
The Crosstrek drive experience boils down to two things, really: the new engine, and the dual-mode "X Mode" AWD system.
The engine feels a whole heck of a lot punchier than the 2.0L in the old car, to the point where for some reason, it feels like it makes more power than Subaru is claiming. Which, if course, I have no problem with and I would guess few would. Power is delivered quickly thought the CVT automatic – yes, this is not the most enthusiast-centric kind of transmission but Subaru has taken great pains to ensure that it at least feels like you're driving a traditional auto, that cogs are actually being shuffled. As a result, performance on the road is properly brisk and short of adding a turbo, there isn't all that much more I'd ask for when it comes to the powertrain of my subcompact crossover.
Then there's the AWD system. With the new deep snow and mud mode added, the Crosstrek really does claw its way through a whole bunch of off-road obstacles. Steep climbs on loose gravel? No problem. How about coming down the other side? Not a problem, either, as X-Mode kind of acts like a cruise control system for off-roading in that it automatically activates the Crosstrek's hill-descent system once the goings get steeper. No need to press an extra button; pressing the single "X-Mode" button is all you need to do for access to all the off-roading features the Crosstrek provides. It all makes it so much easier to leave the beaten path (and inspires so much confidence when it comes to tackling Canadian winters), which can open up a while new world of adventure.
Which, I think, is why the Crosstrek does so well. You just get this feeling when you're in one that it's almost encouraging you to explore a little, to maybe leave your comfort zone behind if only slightly. It makes driving in adverse conditions so simple, yet manages itself so well during the daily grind, too. Right on.
2021 Subaru Crosstrek
Price as tested: $29,995.00
Configuration: Front engine/all-wheel drive
Engine/transmission: 2.5L four-cylinder, CVT
Power/torque: 182 horsepower/ 176 ft-lb of torque
Fuel: Regular
Combined fuel economy ratings (L/100 km): 8.0 L/100 km
Competitors: Chevrolet Trailblazer, Ford EcoSport, Hyundai Kona, Jeep Renegade, Jeep Compass, Mazda CX-30, Mitsubishi EclipseCross
Links:
Subaru Canada