The name may be familiar, but the all-new 2021 Chevrolet Trailblazer is nothing like the model that bore the same name before.
Introduced early last year, the Trailblazer is one of the newest entrants in the small SUV category, one that is constantly gaining in popularity.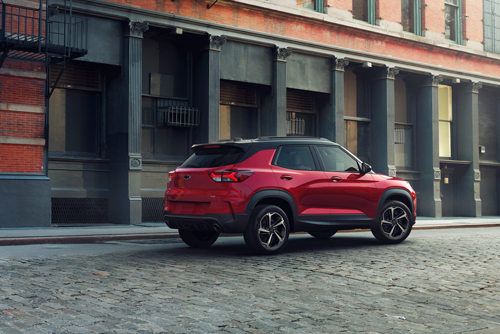 Chevrolet has a total of eight models listed as CUVs and SUVs on its website, so they clearly know a thing or two about these types of vehicles. The Trailblazer is the second smallest, slotting just ahead of the Trax and a notch below the Equinox.
With a starting price of $23,798 (LS trim), the Trailblazer has an affordable entry point in the market. We tested the RS AWD, which is the top available trim, starting at $30,398, while as equipped, the tester had a price of $37,478.
Even in base form, the Trailblazer comes with some important safety features, such as forward collision alert, automatic emergency braking, front pedestrian braking, lane keep assist with lane departure warning, rear vision camera, rear seat reminder and OnStar.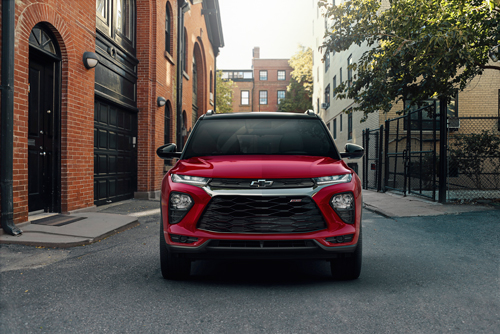 Unique to the Canadian market are additional standard items on the RS, including rear park assist, lane change alert with blind zone alert and rear cross traffic alert.
Optional items added include the Sun and Liftgate package ($1,995), a dual-pane sunroof and power liftgate with LED logo-projection; Technology package ($1,995) that includes a Bose premium 7-speaker sound system, satellite radio, LED headlights and more.
The Trailblazer has two engines on offer, both of which are a turbo 3-cylinder. The base is a 1.2 litre, while the RS has the larger 1.3L under the hood, which is rated at 155 horsepower and 174 lb-ft of torque.
It is also paired to a nine-speed automatic, which was quite good, while the smaller engine is fitted with a CVT.
The engine is not about to set any land speed records and does feel a little sluggish when pushed hard, but it is altogether competent under normal day-to-day driving.
Chevrolet says that the Trailblazer, with the 1.3L engine and AWD system, has an estimated combined fuel economy of 8.4 litres per 100 kilometres. I was able to return a respectable 9.7 L/100 km with lots of city driving in the mix.
The one thing I find the Trailblazer has going for it is looks – especially the two-tone Scarlet Red Metallic body/Mosaic Black metallic roof two-tone combo of our tester. (It also looks pretty good in an all-black setup as seen in a neighbour's driveway.)
Much like the larger Blazer, the smaller CUV features Chevrolet's signature dual-port front grille. When combined with the slim headlight design and larger fog lights, the overall look up front is pretty sporty.
There are also some nice body lines, a pleasant roofline and large wraparound taillights that catch your eye and draws the attention to a nicely designed rear end.
Inside, the Trailblazer's layout is just as nice and welcomes occupants in a cozy environment. As a small CUV, the cabin is not overly spacious, but remains comfortable even with some limited rear legroom.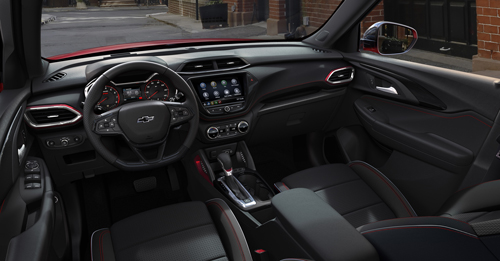 The cloth seats, with red accents and leatherette trim, give the cabin a splash of style, however.
The 40/60 split folding second row seats gives the Trailblazer additional flexibility for cargo, which is helpful since the space behind the seats is not enormous.
The centre stack design is also good in my view, with essential controls that are easy to understand and operate thanks in part to large dials.
It is topped by a large and clear display screen, which is powered by Chevrolet's latest infotainment system offering good functionality and ease of operation.
It also now features wireless capability for Apple CarPlay and Android Auto, a feature I especially appreciated because I often forget the charge cable at home. So now when the mind wanders, you can still benefit from this excellent feature.
Out on the road, as mentioned earlier, the Trailblazer's engine isn't particularly energetic, but is effective.
The same can be said about the drive. It does a decent job under most circumstances and can take curves with grace, but the rougher roads were definitely felt in the cabin.
The cabin can sometimes also be a bit noisy under certain conditions, notably hard accelerations.
Overall, it offers a good enough performance to win its share of the market, but it's not going to win many power comparison tests.
That being said, the Trailblazer – especially decked out in a two-tone paint scheme – is a nice-looking vehicle and it does have a lot of sought after features in terms of safety and creature comforts that definitely play in its favour and it does have all-wheel drive.
2021 Chevrolet Trailblazer RS AWD
Price as tested: $37,478.00
Freight: $1,800.00
Configuration: Front engine/All-wheel drive
Engine/transmission: 1.3-litre turbo 3-cylinder/ 9-speed automatic
Power/torque: 155 horsepower/ 174 ft-lb of torque
Fuel (capacity): Regular (50 L)
Combined fuel economy ratings (L/100 km): 8.4 L/100 km
Observed fuel economy (L/100 km): 9.7 L/100 km
Warranties: 3-years/60,000 km (basic)
Competitors: Ford Escape, Hyundai Kona, Kia Seltos, Mazda CX-30
Links: Chevrolet Canada