Mazda seems to have a knack for developing and designing winners when it comes to crossovers, and a week with the 2021 CX-30 GT Turbo only served to reinforce that.
The nomenclature on our tester is important because it represents the biggest change for this model year on the CX-30: The introduction of a 2.5-litre turbo engine that significantly ups the power output. Also new for 2021 as standard equipment are auto on/off headlights and rain sensing wipers.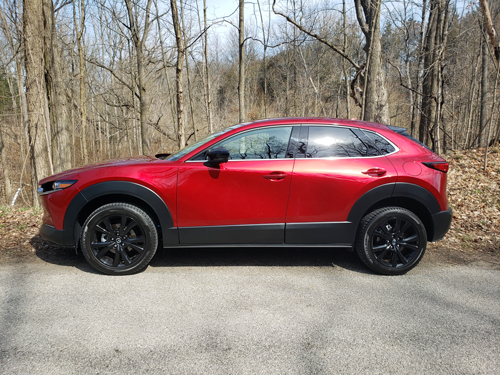 Available in three trims (GZ, GS, GT), the CX-30 starts at $24,700 for the GX, while our GT Turbo tester costs $38,165 with freight and an additional fee for the paint colour added on.
While that may seem a bit pricey, the GT Turbo is a very well-equipped trim, and the engine delivers quite a bit more punch when behind the wheel.
Powertrain: Under normal circumstances, the 2.5L 4-cylinder engine on the CX-30 produces 155 horsepower and 150 ft-lb of torque, but that gets a significant bump thanks to the turbo.
With premium fuel (93 octane), output increases to 250 hp and 320 lb-ft, but even if you opt to use only regular gasoline, you still get 227 hp and 310 ft-lb, representing a significant jump.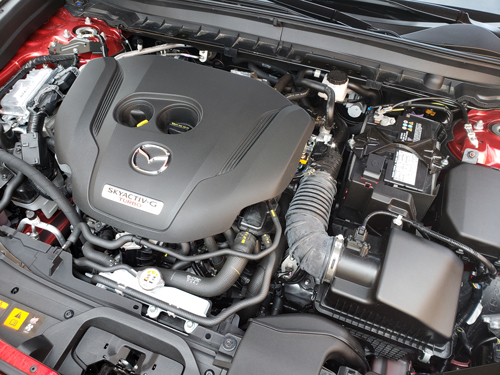 The result is a crossover that is pretty quick off the line, which can get even faster when you switch to Sport mode via a selector in the centre console.
The engine is paired to a six-speed automatic transmission, which in the GT also features paddle shifters. While having only six gears may sound outdated compared to some other automatic transmissions on the market, it is very well tuned and executed on the CX-30 resulting in smooth shifting.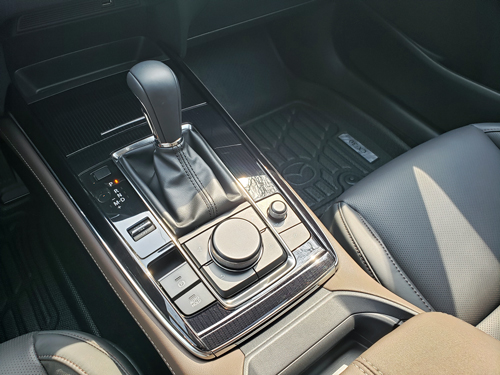 Unfortunately, I missed the mark a little in terms of fuel economy, doing no better than 10.3 litres per 100 kilometres, a full litre per 100 km more than what Mazda says the CX-30 can achieve.
However, I did much more city driving than highway cruising, so it may not be so bad after all.
Exterior: There's no denying it: The CX-30 is a very nice-looking vehicle, with a coupe-like silhouette and some unique features on the GT Turbo that give it a somewhat sporty look to match the engine's output.
That includes black 18-inch alloy wheels, jet black exterior mirrors and larger exhaust outlets.
And our tester was painted Soul Red Crystal Metallic, which for me is worth the $450 charge to stand out a little bit among the crowd. Yeah, it is red and it is very nice!
The CX-30 has the signature Mazda front end, which is very nice featuring the chrome trimming around the grille and slim headlight assemblies.
I guess my one issue would be with the extreme amounts of plastic trim around the wheel wells at the bottom of the doors. It's a tad … excessive.
Interior: Inside the tester, I was greeted by a black leather interior, which gives it a touch of luxury you might not expect from Mazda. The Japanese automaker has stepped up its interior design game quite a bit in recent years, so that preconceived notion is slowly waning.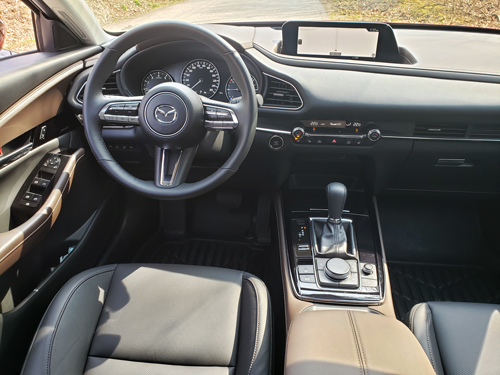 The cabin is well thought out and executed, with excellent materials and all the key controls and functions within easy reach of the driver.
The seats are comfortable and back leg room, despite the smaller stature of the CX-30, is not overly tight.
Cargo capacity is not cavernous, but it as able to haul hockey and baseball gear for a packed Saturday of sports for our son, with room left over.
Infotainment: The one thing that stands out with the infotainment system is how monochromatic it is compared to the colourful menus and screens of other automakers.
However, that does little to take away from the fact that it's a well executed offering, starting with the large 8.8-inch centre screen, controlled via Mazda's HMI commander switch in the central console. It's a setup I have come to enjoy from the automaker.
Apple CarPlay and Android Auto are incorporated, and the GT trim features an upgraded package that includes a 12-speaker Bose system, as well as satellite radio and navigation.
Drive: Out on the road, the CX-30 delivers a solid ride thanks to the suspension and steering setup, which combined gives you a sense of sure footedness behind the wheel.
It has excellent body control, so throwing into a corner doesn't phase the CX-30, especially thanks to Mazda's stability control system.
On the GT, the CX-30 also comes equipped with the i-Activ all-wheel-drive system. While that will allow you to consider some light off-roading, it does have limited ground clearance, so don't venture too far afield.
I found that road noise, even while cruising on the highway, was quite limited and made the drive, in the cozy cabin, enjoyable.
Conclusion: The CX-30 fits right into a market segment that is exploding in popularity in Canada, and it offers an excellent option for consumers. Stylish, comfortable, and now with a more potent turbo engine option, this smaller crossover has big plans to take on the competition.
2021 Mazda CX-30 GT Turbo
Price as tested: $38,165.00
Freight: $1,950.00
Configuration: Front engine/All-wheel drive
Engine/transmission: 2.5-litre Turbo 4-cylinder/ 6-speed automatic
Power/torque: 250 horsepower/ 320 ft-lb of torque (with 93 octane fuel)
Fuel (capacity): Regular or premium (48 L)
Combined fuel economy ratings (L/100 km): 9.3 L/100 km
Observed fuel economy (L/100 km): 10.3 L/100 km
Warranties: 3-years/unlimited km (basic)
Competitors: Ford EcoSport, Hyundai Venue, Nissan Kicks, Subaru Crosstrek
Links: Mazda Canada