The Hyundai Tucson is all-new for 2022, and it comes to us as one of the first Hyundais to display the "Parametric Exterior" design language that Hyundai is turning to for their future products. It stands to reason that they'd choose the Tucson to do so, as it is the brand's bestseller and some may argue its flagship as a result. And if it's the flagship, you want it flying your best, brightest and freshest colours, right?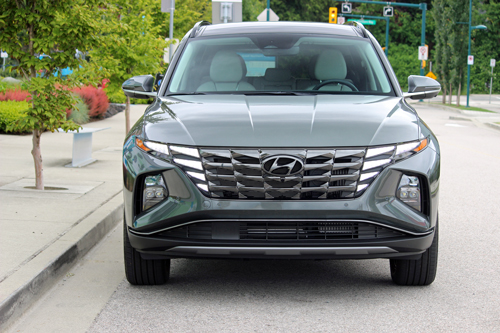 It starts with the front end, obviously. After all; it's hard to miss that big grill that partially lights up along with the DRLs (though it will dim when you activate the main headlights, which sit just below the DRLs) as it is a distinctive look. Which is fitting when you consider that Hyundai's Genesis luxury brand's line-up is loaded with some of the most impressive grilles out there. It's a little last-gen Toyota Venza, but you have to squint pretty hard to see that.
With the Tucson, though, there are some subtleties that really do it for me. The way the bodywork widens 'round the front and rear fenders, for example. Or the unique diamond-shaped grilles just above the rear diffuser/bash guard. It's all very unique and it gives the impression that there's something within the Tucson that's bursting out and changing its shape right before our eyes. It seems alive, is what it does, somehow appearing organic and techy all at once. It's a great play because ask any designer and they will tell you that pickups and SUVs/CUVs are some of the toughest vehicles to design, because you really have to do everything with an eye to practicality and accessibility.
Like this content? Subscribe here to get it delivered directly to you.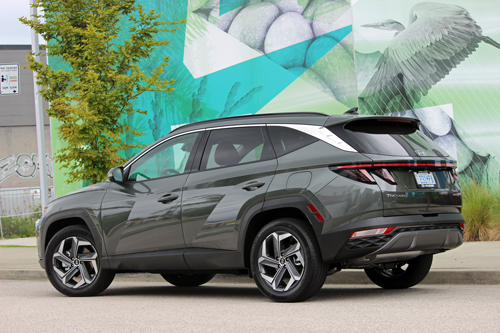 There are a few misses; the wheels on my tester are unique looking, but they measure in at 19" and yet they look smaller; the taillights are just a tad overdesigned and when the tailgate's open, I'm concerned about the sharp corners that are left behind. Other than that, though, this Tucson – which surprised me when I first saw its pictures – looks even better in person.
And we haven't even begun to discuss the interior, yet, which is another fine effort but is also a little bit "anti". While the exterior is all slice-and-dice angles and funky geometry, the interior is a serene, elegant place that aside from a few miscues, is a wonderful place to inhabit.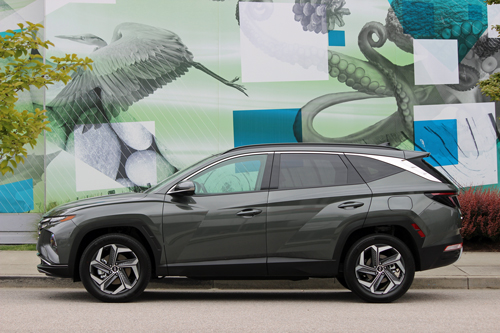 The panel gaps are ultra-tight, keeping squeaks and rattles to a minimum and since the centre stack is bereft of traditional "hard" buttons and the gear selector is actually a button bank, there is very little clutter. The ambiance is great, made even better by the infotainment system's "Sounds of Nature" app that makes use of the high-quality Bose audio system's eight speakers to sprinkle a relaxing soundtrack – crashing waves, rain patter, even a lively coffee shop – throughout the cabin. More than a neat trick, Hyundai insists that they put Sounds of Nature in the vehicle because the way it relaxes drivers will make for safer drives. Personally, I was happy to have it when I wanted a break from my playlists or talk radio, but also wanted some audio accompaniment during my drive. Indeed, I've experienced this system in many Hyundai/Genesis/Kia products lately, and when in other cars without this feature, I can honestly say that I do miss it.
This being the top-spec Tucson Ultimate model, the gauge cluster is a 10.25" all-digital affair which is crisp and easy to read, although the way it rises up from behind the wheel is less than elegant. It's accompanied by matching main infotainment display with wired Apple CarPlay and Android Auto and it's shot-for-shot with the gauge cluster when it comes to crispness and clarity. It's just that since it's housed with the touch-activated climate and audio controls all finished in piano black, the contrast between it and it's surroundings seems a little off.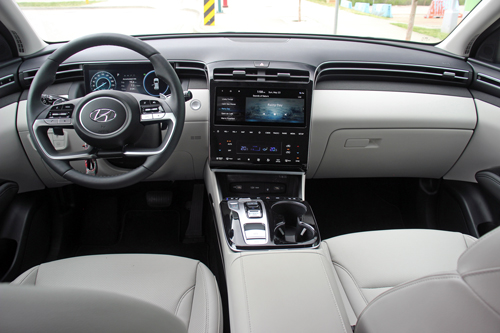 The touch panel is ultra-responsive, though, and it didn't annoy me nearly as much as do these types of interfaces in most other cars. It's intuitively laid out – audio controls aligned just below the display, climate controls below that – and the whole affair is tilted nicely towards the driver. The seat heating/cooling controls, meanwhile, sit just above the gear selector buttons which also makes sense to me. This is an exercise in how to design a modern car cockpit, and Hyundai deserves muchos kudos for the work they've done here – you can bet they have taken some of the lessons learned designing the sublime Genesis cockpits; even the Tucson's steering wheel with its seemingly superfluous extra spoke seems an allusion to the G80 sedan.
Power for my Hybrid Ultimate tester comes courtesy of a 1.6-litre turbocharged four-cylinder as well as a 44 kw EV motor, for a total combined output of 227 horsepower and 258 pound-feet of torque, fed to all four wheels through a six-speed automatic transmission. There's also a 2.5-litre non-turbo that comes paired with an eight-speed automatic, as well as a plug-in hybrid version.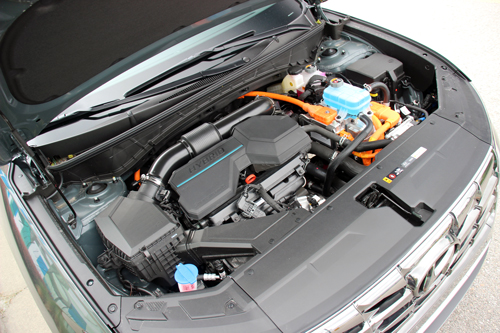 If you think that sounds like a lot of power for what is essentially a small crossover, you'd be right. It is a lot of power and the Tucson makes good use of it, spearing off the line with gumption as the EV motor helps mask any turbo lag you may get from the gas engine. That, in turn, helps mask the added weight of the hybrid system, which adds about 100 kilos. I had to remind myself on numerous occasions that I was driving a hybrid (guess I could have just looked at the power flow meter between the gauges, but I digress) as it feels so fleet of foot, this Tucson – and that's not even the best part.
The best part, the real highlight for me is how the Tucson rides. This is the vehicle's top trim and you might expect a great ride but what's on offer here is more than that. This is more than a great ride; this is a luxurious ride and while the driving enthusiasts among us may prefer a slightly firmer chassis, most buying this vehicle will take it just the way it is, thank you very much.
Of course, if drivers want to modify things a little, they can select from three different drive modes as well as three different terrain modes, all accessible from a single menu. My guess is that the snow terrain mode and eco drive modes are going to be the two most frequented by Canadians.
More than just keep you comfortable while driving, it does a great job of keeping you informed of the goings on around you as well. The gauges in the digital cluster become blind spot cameras when you activate the turn signals – like Sounds of Nature, this is a feature I find myself pining for in almost every other car I drive, from Mazdas to Mercedes – a message in the gauge cluster lets distracted drivers know when the car ahead starts to pull away from stop and the multi-angle backup camera is big and crisp. Oh, and if you'd rather not make use of the camera and just have the Tucson pull itself into a spot, you can do that, too, via buttons on the keyfob. Just line it up closely with the two cars between which you're planning on parking, step out, hit the button, and Bob's your uncle. Hooray! No more contorting yourself to get out of the driver's seat in a packed mall parking lot during the holidays!
Dang fine lil' CUV, this Tucson. I see no reason that even with the recent and continuing success of the Kona and the arrival of the Venue, the Tucson shouldn't continue to sit atop the sales charts over at Hyundai. It's a job well done.
2022 Hyundai Tucson Hybrid
Price as tested: $41,499.00
Configuration: Front engine/all-wheel drive
Engine/transmission: 1.6L turbo four-cylinder + 44 kw EV motor/ 6-speed auto
Power/torque: 227 horsepower/ 258 ft-lb of torque
Fuel: Regular
Combined fuel economy rating: 6.4 L/100 km
Competitors: Chevrolet Equinox, Ford Escape Hybrid, Honda CR-V, Jeep Cherokee, Kia Sportage, Mazda CX-5, Nissan Qashqai, Subaru Forester, Volkswagen Taos
Link: Hyundai Canada