While I said in my letter from the editor in our new sister publication, TRQ, that this was going to be the year of the EV car – and I do believe that — Subaru is doing its part to highlight just how much life is left in the world of internal combustion with this: the (according to Subaru) all-new 2022 Subaru BRZ sports car.
They're not doing it with mild hybridity, with trick all-wheel-drive (AWD) or even with turbocharging; indeed, they're sticking with the tried, tested and true theory that a sports car should be rear-wheel-drive (RWD) and that there's no replacement for displacement. Still; a turbo is something that folks have been clamouring for from the BRZ/Toyota 86 twins for quite some time now, so is this a missed opportunity?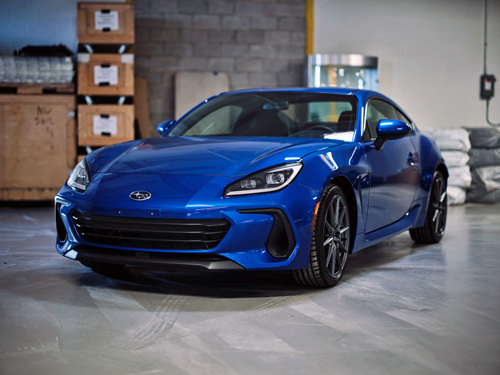 "My opinion on it is that it doesn't really need a turbocharger," said Brad Evans, car line manager at Subaru Canada. "It's not a drag car, it's a momentum car. It's a tight, technical track day car [and] especially with the enlarged displacement (for 2022, the BRZ's flat-4 "boxer" engine gets bumped from 2.0-litres to 2.4L, just like its Crosstrek sibling) peak torque is available at 3,500 rpm. You had to rev the old engine to 6,400 rpm to get peak torque."
In addition to that, Evans maintains that the plumbing, intercooling and other equipment associated with turbocharging would add too much weight. Which is important considering that with the larger engine and other various adds, the new car already weighs 10 kilos more than the old one. That's with the addition of an aluminum hood, roof and fenders which does lower the centre of gravity, if not the overall weight. However; at 1,227 kilos it would be the lightest 2 + 2 sports car on sale in Canada. So it has that going for it. Which is nice.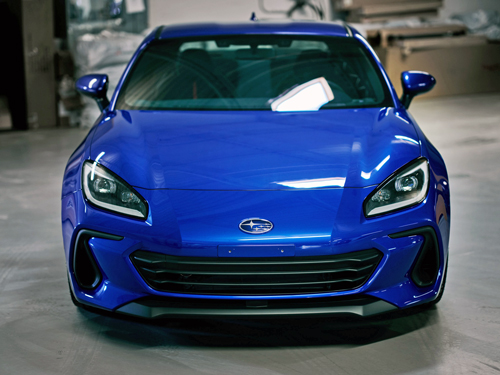 Of course, with the added engine size comes more power; the BRZ makes 228 horsepower and 184 pound-feet of torque, up from 205 and 156, respectively, in the older model. That's good for an estimated 6.5-second 0-96 km/h time, which is a second faster than it used to be. That's the case no matter which of the two transmissions – a six-speed auto or six-speed manual – you have specced.
The transmission choices are the same as previous, but the manual's shift gates have been reconfigured for easier gear selection while the auto gets throttle-blipping on downshifts and paddle shifters as well. The BRZ seems like a car that's tailor-made for a manual transmission, but customers more often opted for the auto so tuning that transmission was a must-do for '22.
On the handling front, the big add for 2022 is that Michelin Pilot Sport 4 tires will be standard; previously, the stickier rubber was available only on the top-spec tS model while "lesser" BRZs had to make do with Michelin Primacy rubber, often jokingly referred to as "Prius rubber" since it was also specced on Toyota's ultra-vanilla hybrid compact. It seems that Subaru has had enough of that, so it was time to get serious with their choice of rubber.
Although the platform is essentially the same as previous, they've managed to increase chassis rigidity by 60 per cent thanks to a new chassis mounting system and subframe. If you've ever driven the old BRZ – as I have – you'd understand that some added rigidity was sorely needed, and Subaru has listened. Also, the steering ratio has been increased to 13.5:1, it rides lower by four millimeters and is slightly longer and has a longer wheelbase as well.
Speaking of things they might have done for the new car, but didn't: AWD was never going to work. Even though it is a Subaru and the rest of the line-up gets AWD as standard, it just wasn't in the cards. "(The AWD WRX and the BRZ) scratch two very different itches," said Evans. "The BRZ appeals much more to that young, single professional (and) for smaller families, we see it as a second car. The WRX, on the other hand is more able to accommodate small family roles. Keeping those products separated was important."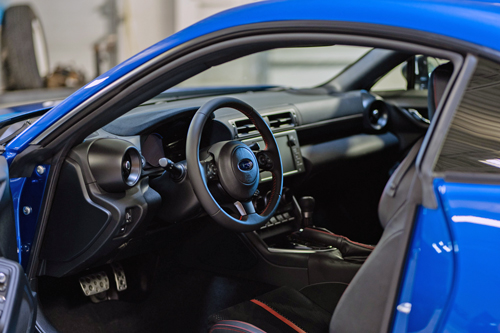 Styling-wise, it's still very much a BRZ – all long-hooded, low and just a little bit dainty – but we'd be remiss if we didn't mention that some details – especially the headlights – recall those seen on the recently-revealed 2022 Nissan Fairlady Z. Evans says that since that car isn't a 2 + 2 and will likely be priced closer to the Toyota Supra, it's not really a competitor for the BRZ. There's little doubt in our minds, though, that people looking for a sports car will likely look at both of these and possibly a Ford Mustang and Honda Civic Si as well, because there really isn't all that much to choose from in this segment. The closest competitor, meanwhile, will ultimately be the Mazda MX-5 RF even though that is not a 2 + 2, either. It is an affordable, funky rear-driver, though, and that will likely be enough for a cross-shop.
Inside, they've managed to mount the seats lower for better headroom and again, a lower centre of gravity. Customers will also appreciate the added centre armrest, standard seven-inch digital gauge cluster and an eight-inch central infotainment display with Apple CarPlay and Android Auto – that last one is a crucial add as the old car's unit was never one of the BRZ's strong suits. It will also get Subaru's Starlink connected safety service, which provides enhanced roadside assistance, collision notification, stolen vehicle recovery and other remote services in conjunction with a smartphone app.
No pricing has yet been outlined for the 2022 BRZ; expect that closer to the vehicle's release date in fall of 2021. We're looking forward to driving this so until then, watch this space for more info on the '22 'Ru.