Toyota has long been a leader in developing and producing alternative fuel technology for its vehicles, with one of the best examples being the Prius hybrid.
It's been around for nearly two decades and while not always visually appealing, the model has proven popular.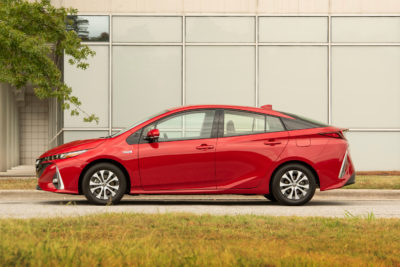 A few years ago, Toyota also introduced a plug-in hybrid version called the Prius Prime.
While still a bit of an awkward duckling in terms of styling, the Prius Prime does get a little more functional for 2020 thanks to the addition of a spot for a fifth passenger, in the rear bench, and the addition of standard features like Apple CarPlay (no Android Auto) and satellite radio.
The models are still a bit pricey, with the 2020 Toyota Prius Prime Upgrade we tested priced at $39,862.26 as tested. That is, of course, before government rebates that can be as high as $6,500 depending on where you live in Canada, which does make it more affordable.
Being a plug-in hybrid, the Prius Prime combines the best of both worlds with the ability to travel about 40 kilometres on electricity alone before switching to a more traditional hybrid setup. The battery can be recharged either with standard 120-volt household outlet in about 5.5 hours, or about two hours using a 240-volt charger.
Toyota estimates that the Prius Prime has a range of 1,035 kilometres – so range anxiety never enters your mind when behind the wheel.
Power is supplied through a combination of a 1.8-litre 4-cylinder engine that is paired with a Hybrid Synergy Drive that delivers 121 horsepower and 105 ft-lb of torque.
That doesn't seem like a lot of power, but its gets the job done.
And in a first for Toyota, the powertrain features a dual motor drive system that improves acceleration in EV Mode, which makes it quite quick off the line in that setting.
The estimated combined fuel economy rating for the Prius Prime is 4.3 litres per 100 kilometres, but I was able to best that by a considerable amount, coming in at 3.5 L/100 km.
Despite all the new features and improvements for 2020, one thing remains constant. The Prius Prime still stands out in a crowd – and not always in a good way.
The design has come a long way, but the side profile and rear end styling is still such that it won't appeal to everyone. It was designed primarily for function, which is to be as aerodynamic as possible.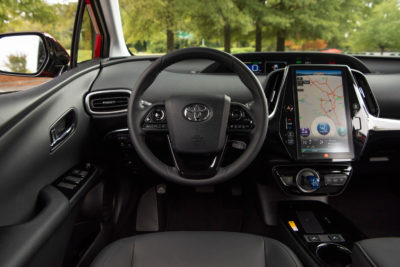 That being said, however, the front end does have some nice design cues, including the headlight assemblies, blacked-out front bumper and vertical LED daytime running lights.
At the back, there's more vertical lighting and some odd shapes, while the large trunk lid is quite heavy, requiring some effort to open all the way up.
On the inside, Toyota has brought in piano black accents throughout to help elevate the cabin feel to a more premium level.
The focal point of the cabin is the large screen in the centre of the dash that is the brains of the operation for the ventilation, infotainment and more.
Other than a few key controls, like rear defrost, volume, etc., many of the vehicle's functions are controlled through the touchscreen system. It takes some getting used to.
Thankfully, designers relocated the buttons for the heated front seats to make them easier to reach, sitting right behind the wireless charging pad for your portable device.
The shifter is still a small nub-like lever, which fits with the minimalistic dash but still feels puny.
Overall, the cabin is comfortable and there's reasonable room for rear passengers. It does take some time to get accustomed to the fact that all of your driving information, like speed, is located above that central screen rather than right behind the steering wheel.
Cargo space in the Prius Prime is limited by the battery pack in the cargo area.
The infotainment system, with that 11.6-inch HD tablet-style screen, is easy to understand and operate, and the response time is good.
The screen allows you to display a lot of useful information, including your power usage, navigation and more.
As mentioned earlier, the Prius Prime won't be winning any drag races; it was built for efficiency and it does succeed at that. The switch between EV mode and the gasoline engine is mostly undetectable, but there were a few bitterly cold mornings when that changeover was quite obvious.
The Prius Prime offers three driving modes: Power, Normal and Eco.
Acceleration when in EV mode is quite quick thanks to the instant torque, while under gas power it's noticeably more sluggish.
The ride is smooth, however, and the cabin remains pretty quiet when out on the road.
Overall, the Prius Prime delivers on what it promises by offering a decent EV-only range – enough to get me almost to work and back – with an efficient hybrid system that returned better than advertised fuel consumption.
It's a good compromise for those who may not be quite ready to fully convert to an EV.
2020 Toyota Prius Prime Upgrade
Price as tested: $39,863.00
Freight: $1,745.00
Configuration: Front engine/front-wheel drive
Engine/transmission: 1.8-litre 4-cylinder with Hybrid Synergy Drive/ Electronically Controlled Continuously Variable Transmission (ECVT)
Power/torque: 121 horsepower/ 105 ft-lb of torque
Fuel (capacity): Regular (43 L)
Combined fuel economy ratings (L/100 km): 4.3 L/100 km
Observed fuel economy (L/100 km): 3.5 L/100 km
Warranties: 3-years/60,000 km (basic)
Competitors: Honda Clarity, Hyundai Ioniq, Kia Niro PHEV
Links:
Toyota Canada
Edmunds.com