MALIBU, Calif. — Trickle-down economics comes to the 2018 Ford Mustang.
Sure, the theory may not always translate successfully into practice as government policy, but it's working wonders for the Mustang.
A number of technologies developed by Ford's skunkworks division — Ford Performance — have made their way down from the GT350 to the Mustang, including, and perhaps most impressively, the MagneRide variable damping system.
"I think it's great for us to have Ford Performance out there blazing trails for us," said Carl Widmann, chief engineer for Mustang.
"That's a big part of what those guys do for us, particularly when it's on the same platform. It really can be applied to larger audience."
Widmann pointed to three key things that came down from the GT350: MagneRide, the Michelin PS4 tire and the active exhaust, which has three settings, including quiet mode for driving through the neighbourhood late at night or early in the morning. It also has normal and sport mode.
(You can program the car to always operate in quiet mode between certain hours, too.)
He said if you want to predict the future, look at what a carmaker's skunkworks division is doing. What you see on future GT350s may well show up a few years later on regular Mustangs.
The MagneRide is especially effective. The system monitors vehicle parameters 1,000 times per second, and adjusts the rate of damping instantly, to counter roll, to eliminate squat or dive and to match the performance of the suspension to driving conditions.
MagneRide works by using shock fluid that responds to magnetic fields: apply the strongest magnetic field and the fluid becomes so thick it minimizes movement. Apply no magnetic field and the fluid flows as freely as any other shock fluid. Between the two extremes, system applies infinitely variable levels of magnetism depending on the conditions.
Drive it hard — or select the sport+ suspension mode — and it will tighten up and restrict wheel movement. Drive it normally and it will set itself up for a comfortable ride. Turn the steering wheel and the dampers on the outside of the turn will respond.
Particularly interesting is Drag Mode: here, the dampers load compression on the front, and unload it on the rear, causing the car to sit in a squat configuration to maximize weight over the rear tires. If applied on a car with the automatic transmission, this squat plus changes to the shift patterns, brings the car down to four seconds, 0-60 mph.
Latigo Canyon Road is one of SoCal's best driving roads, with 10 continuous miles of twists, turns and hairpins. It's hard to imagine ever getting bored driving this road, which might be why most homes along here sell for upwards of a million dollars.
It's also why it's one of the most popular roads for media ride-and-drive events. I had the pleasure of winding out the new Mustang GT with the performance pack, and why I mourned the end of the drive. The new GT is clearly the best handling GT ever. There was no roll. If a corner tightened up, more steering didn't upset the car. No squeals, no slides, no roll.
It makes for a great value story, as far as sports cars go. The GT Coupe is $39,988 and the MagneRide is $2,000. To get an iconic car that handles this well for $41,988 is impressive.
Of course, MagneRide isn't the only story for GT, and GT isn't the only story for Mustang.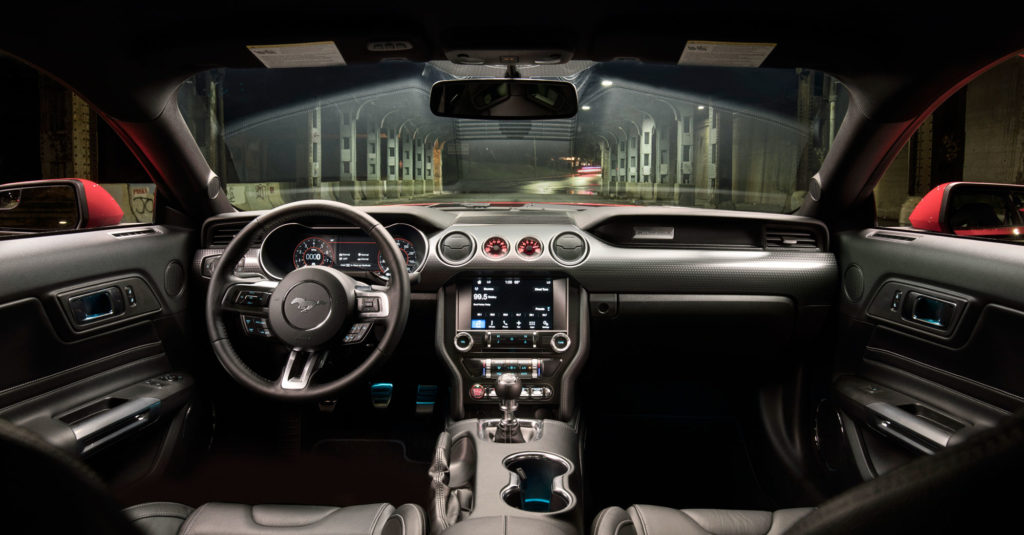 The five-litre V-8 in the GT also gets some love handed down from Ford Performance, including discarding the previous engine's cylinder liners and replacing them with the spray-on cylinder lining system from GT350. That increases the bore, which increases torque, to 420 pound-feet.
The 5.0 also gets a new dual-injection fuel system: port injection provides for low-speed and cruising performance, while direct-injection provides improved horsepower under demanding driving. The fringe benefit is the port injection provides valve washing to help prevent valve fouling, a common problem with systems that are only direct-injection.
The new V-8 delivers 460 horsepower, and thanks to that active exhaust, delivers a veritable symphony through the tailpipes.
Lost in the shuffle is the previous model's V-6 engine. Instead, Mustang comes to the party with only two engines, the V-8 from the GT and the 2.3-litre Ecoboost four-cylinder. That engine has increased in power and torque to 310 horsepower and 350 pound-feet of torque.
Considering the previous V-6 offered 300 horsepower and 280 pound-feet of torque, the new Ecoboost rendered it nearly irrelevant.
Both engines come with either six-speed manuals or 10-speed automatics. Widmann said the GT with the automatic now gets zero-60 down in the four-second range while the Ecoboost hits it in sub-five seconds.
For the manual transmission, Ford has moved to a dual-plate clutch, which dramatically reduces the amount of pedal force needed to disengage the clutch. That's another trickle-down from Ford Performance, this time from the Focus RS.
That makes the Ecoboost especially attractive given the fuel economy story: the GT's combined fuel economy is mid-to-high 12 litres per 100 kilometres while the Ecoboost's worst is 10.3, in either the convertible or the coupe with performance pack.
While the notion a lighter engine provides for better handling holds true, in Mustang it only applies to cars without MagneRide. Comparing the handling between a 2.3-litre without MagneRide and a V-8 with MagneRide is no comparison: despite the weight, MagneRide more than makes up for the difference.
It's worth noting MagneRide is also available on the 2.3, however.
Mustang is the top-selling sports car in North America and these new changes are likely to keep it on top, by a wide margin.
2018 Ford Mustang
Engine: 2.3-litre Ecoboost four-cylinder turbocharged; 5.0-litre V-8
Power: 310 hp @ 5,500 rpm (2.3); 460 hp @ 7,000 rpm
Torque: 350 lb-ft. @ 3,000 rpm (2.3); 420 lb-ft. @ 4,600 rpm
Transmission: six-speed manual, 10-speed auto (opt.)
Steering: electric power-assist rack-and-pinion
Suspension: strut with stabilizer bar (front); multi-link with stabilizer bar (rear),
Fuel economy (l/100 km, city/highway/combined): 11.0/7.7/9.5 (2.3, coupe, manual); 11.0/7.4/9.4 (2.3, coupe, auto); 11.8/8.4/10.3 (2.3, convertible, 2.3, performance pack); 15.5/9.5/12.8 (GT, manual); 15.1/9.3/12.5 (GT, automatic); 15.5/10/13.1 (GT, convertible, auto.)
Pricing: $28,888 (2.3, coupe); $33,888 (2.3, convertible); $36,688 (2.3, premium coupe); $41,988 (2.3 premium convertible); $39,988 (GT coupe); $47,188 (GT premium coupe); $52,188 (GT, premium convertible).
Key options: 10-speed automatic, $1,500; Recaro leather sport seats, $1,800; safe and smart package (adaptive cruise control, auto high beam, blind-spot with cross-traffic alert, lane-keeping alert, driver seat three-position memory, pre-collision assist with pedestrian detection, autonomous emergency braking, forward collision warning with brake support, rain-sensing wipers), $1,500; MagneRide, $2,000; Ecoboost performance package (3.55 TORSEN rear end; 19-in. low-gloss ebony black painted aluminum wheels; 255/40R19 summer tires; larger brake rotors, larger radiator, rear wing (fastback only); unique chassis tuning; unique electric power assist steering, ABS and stability control tuning, various cosmetic effects), $3,000; GT performance package (unique wheels front and rear; Brembo six-piston front calipers with larger rotors; gauge pack; heavy-duty front springs; TORSEN 3.73 rear end (manual); TORSEN 3.55 rear end (auto.); chassis, steering tuning; various cosmetic effects), $3,700.
Related links:
Ford Canada
Autos.ca