As much as it's hard to believe, the small pickup market is actually on quite the growth spurt these days. Even though massive sellers like the full-size Ford F-150 and Ram 1500 continue to rumble out of dealerships, manufacturers have found a way to carve out yet another niche beneath those, filled with smaller pickups; Ford offers the Ranger, Stellantis, Ram's parent company, offers the Jeep Gladiator.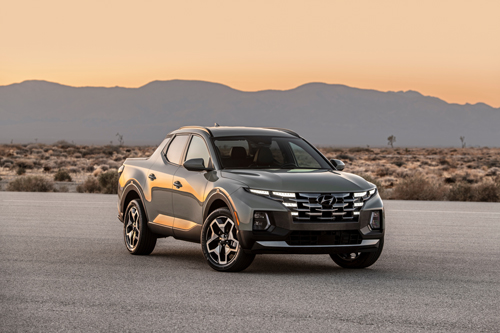 Here's the thing, though: those really aren't that small anymore. The Ranger – remember, that's the smaller Ford – is as big as the F-150 once was and have you ever stood beside a Gladiator fitted with the high-riding, big-tired Rubicon package? Well, I have – I've driven it, in fact — and the last word you'd use to describe it is "small".
Hyundai has taken note of this, and they see a spot for yet another pickup-style vehicle that sits yet another rung down the size ladder. Their entry to this emerging segment? The 2022 Santa Cruz "Sport Adventure Vehicle", which sees Hyundai beating Ford — remember them? — to market as the Blue Oval's confirmed-but-not-quite-officially Maverick small truck is also on the way.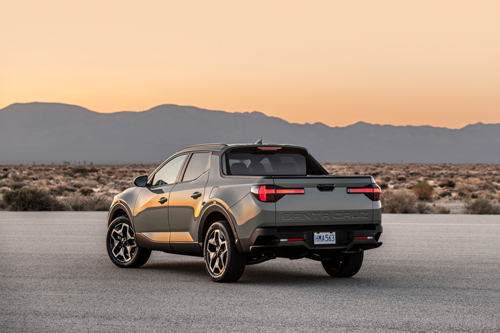 Developed in Korea, designed in California (as noted, Easter Egg-style, within the taillights) and built in Alabama, the Santa Cruz is a pickup of some capacity – there is pretty obviously a pickup bed there, after all – but it comes standard with a tonneau cover so you can close everything off and just turn it into a very cool-looking crossover. It harkens back to the days of the likes of the Chevrolet El Camino and Dodge Rampage in that like those vehicles, it shares a platform with a car; in this case, the Elantra sedan. If you're worried about how robust a sedan-based pickup can be, know that the Elantra's platform is also shared with the upcoming redesigned Tucson CUV (from which the Santa Cruz borrows a lot of its styling), and no-one's ever worried about the capabilities of that vehicle.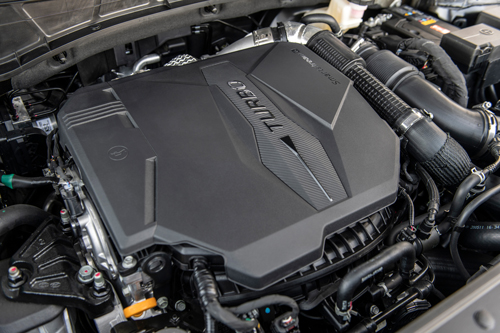 In Canada, we get a single engine choice: a turbocharged 2.5-litre four-cylinder good for over 275 horsepower and 310 pound-feet of torque, which is a pretty hefty powertrain for what is essentially a small CUV-type vehicle. Other markets get a smaller, less powerful naturally-aspirated four-cylinder but Hyundai's market research showed there just wasn't really a market for the smaller motor in Canada – and we at Vicarious have no problem with that logic.
Of course, AWD is also standard and that power gets fed to all four wheels through an 8-speed dual-clutch automatic transmission. That means that we will have a quick transmission to go with the quick engine, and undoubtedly, a very car-like experience. Canadians also get mud, sand and snow terrain modes and the Santa Cruz can tow up to 5,000 lbs.
Right. The pickup bed.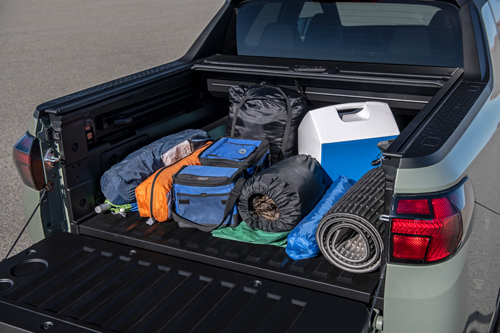 It only measures four feet on the bed floor (and a little more higher up because of the cab's strange shape), but you get a little extra in the way of storage in that there's a bin underneath the bed floor, just like you find in the Honda Ridgeline. Plus, in a vehicle like this, the pickup bed is really just a bonus as it is a lifestyle vehicle first and foremost and unlikely to be used for hauling the kind of jobsite stuff that requires a larger pickup bed. Mountain bikes and camping gear, though? Not a problem, and helped by standard bed-access corner steps on the rear bumper.
Style-wise, in addition to the obvious uniqueness provided by the pickup bed, there's also a cool lighting signature within the front grille that you can only see when illuminated, a skid plate below that and 20-inch alloys to anchor the whole shebang to the ground. This is an incredibly cool-looking thing, this Santa Cruz — possibly the coolest production Hyundai ever — and we can't wait to see it "in the metal", which we will be doing soon.
Inside is very crossover-esque, with a massive 10.25" edgeless infotainment display acting as the centerpiece of the cockpit, though all the necessary luxury adds we Canadians love are here: heated and ventilated seats, heated steering wheel, and optional digital gauge cluster as well. Safety features such as a blind-spot warning system, lane-keep assist, rear cross-traffic alert and lane-centering assist all come as standard, while the ingenious in-gauge bind spot camera and surround view parking camera are optional.
The 2022 Hyundai Santa Cruz enters production this summer; expect fuel economy and pricing figures closer to that time.