It should come as little surprise that Hyundai is choosing the 2022 Tucson crossover as the forerunner of Hyundais to come.
After all; they've sold over seven million Tucsons throughout the vehicle's 16-year lifespan, and the crossover utility vehicle segment is so important worldwide that any evolution a brand's going to take is to be spearheaded by a CUV. Look no further than the recent announcement of the Cadillac Lyriq as an "ambassador" for the next generation of Cadillac to see just how important these vehicles are for the manufacturers.
In the case of the 2022 Tucson's exterior styling, well, what a start! Called "Parametric Exterior Design" and looking like some metal origami, the cuts, creases and folds found all over the Tucson's various body panels combine to form an avant-garde look that make for one of the most eye-catching CUVs or SUVs you'll see.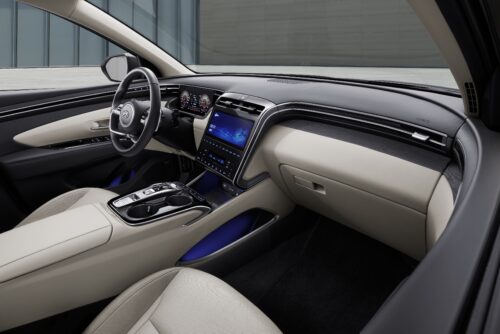 Which is no small feat as SUVs, CUVs and pickups tend to be some of the tougher vehicles to style as you really can't compromise too much on interior room and practicality for the sake of swooping rooflines or low ride heights.
So what do you do if you're Hyundai? Well, in addition to forming the body panels you have, you add neat detailing like daytime running lights that you can only see if they're on, plus some space-aged wheel designs. There's also some light trickery going on 'round back with the taillights; while there is a full-length taillight bar, only a portion is visible unless illuminated. This is one futuristic-looking thing and we're getting to the point, here, where vehicles are starting to look more and more like what you might see in a movie set in the not-too-distant future. Think Christian Bale's Equilibrium to see what we're on about.
The theme continues inside, where Hyundai has made use of a design language called "Interspace" to try and achieve, quote, "a feeling of openness and serenity." That's fine for a spot of corporate speak, but the bottom line is that the futuristic exterior is not let down by the interior.
The entire centre stack is made up of two matching 10.25" touchscreen displays, while the gauge cluster is digitized as well and has no hood; it's just a display nestled into the dash. We're curious to see how Hyundai has dealt with glare mitigation, but with the anti-glare technologies available en masse today, it's likely to provide a better look than the traditional hooded gauges we've all gotten so used to. Here, what it does, is open the interior up even further and likely provide a great view forward for different sized drivers.
The "hidden from view" theme continues with the indirect ventilation system, which Hyundai says was benchmarked against how Boeing or Airbus engineer the ambient ventilation on their airliners. Not only does it partially hide the vents from view, but it's said to just be more comfortable for passengers in general. The system also purifies the air inside the cabin.
Other aspects fond in the interior are neat, but not all that new; the buttons for the shift-by-wire eight-speed automatic transmission, for example, reminds of what's seen in the current Nexo crossover.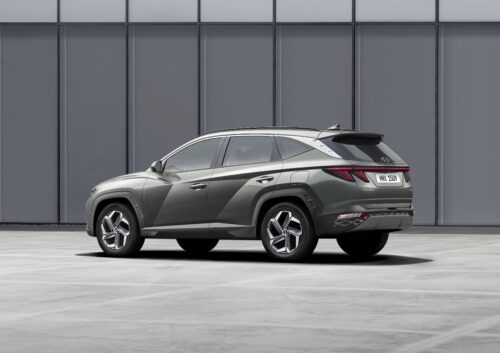 It comes as no surprise that on-board infotainment technologies like Apple CarPlay and Android Auto are present and accounted for, but the new Tucson goes beyond that by providing the ability to control certain aspects of your smart home for the vehicle. So, for, example, your home's air conditioning will be already cooling your house down once you arrive. This provides the dual purpose of keeping you comfortable but saving energy as well, as your A/C doesn't have to be on all the time. It's a little redundant, yes, what with smart homes being controlled via a phone app, but this allows you to do all that while on the road without breaking distracted driving laws. There was also talk of the ability to unlock the Tucson with your phone, and even the ability to send an unlock code to another smart device; we'll have to see if that pans out in the long run.
Another thing we're waiting on is whether or not we'll see the full range of powertrains be made available in Canada. For now, Hyundai is saying will be getting a 2.5 litre four-cylinder good for 190 horsepower and 182 lb-ft of torque, as well as a hybrid with a 1.6L turbocharged four-cylinder plus EV power good for a combined output of 230 hp and 258 lb-ft. Thing is, there's talk of a plug-in hybrid version and long-wheelbase version, but no confirmation yet whether we'll be seeing that on our shores or no.
Either way; Hyundai has turned a net trick with the ultra futuristic-looking 2022 Tucson and if this is a sign of things to come for Hyundai, the competition better stand up and take notice.