Who knew being a Rebel could look this good?
One look at the 2020 Dodge Ram 1500 Rebel Quad Cab 4×4 EcoDiesel – with its bright coloured exterior, black trim and business-like tires – and not following the rules doesn't seem half-bad.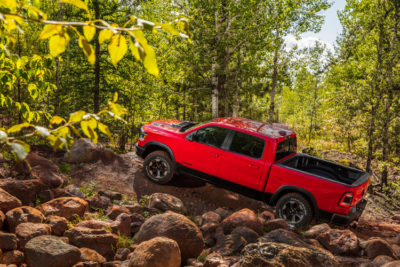 The stylish Ram also offers up an excellent passenger compartment and utilitarian features like a barn-style rear hatch, tonneau cover and more.
The Rebel has a starting price of $60,345, but the Quad Cab 4×4 EcoDiesel we tested was loaded with optional features that pushed the final bill to $78,740.
Some of those options include a power sunroof ($1,425), black tubular side steps ($700), that multi−function tailgate ($1,095), the leather and sound group ($3,590), and more.
And as the name of model indicates, this Rebel came equipped with the optional 3.0-litre V6 turbocharged diesel engine, which costs $3,900. It also adds active lower grille shutters and a larger 96-litre fuel tank.
Paired with an 8-speed automatic, the diesel powerplant produces 260 horsepower and an impressive 480 ft-lb of torque.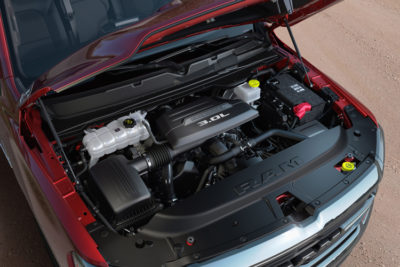 The transmission, controlled by a rotary dial on the dash, was for the most part quite good. But it was sometimes a little sluggish on gear changes, especially from first to second, and when attempting an overtake manoeuvre and hit the gas, it takes a while before it kicks down to give you more power. 
The Ram Rebel is rated to deliver a combined fuel economy of 9.7 litres per 100 kilometres, but the end of my week it resulted in an average of 11.1 L/100 km – and that is without any meaningful cargo hauling going on.
But the Ram 1500 can do plenty of that, with a towing capacity of 12,750 pounds and a maximum payload of 2,300 pounds. And the truck bed, fitted with optional spray-in liner on the tester, can hold 53.7 cubic feet of cargo.
And on our tester, that cargo bed is sheltered by a black tonneau cover, which is quite easy to install and take off thanks to two quick-action clips. Another option for the cargo area is a split tailgate that can be opened two different ways. You can have it drop down like a normal tailgate, or swing open a ¾ section of it. The downside to that is you lose out on the built-in step that would normally be in the door, but it's a nice trade-off I found.
As mentioned earlier, the black accents on the Ram 1500 EcoDiesel definitely pop against the exterior paint, and that includes the front grille, hood air vents, access steps and the 18-inch Black aluminum wheels.
Those are equipped with LT275/70R18E OWL all-terrain tires that look like they will take on just about anything – a much-needed attribute if you plan to make the most of the 4×4 capability of the Ram Rebel.
Inside, the cabin is actually quite luxurious – especially for a pickup truck.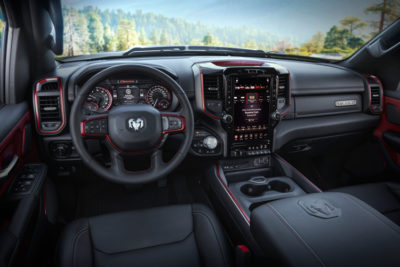 As part of the optional leather and sound package, the tester was equipped with leather-faced front bucket seats, which are heated (as is the steering wheel).
The focal point of the cabin is a large 12-inch touchscreen, which is the brains of the operation in the Ram Rebel we tested. It's big and bright, but blends in nicely with its surroundings and doesn't seem out of place in such a large vehicle.
For those on the job site, there's a hidden gem for you under the lid of the large centre console: A convenient chart that shows conversions and measurements. Nice touch.
The Rebel Quad Cab seats five, but I found that the rear bench was a tight squeeze for those with longer legs. However, the Rebel redeemed itself by having rear seats that easily flip up to allow for extra storage space.
Now back to that large touchscreen in the centre console, which wouldn't be out of place in a Tesla.
In the tester, it controls an upgraded Alpine audio system, with nine speakers and a subwoofer, is compatible with Apple CarPlay and Android Auto, and also features a 4G LTE Wi−Fi hot spot.
While some physical controls remain, the bulk of the input for many functions requires the use of the touchscreen. The advantage is a cleaner look of the console, but the downside is that many of the inputs require you to take your eye off the road, so it is far from optimal unless you are parked.
Out on the road, I found that for a big truck, the Ram 1500 Rebel was surprisingly easy to manoeuvre and park, even in reverse. That is helped by the rear-view camera, but also the front and rear park assist that is part of the optional Level 2 Equipment Group ($2,215).
There is, however, a large blind spot thanks to the seat and massive pillars beside the driver, so thankfully the large side mirrors compensate and offer good visibility.
The aforementioned transmission stutter is more pronounced under certain conditions, but on the whole, the driving experience was enjoyable.
Be prepared for being tossed around a little on bumpy roads, but that is par for the course in most trucks.
This Ram Rebel offers more than just cargo-hauling functionality. It is packed with creature comforts that would not look out of place in luxury vehicles, combining form and function in a single package.
2020 Dodge Ram 1500 Rebel Quad Cab 4×4 EcoDiesel
Price as tested: $78,470.00
Freight: $1,895.00
Configuration: Front engine/All-wheel drive
Engine/transmission: 3.0-litre Turbocharged V6 diesel/ 8-speed automatic
Power/torque: 260 horsepower/ 480 ft-lb of torque
Fuel (capacity): Diesel (98 L)
Combined fuel economy rating: (L/100 km): 9.7 L/100 km
Observed fuel economy (L/100 km):  11.1 L/100 km
Warranties: 5-years/100,000 km (basic)
Competitors: Ford F-150, Chevrolet Silverado, Toyota Tundra, Nissan Titan
Links:
Ram Canada