When the new Ranger rode into Calgary, townsfolk were quick to take notice.
He wasn't as tall as some and he wasn't as hefty, but he rode upright, his shoulders were broad and he soon showed he was light on his feet.
The school marm was impressed.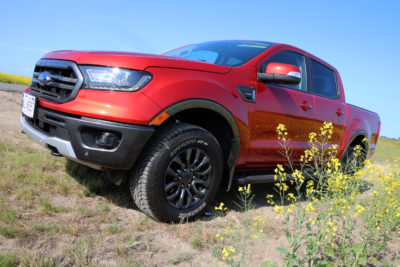 It was noted by the menfolk that he didn't pack a six-shooter but had enough firepower for most any showdown.
When he showed his credentials, he had no problem forming a posse. Folk were downright chompin' at the bit to ride with him wherever he needed to go.
His ancestors quit workin' for the company in North America back in 2011 when it was decided they were too old and too weak. But now the young 'uns are back. They're bigger and stronger and they've been taught the new tricks of the trade.
Of course I'm talkin' bout the return of the Ford Ranger that roped me in pretty quickly. The Ford folks sent me a herd-leading Lariat Chrome test ride ($43,389 to start) with enough options to boost the cost to $51,759.
It seemed to be most popular with the city folk I met, not so much with those I encountered in the country where the bigger trucks are more popular mostly because they tote more and haul more.
The Ranger rides 270 horses whipped up by 310 lb.-ft. of EcoBoost turbocharging. The horses are hooked up to a 10-speed automatic transmission (the same one used in the larger F-150).
The four-cylinder four is the only motivation available, there's no manual shifter and four-wheel drive is the only choice.
Over the course of a week, I averaged 9.3 L/100 km in combined city/highway driving. Not bad for a pickup and way better than Natural Resources Canada's rating of 10.9 L/100 km. But that's the result of staying out of turbo boost as much as possible.
Three things will get the Ranger to belly up to the (gas) bar and become a heavy drinker: a heavy foot on the throttle, a large load in the bed and a trailer out back. (Max tow rating is 7,500 lb. or 3,401 kg). All put the turbo to work and while the work gets done, it's thirsty work.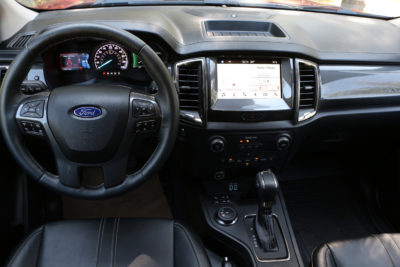 The Ranger Ford of Canada sent for evaluation was a 4×4 Lariat Chrome edition which starts life with a $42,289 price tag, but it's Hot Pepper Red metallic paint ($550) and other options worth $7,770 and the cost runs to $50,059 including federal excise tax. On top of that there's the delivery charge of $1,800.
It's not cheap, but there's a lot to like. The equipment list is long, high tech and well dressed inside and out. There are highlights like heated leather seats, satellite radio, lane keeping assist and a blind spot monitor that takes into account the length of a trailer.
The dash has big dials for tuning and volume controls on the ear-pleasing Bang & Olufsen stereo that's part of the $3,000 technology package. HVAC controls are much smaller buttons low on the centre stack and temperature adjustment gets little toggles. Ford's easy-to-use SYNC system powers the infotainment system.
The five-foot box on the test vehicle is less than 48 inches wide between the wheel arches, so Ranger flunks the old plywood sheet test but you can still pack them on top of the wheel wells and put other stuff under the sheet. Cargo capacity is rated at 707 kg (1,650 lb.) so it will carry pretty much anything the average acreage owner or city dweller might need. Towing is rated at 3,401 kg (7,500 lb.).
Out on the range, Ranger ranges far and wide quietly with a firm but easy ride with little tendency to buck in the rough spots. It gets up to a gallop fairly quickly thanks to the turbo spurs, but response to the reins is a tad slow. The "whoa" pedal is effective, if a little soft.
All-in-all, I think the Ranger was a pleasant travelling companion.
Would I buy one? If I were in the market for a truck, I would quite possibly be hunting for a Ranger loan arranger.
2019 Ford Ranger Lariat Chrome
Price as tested: $50,059.00
Freight: $1,800.00
Configuration: Front engine/four-wheel drive
Engine/transmission: Turbocharged 2.3-litre 4-cylinder/10-speed automatic
Power/torque: 270 horsepower/ 310 ft-lb of torque
Fuel (capacity): Regular (68 L)
Combined fuel economy ratings (L/100 km): 8.6L/100 km
Observed fuel economy (L/100 km): 9.3 L/100 km
Warranties: 4-years/80,000 km (basic)
Competitors: Chevrolet Colorado, GMC Canyon, Nissan Frontier, Toyota Tacoma.
Links:
Ford Canada