With the 2021 F-150, Ford aims at regaining its lead in terms of technology and innovation. While it remains the best-selling full-size truck in Canada, the F-150 was long due for an overhaul, now facing significantly more sophisticated rivals from General Motors and Ram.
The twelfth generation of Ford's best seller is now here, and it packs more muscle, more functionality, and above all, more technology than ever. Among the changes are a choice of six new engines, one of them being a hybrid, a first for the F-150 lineup.
Electric trucks may be all the talk these days, but we'll still need to wait a few years before seeing a production example driving on Canadian roads. Until then, it's the hybrid trucks, like this F-150 PowerBoost, that'll bridge the gap between gasoline and electricity.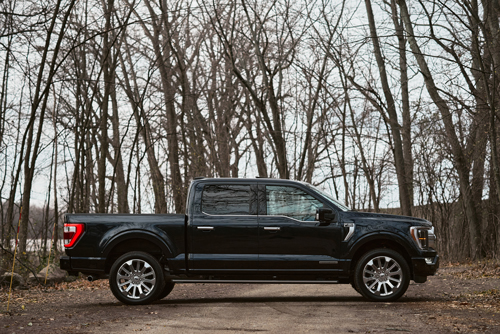 A Quick Sprint
 Ford Canada didn't give us much time behind the wheel of this preproduction model, but it did allow us to sample the new rig in the flesh. And we must admit, we are rather impressed by this newest interpretation. While yes, the 2021 F-150 rides on the same revamped architecture as its predecessor, boasting near identical exterior and interior dimensions, the sheet metal is all new and the structure was heavily strengthened.
Ford admits that F-150 buyers already liked the way their truck looked and didn't really want it to change much. This is why the 2021 F-150 heads down the evolutionary, versus revolutionary design path. For instance, the front fascia retains familiar cues, like the C-Clamp-shaped headlights, but adds a redesigned grille and a new wrap-around front bumper.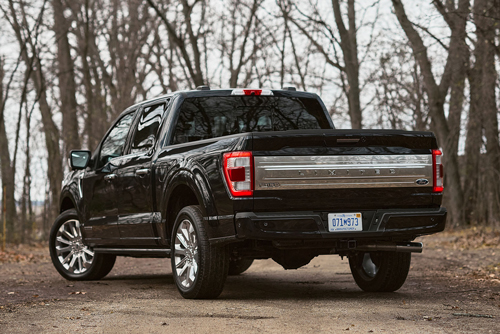 The truck's front and rear tracks were also slightly widened, giving it a more imposing stance, while the front fenders were positioned higher on the truck. Rocker panels were also wrapped underneath the truck's mid-section for a more muscular look overall.
Because the F-150 lineup offers a wide range of available models, with each of them offering almost endless customization possibilities, we'll focus on the truck we were driving. A base XLT F-150 kicks off at $33,429, but the truck one we were in, the F-150 Limited, or if you prefer, the king of the lineup, sells for a whopping $89,725. Our rig was fitted with the SuperCrew cabin and 6.5-foot bed. Add to that $2,500 extra for the hybrid option (which we'll get back to in a bit), as well as other options, and our tester stickered for a range-topping $93,525.
Understanding Truck Owners
The hybrid powerplant – also known as PowerBoost – can only be grafted onto the 3.5-liter twin-turbo EcoBoost engine. Ford essentially adds a 1.5 kWh, liquid-cooled lithium-ion battery pack underneath the rear seats and a 47-horsepower electric motor inside the existing ten-speed transmission, for a total combined power output of 420 horsepower and 570 lb-ft of torque.
This makes the PowerBoost engine the most powerful of the lineup, stronger even than both the 3.5-liter EcoBoost and the 5.0-liter V8. Towing rating sits at an equally impressive 12,670 pounds, with payload rated at 2,118 pounds. Fun fact, while the hybrid tows a bit less than the V8 and 3.5 EcoBoost, it's still significantly more capable than the 3.0-liter turbodiesel V6.
Of course, it's in fuel economy that the PowerBoost engine beats its brothers. While our time with the vehicle was too short to sample its real-world numbers, Ford claims it'll easily pull 9.8L/100 km combined, numbers never before seen on a gasoline-powered full-size truck. However, those claims will need to be tested during real world truck situations, i.e., during towing.
Function and Tech
The 2021 F-150's cabin makes huge strides in terms of build and material quality as well as the dashboard's overall presentation and ergonomics. The Limited model comes with thick, blue leather sets, soft surfaces, and a near fanatical attention to detail. All trucks now get a full digital display, which not only looks cool and modern, but now integrates a wide variety of customizable information, like fuel consumption, drive modes or towing data.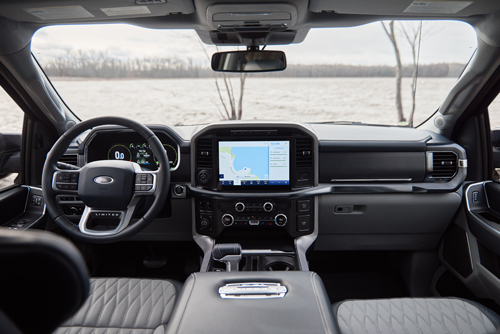 But the biggest change is the all-new 12.3-inch landscape style optional infotainment screen, which houses Ford's latest SYNC 4 interface. It's a significantly quicker software that now houses  more features, all while somehow feeling less cluttered than its predecessor. Our time with it didn't allow us to dig deep enough to explore all available functionalities, but we did get a chance to fiddle with the truck's new onboard Pro Power Onboard generator.
Ford offers three levels of available power for this one, ranging between 2.0, 2.4 and 7.3 kilowatts. You first activate it from the truck's infotainment screen, and then turn it on directly from the truck's bed, where two 120 V power outlets can provide up to 2,300 watts of available power. We were however disappointed to notice that the generator needs the help of the thermal engine to operate. It would have been nice to see it run exclusively on EV power.
Other neat features include Ford's Work Surface, a $200 well spent option that transforms the center console into a flat working table, hiding the shift lever underneath it in an elegant, motorized transformation sequence. Our tester was also equipped with Ford's Max Recline front seats, which conveniently turn into a small bed for when you need to take a quick nap in your work truck.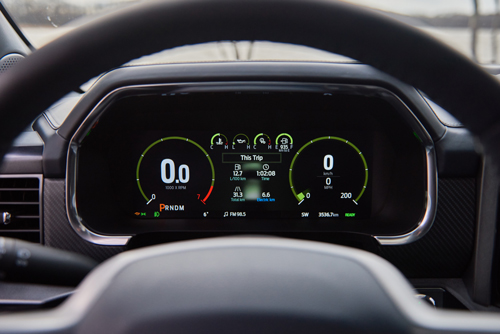 Smooth Powerplant
On the road, the immediate standout feature is a hybrid powerplant that's always smooth and refined, never revealing which engine is actually running. The only way you'd notice the difference is in the sound emitted form the V6 engine at full throttle. Otherwise, the transitions between propulsion systems is smooth and free of unwanted rattles or clunks like you sometimes feel in other hybrid vehicles.
Performance is also impressive, with strong acceleration once the entire setup decides to pick up and go, providing instant electric thrust, followed by a steady push of turbocharged torque. That said, we did observe a noticeable delay between the moment we gunned the throttle and the truck's acceleration a result of too many gears, two turbos and an electric motor having to figure it all out.
Ride quality is butter smooth, with great composure over rough roads given its body on frame configuration, and a quiet cabin that keeps road and tire noise on check. There's a level of refinement here that can't be ignored, however we do admit Ram still sells the best truck suspension on the market.
While our first drive of the 2021 Ford F-150 PowerBoost didn't allow us to go in depth with all of its features and technology, we did see enough greatness here to consider it as a potential segment leader. More importantly, this latest iteration proves that Ford clearly understands what truck buyers need and isn't afraid to innovate accordingly. As for the hybrid powerplant, it's proving that electrification isn't only inevitable, but that I'll give these big brutes even more real-world capability than we could have anticipated.
2021 Ford F-150 PowerBoost
Price as tested: $93,525.00
Freight: $1,950.00
Configuration: Front engine/four-wheel drive
Engine/transmission: Twin-turbocharged hybrid 3.5-liter V6 / 10-speed automatic
Power/torque: 420 horsepower/ 570 ft-lb of torque
Fuel (capacity): Regular(30.6 L)
Combined fuel economy ratings: 9.8/9.7L/9.8L/100 km combined.
Observed fuel economy 11.8 L/100 km
Warranties: 3-years/60,000 km (basic)
Competitors: Chevrolet Silverado, GMC Sierra, Ram 1500, Toyota Tundra
Links: Ford Canada