Put a three-wheeled motorized touring roadster into the hands of an experienced automobile driver most comfortable with sheet metal surrounding him and what do you get? This is the question I was most curious to answer as we arrived in Montreal, Quebec for a special event highlighting the CAN-AM Spyder Roadster.
My reaction after the initial test drive may surprise you. With limited experience riding motorcycles, I learned it really didn't matter if I felt more secure driving a car. The roadster is equal parts motorcycle, automobile, ATV and even a little snowmobile all rolled into one. Taking control of the handlebars, steering, accelerating and braking was as easy as anything else I have ever driven.
Designed for one or two riders, the Spyder Roadster features a BRP-Rotax 998cc V-twin liquid-cooled DOHC 4-cylinder engine. Performance numbers indicate 100 hp at 7,000 rpm and 80 lb.-ft. of torque at 5,000 rpm.
Available with a smooth shifting 5-speed manual transmission, our Spyder is matched to a 5-speed semi-automatic transmission with reverse. Acceleration is quick off the line and in city traffic. Zero to 100 km/h takes only 4.5 seconds, top speed is equally impressive, limited mostly by my level of comfort as a rookie rider.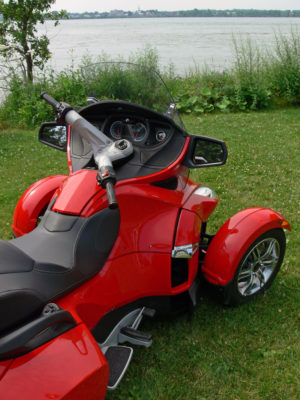 Standard features for the RT-S include 4-piston caliper front disc brakes, single pin sliding caliper rear discs with ABS and EBD. Additional safety features consist of vehicle stability system (VSS), stability control (SCS), traction control (TCS) and dynamic power steering (DPS).
Twin halogen headlamps are built into the touring windshield with power height adjustment. The multi-function dot matrix gauge cluster features a speedometer, tachometer and a host of driver information all hidden beneath a stylish black cowl. Steering the Spyder Roadster is as easy as controlling a jet-ski or snowmobile, two additional important vehicles in the ever expanding BRP line-up of products.
Driving into the city, Fairmont The Queen Elizabeth in Montreal, Quebec features 1,037 rooms including 100 suites conveniently located in the downtown core. Below the hotel, Montreal's train station provides stress-free access to various destinations through Via Rail & AMTRAK. It's also a great place to grab an early morning coffee and bagel as dining and shopping is just a two floor elevator ride away. Cultural and sporting events are easily reached making this a grand location from which to explore this vibrant city.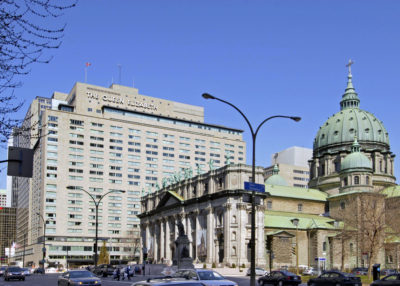 At street level, the hotel looks pretty much like any other business class big city property. Inside, the mood is all calm and class. A CAA/AAA four diamond award winning hotel, this Fairmont is also a 2010 winner of the Sustainable Tourism Award and holds a Four Green Keys eco rating from the Hotel Association of Canada.
Three dining options are available within the hotel. Le Voyageurs offers a bar lounge setting as the perfect place to unwind. Le Montrealais Bistrot is situated on two floors looking out at the city and several familiar landmarks. The Beaver Club is renowned as one of Canada's best restaurants serving a la carte dining and dessert in a jackets required formal setting.
Recreational activities include an onsite health club, indoor swimming pool and whirlpool, a full fitness gym and the newly renovated, Zen decor Gibson Salon Spa. Of coursing, walking in Montreal is one of the best ways to exercise, so we take the opportunity to explore Saint Catherine Street while keeping a close eye on my wallet. So much temptation!
My drive of the CAN-AM Spyder Roadster is short but sweet as we ride in the area of the Parc René-Lévesque on the St. Lawrence River. A traffic-filled twenty minute ride from the city, beautiful trees and over 20 sculptures from various local artists line our route.
Putting the Spyder Roadster through its paces is much easier than I first thought and it quickly becomes apparent there are many good reasons why riding on three wheels is superior to riding on two. Though it is not the same as driving a car, it is a potential step into the world of cycles that makes some sense. Well suited for both the expert and inexperienced cycle rider, this is one automobile lover who is convinced three wheels can be a lot of fun to drive!
2011 CAN-AM Spyder Roadster
Trim level: RT-S
Configuration: center engine/ rear-wheel drive
Engine/transmission: 998cc 4-cylinder/5-speed semi-automatic
Power/torque: 100 hp/80 lb-ft
Fuel (capacity): Regular Unleaded (25L)
Competitors: BMW R 1200 RT, Honda Gold Wing, Triumph Tiger 1050
Related links:
CAN-AM Spyder
Fairmont The Queen Elizabeth