Looking at the 2023 Honda SCL500, you can't help but pick up on its vibe. The high mount exhaust, rubber fork gaiters, reinforced handlebar and twin outboard rear shocks are the calling cards of the scrambler style of motorcycles – and it's a vibe Honda has lacked for far too long.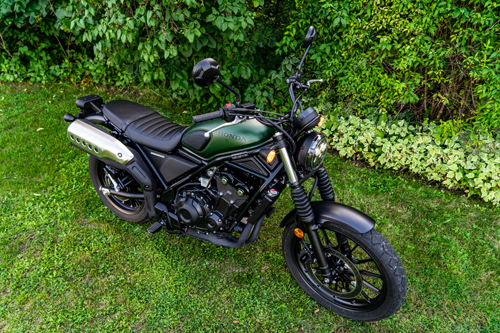 For the uninitiated, a scrambler is a style of bike made famous by early icons of the sport, like Bud Ekins and Steve McQueen, for their ability to race anywhere. Essentially a street bike modified to be able to competently go off-road, scramblers were the dual sport machines of the era, long before the specialised machines of today existed. And back then, Honda was one of the factory pioneers of the breed with their CL72/77 bikes. In fact, back in 1962 Bud Ekins and a Honda dealer hopped aboard a pair of pre-production CLs and rode them from Tijuana to La Paz, in Baja Mexico, laying down the groundwork for what would become the Baja 1000.
The Matte Laurel Green SCL500 leaning on its kickstand in my driveway wouldn't be my first choice to enter into that race. Truly, bombing down anything beyond a cottage road or a rail-bed trail would be more work than fun. But don't hold that against this most rebellious of Rebels, it's a street scrambler afterall! – a bike that aims to exude some aesthetic nostalgia while delivering a fun and beginner friendly motorcycle.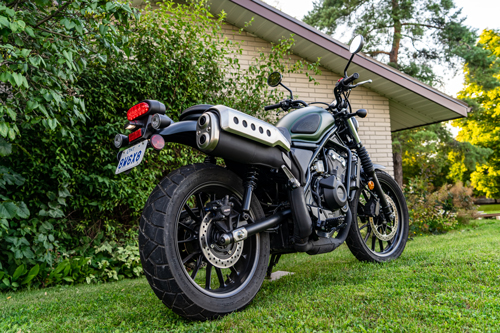 Built on the bones of the Honda Rebel, the SCL differs from its entry-level cruiser base via a new subframe and a revised fuel tank. This morphs the SCL's stance into a more upright, standard position. Other mechanical changes include a revised fuel map and larger rear sprocket (to deliver more torque down low), a new intake and of course, the requisite high-mount exhaust.
Helping the SCL sit a little taller, Honda has equipped it with a pair of preload adjustable shocks in the rear that deliver 144.7mm of travel while the front end is a touch sharper, at 27-degrees (vs 28 on the Rebel) and boasts 149.8mm of travel thanks to its non-adjustable 41mm fork. Combined with the chunky Dunlop Trailmax Mixtour rubber, the SCL has 155mm of overall ground clearance.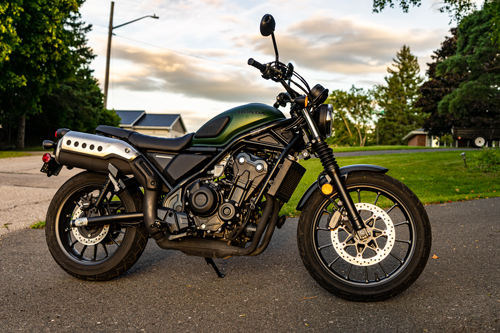 Ergonomically and aesthetically speaking, the changes do a lot to help the SCL appeal to a much broader audience. The cruiser market just isn't what it used to be, afterall. The wide, flat, tufted bench seat sits around 790mm above the ground and is slender enough to easily get two feet down at a stop. The reach to the wide, moto-cross style bars is quite relaxed and the mid-mounted pegs shouldn't cramp any rider's legs, provided they don't have to duck to get through doorways.
The dash is a pretty spartan affair, with only a singular, small round LCD. In and of itself, this isn't a problem as it shows the rider exactly what they need to know: speed, time, gear indicator and fuel level are all present and accounted for. The downside to the display is that its reverse LCD colourway can be quite difficult to read under direct sunlight. An old school analog clock would have probably gone a long way to remedy this (while adding an extra dose of nostalgic flair) but sadly we just don't see those showing up anymore.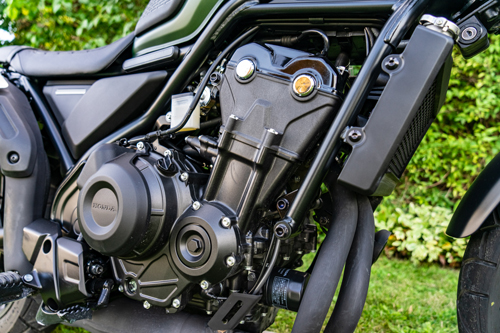 Fire up the 471cc parallel twin and you're greeted by a fairly subdued idle. Despite the scrambler pipes, this Honda sounds much the same as any other 500 in Big Red's catalogue. This isn't a slight (loud pipes don't actually save lives!), but if you want something shoutier, look to the aftermarket.
Power figures aren't listed on Honda's Canadian website, but our friends across the pond indicate the mill is good for 46 horsepower and 32 pound-feet of torque. Despite the different mapping, those numbers are in line with Honda's other bikes powered by this motor.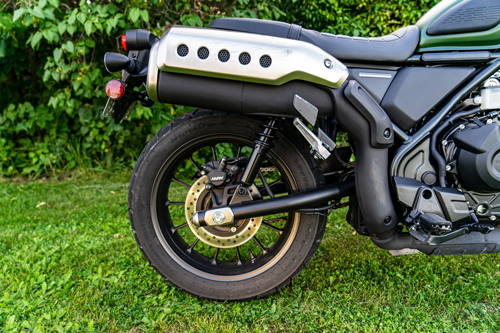 Throttle response feels pretty smooth and linear from where I'm perched and there are no rider modes available to make alterations. The Honda had no trouble getting up to highway speeds with plenty of punch leftover for passing slower traffic. The six-speed transmission is typical Honda goodness, with very light clutch effort needed.
The rider triangle is both comfortable and commanding, especially for commuter duty. I'm happy to report that this bike proved to be an excellent dance partner for both urban and rural rides. Like most things on two-wheels, twisting tarmac is the true test and here again, the SCL feels light and flickable with just enough compression (10.7:1) to smoothly engine-brake into corners in order to keep the revs where you want them to squirt out.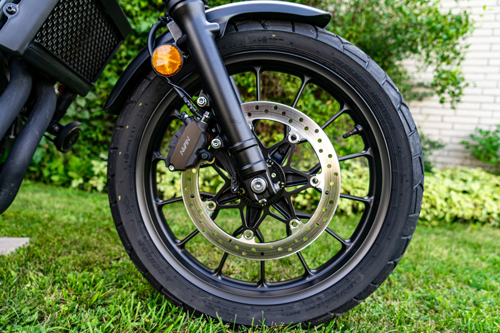 Feedback from the single disc, two-piston brake up front did tend to be a bit numb in comparison to other sportier offerings but once accustomed, slowed the 192 kg bike (and 82 kg rider), with 2-fingered ease. The rear brake is also a touch vague, but given the target audience of newer riders, this again is not a bad thing – smooth and linear beats out sharp and bitey here. Add in the fact that there is standard ABS on the SCL500 and even if you get a bit overzealous from time to time, the Honda should slow and stop without unwanted drama.
Off road, the SCL handled exactly like an unsophisticated, street bike should. On smoothed out cottage roads and packed down trails, it did just fine. On rockier terrain, sand and soft gravel, it showed its weight and took more effort than you need to exert. However, if you're just looking to ride around, get to a campsite and have a bit of fun in the process, the SCL500 will do just fine and give you an excellent excuse to plunk down on a waxed canvas riding jacket, open faced helmet and goggles, to complete the look.
And that's kind of the point of this bike. It's a simple and straightforward motorcycle that straddles the sweet spot for comfort, performance and practicality while exuding a timeless yet trendy vibe. It won't light your hair on fire or win any hare scrambles but it will get you plenty of places with a smile on your face, every time and probably for aeons to come.
2023 Honda SCL500
Motorcycle Style: standard, street scrambler
Engine: 471 cc, 4-stroke parallel twin; Power: 46 hp; 32 lb-ft torque
Transmission: 6-speed manual
Weight: 192 kg (ready to ride)
Price: $9,100 (including Freight, PDI)
Website: Honda Canada