After a year's hiatus, EICMA (International Motorcycle and Accessories Exhibition) returned to Milan. And while the typical festivities may have been subdued compared to previous incarnations (thanks largely to our adoption of virtual launches), there was still much to be excited about. Here's a rundown of what's got our engines revving most.
Moto Guzzi V100 Mandello
If there is one bike I am truly excited about for next year, it is the Moto Guzzi V100 Mandello. Built to commemorate the storied marque's centenary, the V100 is a wholly new motorcycle that vaults Guzzi well into the 21st century.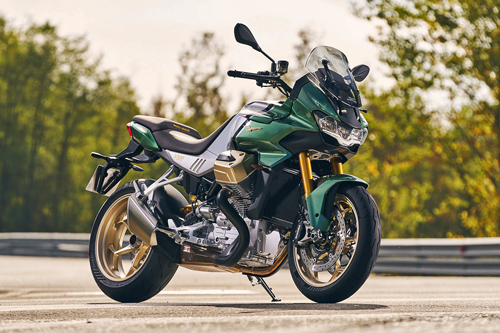 The bodywork, as spectacular as it looks, also incorporates active aerodynamics that deploy to reduce wind pressure on the rider. Guzzi claims the system delivers a 22% decrease in gusts and I have every reason to believe them, as they do have their own wind tunnel after all.
The engine is an all new, liquid-cooled, transverse-mounted 1,042cc V-Twin. It develops 113hp and 77 pound-feet of torque, with 90% of the twist available from a mere 3,500 rpm. Mated to a six-speed transmission complete with quickshifter, it should prove to be a blast around town and through the twisties. Top spec models also feature Öhlins Smart EX 2.0 semi-active suspension and all will be equipped with a 6-axis IMU and Bluetooth connectivity.
We're hoping to have some real world opinions on this one in the early parts of next year. Stay tuned!
MV Agusta Lucky Explorers
Not content to just produce the most lust worthy motorcycle on the planet, MV Agusta has now set their sights on the fastest growing segment in the industry, too. Dubbed the Lucky Explorers, MV Agusta has produced two separate offerings into the Adventure motorcycling space.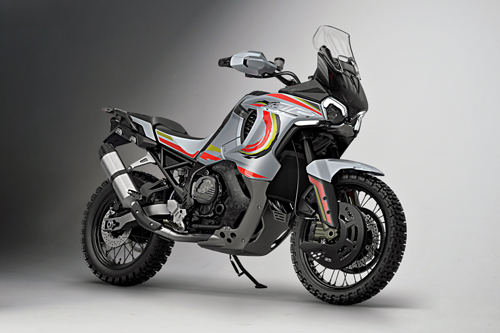 With historic ties to the Dakar Rally (via Cagiva's stewardship in the 80s), this space isn't entirely new to MV. Also, given their relationship with Benelli and Chinese juggernaut Qianjiang, there are plenty of hours of R&D that have been tapped for guidance.
The Lucky Explorer 5.5 is the smaller of the two and is powered by a 47.6 horsepower, 554cc, parallel twin engine. That motor is a punched out version of the QJMotor SRT 500, which sees duty in the Benelli TRK 502. That TRK 502 is a wholly similar bike to what the 5.5 will be (using the same frame as well) albeit with decidedly tastier styling and nostalgic livery. That Benelli is one of Italy's bestselling bikes at the moment, so think of this as a refresh and rebadge of a proven performer.
The Lucky Explorer 9.5, on the other hand, is far from being leftovers and looks to be an immediate rival to the much anticipated Ducati Desert X. Powered by a variant of the three-cylinder motor common to the Brutale 800 and F3, this 931cc triple cranks out 123 horsepower and 75 pound-feet of torque. Riding high on 21-inch front and 18-inch rear wheels and fitted with skid plates and bash bars aplenty, the 9.5 appears to be well sorted at first blush.
Interestingly, the 9.5 will also be available with an optional Rekluse automatic clutch, and DCT style transmission (something their Turimso Veloce SCS also uses) which, given how successful Honda has been with automatic Africa Twins, seems like a good move.
The Lucky Explorers are still in the concept phase, but production is promised to be starting soon.
Kawasaki H2 SX SE
If someone ever asks me for a recommendation for a motorcycle to complete the Cannonball Run, the Kawasaki H2 SX SE would be my pick. Powered by the same supercharged mill that breaks rifts in the time/space continuum from the Z H2 I rode last year (or was it next year??!), the sport-touring version of Kawi's hyperbike is equal parts comfy and quick. For 2022, Team Green is delivering extra tech to their hyper-tourer in the form of ARAS.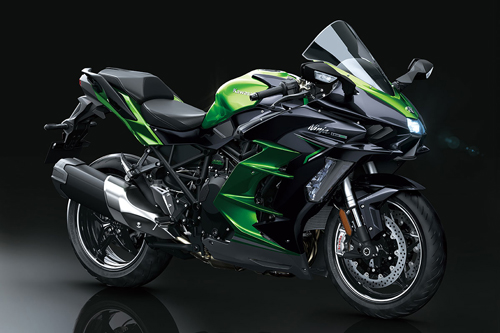 What is ARAS you ask? Kawasaki's Advanced Rider Assistance Systems is based off of similar laser-guided, adaptive cruise control, blind spot monitoring and collision warning technology that first debuted with the Ducati Multistrada V4 last year. It's that new-new flavour of technology we knew was bound to find homes everywhere in premium products and, it should be right at home on the H2 SX SE.
Other changes include an upgrade to Showa's Skyhook suspension system, which actively reads road conditions and automatically adjusts to deliver optimal damping and a move to a keyless ignition and locking system.
All of the additions add about 6kg to the curb weight and about $2,300 to the bottom line. The 2022 Kawasaki Ninja H2 SX SE will retail for $31,499.