Rev'It Chasing Light Episode 1
A few weeks back we highlighted an all-new adventure motorcycle touring company, Saku Moto, that began running all-inclusive tours through Eastern Oregon.
Well, if you wanted to get a better idea of what one of those trips may look like, motorcycle gear manufacturer Rev'It Sport has just debuted their "Chasing Light" video series. Comprising 4 episodes, the series follows Saku Moto's Gregor Halenda and Scott Rounds as well as videographer Matt Sanders, as they put some of Rev'It's newest gear through its paces during an adventure ride through, you guessed it, Eastern Oregon.
Even if the thought of trying to tug a 250+kg adventure bike through sticky mud makes you cower, watching these dudes do it is truly inspiring. And, coincidentally, moments like those are what lead Scott and Gregor to build Saku Moto. Get yourself a coffee and enjoy!
Ducati Multistrada Pikes Peak
As we already know, the Ducati Multistrada V4 is one helluva capable adventure motorcycle. But fans of OG model Multi have lamented the new line's lack of a 17-inch wheeled option. To appease all of those knee-dragging tourers out there, Ducati has now added the Multistrada V4 Pikes Peak model for 2022.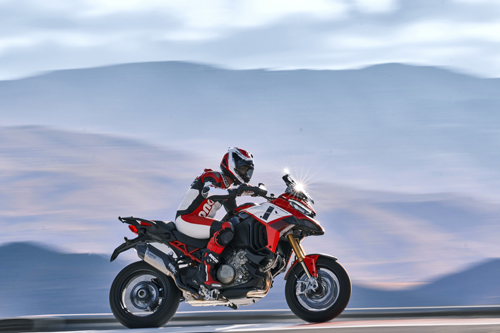 On top of the aforementioned swap to smaller wheels the Pikes Peak will also feature a single-sided swingarm and a revised rake and trail. Combined with ergonomic swaps in the form of higher mounted rearset pegs and a narrower bar, they should make the Pikes Peak one comfy scalpel indeed.
Powering the V4 Pikes Peak is the same 170 horsepower Granturismo V4 motor from the other models in the line; however, the Pikes Peak benefits from a 4.4 kg weight reduction (thanks in part to the use of forged aluminum for those hoops which shaved 2.7kgs alone).
Semi-active Ohlins suspension and Brembo Stylema calipers round out the mechanical goodness while on the software side, there is a "Race" mode available (which is unique to this model) and the adaptive cruise control that debuted on the Multi is standard issue.
Pricing starts at $32,695 for the Pikes Peak model although expect that to rise if you want to mount some luggage too.
MV Agusta Superveloce Ago
Jeff, our Editor in Chief, sent me an email the other day commenting that he felt Indian and Ducati build the most beautiful bikes (keep your eyes peeled for Issue #13 to find out why). And while I don't think he's wrong, I just don't think he'd seen this yet: The MV Agusta Superveloce Ago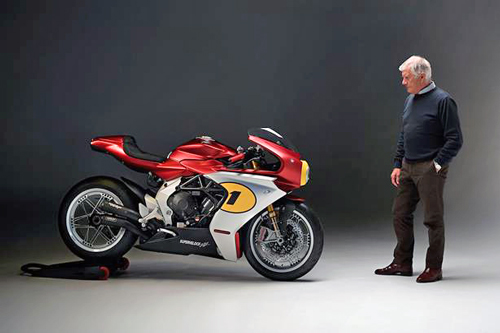 Paying homage to motorcycle racing's winningest grand-prix racer, Giacomo Agostino, the Superveloce Ago is a limited edition motorcycle adorned in the livery Ago made famous during his 10 Isles of Man TT wins and 15 world championships.
More than just some very pretty paint, each of the 311 Agos will feature some top shelf suspenders, courtesy of Ohlins, and a gorgeous set of spoked wheels. Oh, and that livery is applied to a fully carbon-fibre fairing too. No plastics here.
To further set the Ago apart, MV Agusta has also given this Superveloce some added performance via a race-tuned ECU and a GP-style exhaust. As such, horsepower hits 147 on a bike that weighs 173 kilos (dry). Reservations are open and the ask is just north of €32,000.
Triumph Introduces Goldline Trim
Thanks to the successful sell-out of their entire Limited Edition Street Twin Goldline, Triumph has added the edition to nearly its full lineup of Bonneville based modern classics.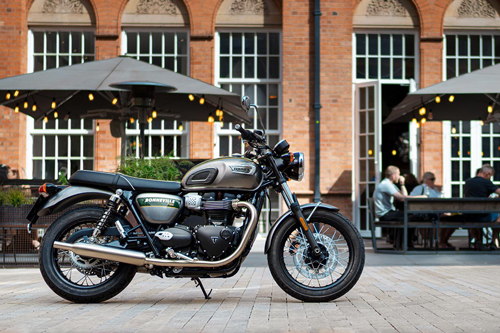 Available for the 2022 model year, the Bonneville T100, T120, Speedmaster, Bobber, Street Scrambler and Scrambler 1200 bikes can be optioned with hand-painted accents and special, two-tone paint schemes. There are no other modifications, so these factory customs are set apart by the visuals only.
Thankfully, Triumph says that all of these models will be available in time for Christmas, so get that letter to Santa ready.