Distinctly alien, the asymmetric intake looks like the nostril from a geometric flounder swimming around Picasso's brain, the tank flares a bit too wide for human knees to clamp comfortably and that front end has a distinctly Xenomorphic vibe. Oh, and this two-wheeler does more than look like an interstellar shuttle: it can make the jump to lightspeed.
With a twist of a wrist the hand becomes a fist and at some point, the space-time continuum has fumbled a bit and I've stopped chasing the horizon. Depth of field has flattened. I am the horizon. Whoa.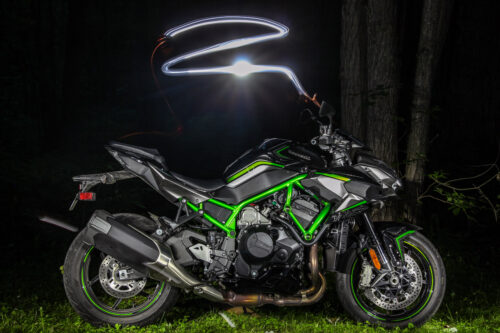 Well not quite, but it can hit Mach 1…
In fact, I have yet to notch third gear and have already flirted with rifts in the sound barrier. Twice.
That's no lie or hyperbole. It's the God's honest
You see, just a few inches from my right kneecap a supercharger's impeller is producing upwards of 30 psi of boost to an already punchy 998 cc inline-four and can be heard whirring away to the tune of 110,400 rpm. When that engine hits 12,000 rpm on the tach, the impeller's blades are spinning faster than the speed of sound.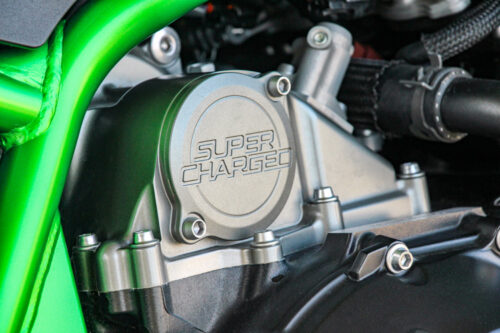 And speaking of sound, every time you roll back on the throttle that impeller emits noises that sound how I imagine a drunken squirrel does, while yodeling through a straw.
The experience sounds as ridiculous as that reads and snatching the next gear feels like sucking back a shot of nitrous oxide, for both me and the Z: I giggle and tuck, the Z wriggles and goes fast as…
Earth's gravity does make this a heavy beast, but the 239 kg heft feels appropriate, keeping the bike planted to the asphalt. It's a well-balanced affair that's not all cumbersome, even at slow speeds.
A descendant of the weapons-grade, track-only 310 hp H2R, this 200 ps Z H2 is Kawasaki's latest addition to the H2 family. Despite the detuning for workaday life, the Z H2 is dubbed a "Hyper Naked" motorcycle. This means it follows the ergonomic and styling conventions of Team Green's other naked Z-bikes while also reaping the benefits of the H2 family's supercharged engineering.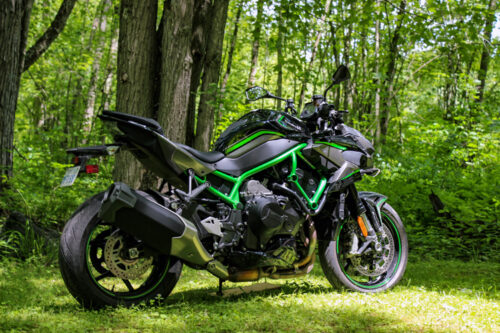 As such, the ergonomics are sporty yet neutral thanks to a set of elevated handlebars, a low (830mm) and slender saddle and less aggressive rearset footpegs. Those contact points provide a well-balanced perch that's quite comfortable although the seat could use a bit more cushioning for optimal comfort. There is a pillion pad and pegs as well, although one look at its postage stamp size was enough to have my wife bid me adieu.
The Z H2 is treated to a bespoke double-sided swingarm (all other H2 bikes come with a single-sided version) and the trellis frame, although similar in look to H2 family members, is also all-new. The rake sits at 24.9-degrees and the wheelbase puts 1.4m of air between contact patches. This means that handling isn't superbike-quick but the Z H2 holds a line with more than enough confidence to inspire yours.
Of course, the party piece for the Z H2 is that supercharged engine. This is what earns the Z H2 its "Hyper" status in Team Green's showroom and garners instant respect amongst the pickiest of go-fast crowds. It's also just a truly marvellous thing to experience.
Credit Kawasaki Heavy Industries Ltd. (KHI), and their boffins from the Gas Turbine and Aerospace Unit (yes, they have one of those). The engineers have done a stupendous job — from their use of a 5-axis, CNC machine to create those 69mm impellers to the integration of direct oil-jet cooling, cast pistons and a dog-ring transmission unit — to create a powerplant that feels as bullet-proof as it is bullet fast. Riding the Z H2, whether at speed or amongst the masses, immediately reveals a level of refinement not typically felt in bikes sold south of twenty-grand.
Suspension is fully adjustable at both ends, courtesy of Showa forks and a linkage-assisted rear shock. Weighing in around 86 kg in full kit, I didn't feel the need to stiffen or soften things at all for my street riding. I'd probably make a few adjustments if a track day was on the agenda but there was just enough compliance so as is to be both comfortable and sporty.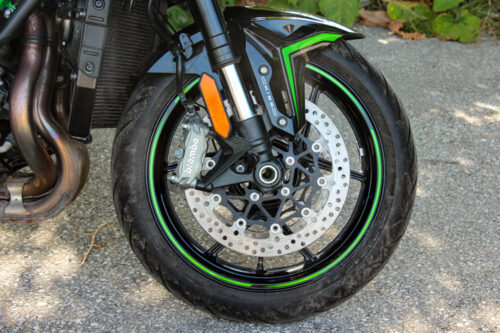 Up front, braking is handled by a twin set of Brembo's M4.32 calipers that are fed fluids via a Nissin master cylinder. Feel from the adjustable lever is communicative and the initial bite is firm but unobtrusive. The rear brake performed with much the same feel and when used together brought this Loco-Moto to controlled and rapid stops.
But there's more than just the mechanicals that make the Z H2 perform so well. A full suite of software is in constant communication with a myriad of sensors to keep both bike and rider shiny side up. A six-axis, Bosch IMU (Inertial Measurement Unit) acts as conductor to the three-level lean-angle control, traction control, launch control unit, wheelie control, slide control and cruise control. An ABS system is also worked into the mix as well as three rider-selectable power modes and a flawless up and down quick shifter.
And all of those modes and features can be played with either via the easy-to-read, full-colour TFT dash or your smartphone, when equipped with the Kawasaki Rideology App. The App itself is a nifty little feature as you can personalize things, track rides you've been on and save the metrics of those rides (like lean angle, speed, throttle position) as well. My only qualm is that I had to "re-pair" my phone every time I fired the Z back up. Eventually I stopped using it but my phone has been known to lose its Blue-teeth from time to time, so I can't fault the bike. Given how intuitive the app was to use though, I'd love to see it integrated into some of Kawasaki's smaller, entry level bikes like that KLX230 I had earlier in the summer.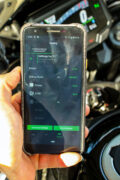 All of those hard and soft parts combine to create a motorcycle that is ridiculously easy and comfortable to disappear on. And starting at $19,599 the Z H2 proves that alien technology isn't always unobtanium. A Palmolive-soft hand sheathed in Freddy Kruger's glove, the Z H2 asks: How fast do you need to move to escape today?
I'm not at liberty to say what that number was for me but suffice to say the Z H2 can and will get you there.
Price as Tested: $20,199.00 (Special Edition Colour)
Engine/transmission: 998cc, Supercharged, DOHC, Inline Four-Cylinder / 6-Speed Dog-Ring
Horsepower: 147kw (200ps)
Torque: 137 Nm
Fuel (capacity): Premium (19 L)
Weight: 239kg
Competitors: Ducati Streetfighter V4, Aprilia Tuono Factory, Yamaha MT-10
Links:
Canadian Kawasaki Motors