Wickens Roars Back
Canadian race driver Robert Wickens made a triumphant return to racing, securing a podium after finishing third at the four-hour BMW M Endurance Challenge. The race, hosted at Daytona International Speedway on January 29, comes just over three years after she suffered severe spinal damage in a crash at Pocono Raceway in 2018. After what can only be described as a heroic rehab regimen, the 32-year-old racer was at the wheel again, piloting the #33 Hyundai Veloster N TCR as part of the Brian Herta Autosport (BHA) effort alongside teammate Mark Wilkins.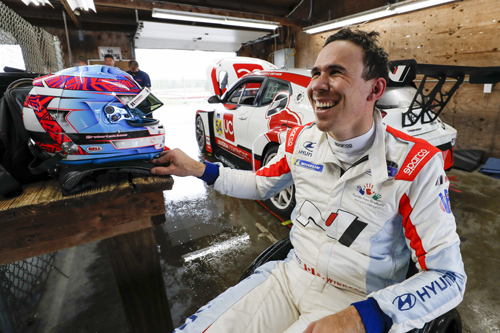 Wickens' car features a custom-designed wheel with an additional ring installed thereon for a fully hand-operated drive. All the traditional controls have been left in place, however, so when teammate Wilkins hops in the saddle, he's good to go.
Otherwise, Wickens' entry is the same as any other car campaigned by BHA, and competes in the same class that they do. There were no concessions to make it easier for #33 to earn points, so the victory is well earned.
Always the competitor, Wickens thinks that maybe he could have done better. "There were a lot of opportunities where I could have tried a high-risk move to try and gain a little bit, but endurance racing is war," he said. "You have to make it to the end."
In addition to the win, Wickens and his wife Karli are expecting their first child soon.
Pfaff Takes On the Factory
In what can only be described as a storybook finish, Canada's Pfaff Motorsports stormed to victory in the GTD Pro class at this year's Rolex 24 Hours at Daytona. The victory came after a tense final lap battle between Frenchman Mathieu Jaminet in the #9 Pfaff Porsche 911 GT3 R and Belgian Laurens Vanthoor's #2 911 GT3 R from Porsche factory-backed KC Motorgroup. Jaminet and teammates Matt Campbell and Felipe Nasr completed 711 laps of the famed 5.73-kilometre course.
The 60th running of the race started out colder than expected, while wet weather on the Thursday and Friday practice days meant less track time than usual before the green flag dropped at 1:30 PM EST on Saturday, January 29. So the team had its work cut out for it.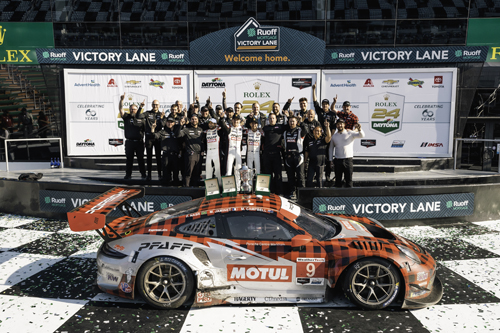 "At the moment, I am speechless," said Jaminet, 27. "This is the biggest race I've won in my career (and it's) the one everyone wants to win."
"Everyone will remember the last lap but for me, it was two hours of hard fighting."
After the race Steve Bortolotti, General Manager of Pfaff Motorsports, savoured the victory. "Obviously, this is something we will remember forever," he said. "We are going to make it a point to continue this legacy and build something great."
More exciting times ahead for Pfaff Motorsports? Stay tuned!
Also: while Pfaff won top honours in GTD Pro, it was Acura that took the overall victory with the #60 Meyer Shank Racing ARX-05 Prototype driven by Tom Blomqvist, Helio Castroneves, Oliver Jarvis and Simon Pagenaud. Acura locked up second place overall as well with the #10 Wayne Taylor Racing car driven by Filipe Albuquerque, Alexander Rossi, Will Stevens and Ricky Taylor.
Acura Earns Highest-Ever Make-a-Wish Foundation One-Time Donation
Speaking of Acura: Earlier this week, Geneviève Hardy and Luc Girard bid $520,000 on a 2022 Acura NSX Type S – VIN 001 of 15 available in Canada — $306,364.90 of which went to the Make-A-Wish Foundation, the largest one-time donation the organization has received from a living donor.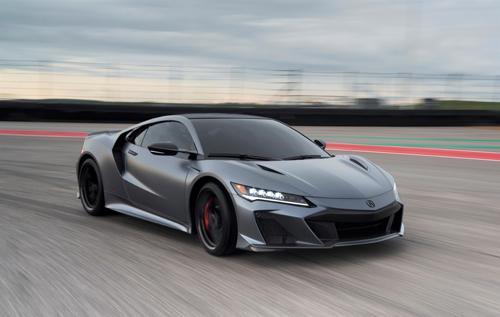 The Type S version of Acura's most powerful-ever production car sees its gas twin-turbo V6 receive an additional 20 horsepower over the standard car for a total of 520 hp, while the 1.0 kWh battery pack now produces more usable energy to allow for a total combined output of 600 hp and 492 pound-feet of torque from the gas engine and three EV motors.
To contain all that thrust, Acura has teamed up with tire manufacturer Pirelli for custom-designed performance tires, recalibrated the electronic dampers and added a newly-designed carbon fibre front fascia for better cooling, as well as new carbon0fiber rear diffuser and spoiler.
Norwegians Love Their EVs, Especially The Taycan
The Drive reported that Norwegians bought more Porsche Taycans in the month of January than any other gas car combined. This comes after two-thirds of cars sold in Norway in 2021 were EVs. Indeed, the country has been leading the way in charging network and EV sales for quite some time. Of course, the numbers need to be considered in the context of the fact that just 5.3 million people live in the Scandinavian country.