"Before you attempt launch, just make sure both hands are on the wheel and your head is firmly planted against the headrest."
I hold on to the steering wheel for dear life, those words echoing in my ears, as I rocket from a standstill to 100 km/h, in less than eight car lengths, in a mere three seconds. Eerily, there is no guttural roar or primal scream coming from the engine or the exhaust.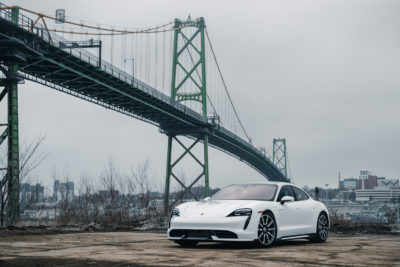 That's because the vehicle I'm driving has neither. I'm one of the first people in Canada to drive the all-new all-electric 2020 Porsche Taycan Turbo (although there is nothing to turbocharge, Porsche is not giving up the word turbo to denote performance).
Powering the zero-emissions all-wheel drive Porsche are two permanently excited synchronous machines (i.e. electric motors), one on the front axle and one on the rear, with a two-speed transmission, an innovation developed by Porsche and a first for electric vehicles.
Permanently excited is how I would feel if this vehicle were to find a permanent home in my driveway. Alas, with a starting price of $173,900, and a brief 36 hours with the Taycan Turbo, I can only be temporarily excited.
For one day, though, I'm in the company of the second-richest man in the world, Bill Gates. Not like he's in the passenger seat or anything, but he did recently purchase a 2020 Porsche Taycan Turbo.
Inside, it's perfectly designed – a true Porsche. The free-standing curved instrument cluster with optional passenger display creates a sleek all-black dash that is elegant and understated. The beautiful cabin is almost austere in its simplicity but also futuristic. For the first time in Porsche's history, a vegan, non-leather interior is available.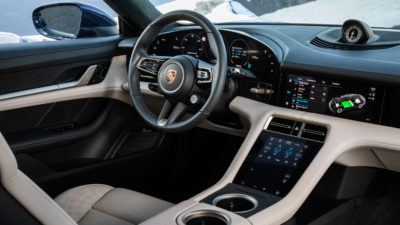 On the outside, the Taycan is unmistakably Porsche, a well-executed blend of a 911 and a Panamera. Taycan is the most aerodynamic Porsche. Considering the racing DNA of the brand, that's saying something.
And then there's driving it. Whoa. The Taycan Turbo was in my possession for just over a day on a snowy weekend. With its meaty snow tires and all-wheel drive, the weather conditions didn't phase me or the Taycan one bit.
I was itching to try its monstrous acceleration with Launch Control. There's no secret button to press, simply select drive mode Sport Plus. Hold the brake, press the right pedal to the floor, release brake and blast off. No fuss, no muss.
Violent is one word to describe the feeling of launch, nauseating is another. I prefer thrill-of-a-lifetime. For the first few metres, the Taycan accelerates faster than the force of gravity. No wonder I feel so weird, it's like I'm in horizontal free fall. The Taycan is completely composed in corners with absolutely no body roll. The sheer power when it rockets out of those corners took my breath away.
With the top-of-the-line Taycan Turbo S, Motor Trend reports a record-breaking 10.47 seconds on the quarter-mile (400 metres) reaching 208 km/h, making it the quickest (in time) and fastest (in speed) battery-powered electric vehicle in the publication's history of testing. Damn.
I'm not sure how many owners will track their Taycan but if they did, according to Porsche, they could do 26 successive 0-100 km/h starts with no loss in battery performance.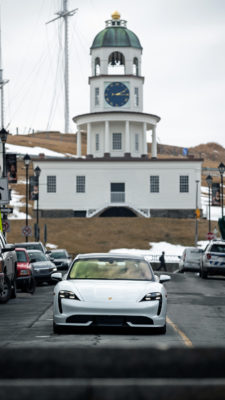 One of the things I loved about the Taycan is how easy it was to drive around town, an incredibly smooth cruiser with the heart of a racing monster.
By selecting the Electric Sport Sound option, the vehicle's spooky silence during its explosive acceleration can be filled by a futuristic spaceship-like whoooooosh that comes subtly through the speakers.
During my time in the Taycan Turbo, people stared in parking lots and flashed thumbs-up along the streets. Disappointed that I couldn't rev the engine to demonstrate its Porsche race car DNA, I felt compelled to lower the window and yell out "It's all-electric!".
Questions ranged from what is it? to how fast is it? to how far can it go on a charge? to how fast does it charge?
An 800-volt battery pack under the rear seat (as opposed to all other EVs with 400-volt battery packs) will allow Taycan drivers to add 100 kilometres of range in just five minutes, using a DC fast charger.
Plugged into a high voltage charger, the battery pack will go from a five per cent charge to 80 per cent in about 22 minutes. It will travel up to 450 km on a full charge, depending on how you drive, road and weather conditions.
One of Porsche's main goals with the Taycan was to prove that the all-electric road machine meets the same performance standards as other Porsche vehicles. Check.
One of my criteria for any vehicle is how much I think about driving it when I'm not in it. I didn't want to do much of anything else this past weekend but drive the 2020 Porsche Taycan Turbo. What an experience.
Wanna race, Bill Gates?
2020 Porsche Taycan Turbo S
Base price: $213,900.00
Horsepower: 616 (750 with Launch Control)
Torque: 774 lb-ft
Range on full charge:  307 km
0-100 km/h time: 2.6 seconds
Top speed: 260 km/h
¼ mile drag (400 metres) – 10.3 seconds
2020 Porsche Taycan Turbo
As tested: $173,900.00
Horsepower: 616 hp (670 with Launch Control)
Torque: 626 lb-ft
Range on full charge: 322 km
0-100 km/h time: 3.0 seconds
Top speed: 260 km/h
2020 Porsche Taycan 4S
Base Price: $119,400.00
With 79.2 kWh battery pack
Horsepower: 522 hp
Range on full charge: 407 km
Torque: 472 lb-ft
With 93.4 kWh performance battery pack
Horsepower: 562 hp
Range on full charge: 463 km
Torque: 479 lb-ft
0-100 km/h time: 3.8 seconds
Top speed: 250 km/h
Porsche Taycan Models
Weight: 2,380 kg
Links:
Porsche Canada