2023 Nissan Z Makes Landfall In Canada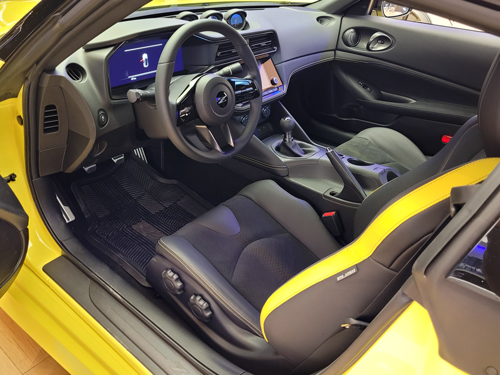 You've pored over every webpage you can. You've snuck a peak (or seven) at the Indigo magazine rack. Your most searched keywords on YouTube are "Nissan" and "Z". Well, pretty soon, you'll be able to see an example of the latest in Nissan's long line of Z sports cars as the 2023 Z made its official debut in Canada in all its retro, yellow, long-hooded glory.
Power comes courtesy of a twin-turbo V6 good for 400 horsepower and 350 pound-feet of torque – or, perhaps more significantly, the same engine size as the Toyota GR Supra 3.0, but with more power and less torque – fed to the rear wheels via either a six-speed manual transmission or a nine-speed auto, the former of which the Supra doesn't get, the latter of which has more gears than does the Supra's. The very existence of a manual transmission will be music to many a gearhead's ears as these days, there was always the chance that it wouldn't make the cut.
No pricing has yet been announced, but figure it to be around $40,000 at base if early reports are any indication.
NASCAR Channels Pixar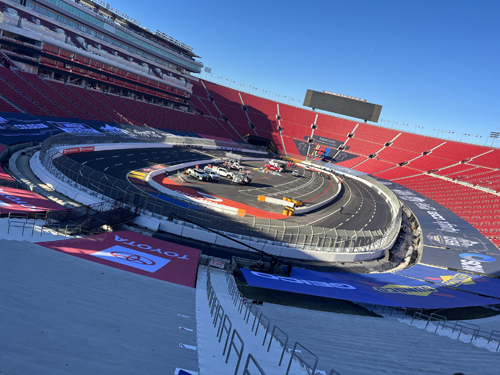 While the Piston Cup in the Pixar Cars universe is obviously modeled after the various cups that get awarded in NASCAR, it appears the latter was inspired by the former for the "Clash at the Coliseum" feature event that took place on February 6. If you'll remember the film, the final race took place at the fictional Los Angeles International Speedway, a coliseum-style venue much like Los Angeles Memorial Coliseum where The Clash took place.
To do it, organizers paved a quarter-mile track – to be dug up right after – and let the previously un-raced "NextGen" cars loose on the track for a race (after passing through entry tunnels, just like Russell Crowe in Gladiator), that was briefly paused for a set from LA's own Ice Cube. Because why wouldn't it be? The race ushered in a new short-track era for NASCAR, the short tracks offering tight, exciting bumper-to-bumper racing that fans can get much closer to. No points were awarded, but the racing was nevertheless exciting with Joey Logano taking his Ford Mustang to eventual victory.
McLaren F1 Teams Up With Lego
We've seen Lego-ized scale model versions of McLarens before, but they've always been road cars. Yesterday, McLaren F1 announced that they, too were joining the, ahem, "block" party.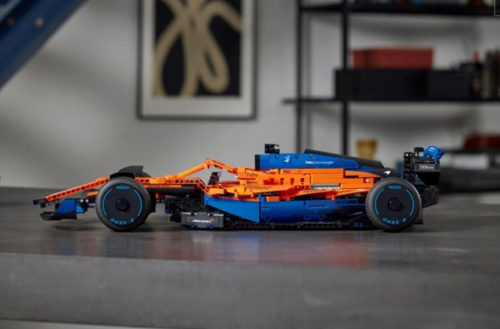 For its part, Lego is turning to its Technic line for the project as it allows for even more detail. Owners will be able to build a V6 engine with functioning cylinders, as well as a working steering rack, differential and even suspension. The 25.5-inch long model is made up of 1,432 pieces, gets real rubber tires with Lego's take on the new-for-'22 aero wheels and correct orange and blue livery and sponsor logos. You'll have to lay out $240 (CDN) for one when it arrives at the beginning of March, but we say it will be worth it.
The Spirit Of Ecstasy Shrinks…But For Good Reason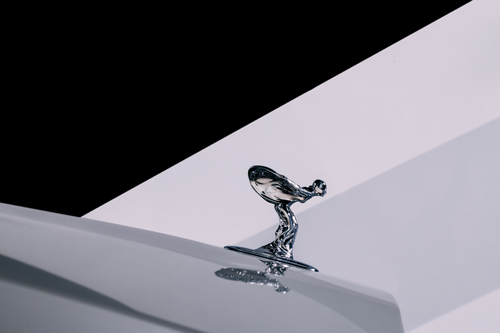 Rolls-Royce is pulling out all the stops in an effort to make the upcoming Spectre all-electric car as aerodynamic as possible, including redesigning the famed Spirit of Ecstasy hood emblem.
To do so, they've shrunken "her" down by about 20 millimetres (which means the figure now stands almost 100 mm shorter than it originally did in 1911), and redesigned her robes (usually referred to as her "wings") to make them more slippery as well. They've also altered the figurine's stance to make it appear to be sprinting forward along with the car. It's doing its part do keep the drag coefficient low, which now sits a at a slick 0.26 cd and is expected to become better still. It should come as no surprise that this makes the Spectre the slipperiest, most aerodynamic Rolls we've ever seen.