You can have my Eggo, but LEGO my McLaren!
If you plan to visit Los Angeles and you're a bit of a car nut, make sure the Petersen Automotive Museum is on your agenda. It's a very cool place and they've just upped the cool factor with a full-size LEGO rendition of a McLaren 720S.
The final orange bricks were placed by museum visitors June 2 and the full-size model will be on display until Aug. 19 as part of an interactive exhibit.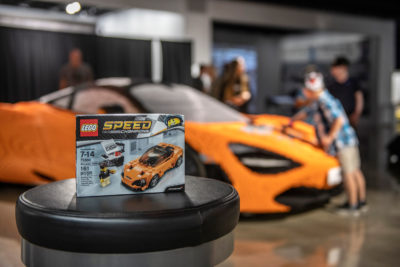 The model McLaren is made of more than 280,000 LEGO bricks and weights in a 3,200 lb., heavier than the road-going 720S's dry weight of 2,828 lbs.
In order to produce an accurate representation of the second-generation of McLaren Super Series, McLaren Automotive worked closely with the only UK-certified LEGO professional builders, providing in-depth vehicle CAD data so the model could be fully realized.
Built up around a steel frame, it took a team of six working at one time for more than 2,000 hours to build the car by hand. A real-world production 720S takes about 12 working days to assemble in the McLaren Production Centre.
The tires on the build are the new Pirelli P Zero Corsa tires used in the street legal equivalent, complete with silver Pirelli Colour Edition graphics.
The LEGO McLaren 720S will be on display on the second floor of the museum and McLaren fans will be able to customize their own mini LEGO Speed Champions McLaren on an interactive iPad app NextG to the car. The app will offer the choice to add racing stripes, flames, checkered flags, license plates, backgrounds. You can also add your name with an option to print a custom sticker of the cay you've just designed.
Petersen's Discovery Center, located near the full-scale car will host daily access to race ramps and build tables for museum visitors who want to build their own LEGO Speed Champions race cars.
The completely assembled real 720S carries an MSRP starting at $284,745 (US). But you can build the 75880 LEGO Speed Champions miniature version (available in the Petersen Store of course) for a mere fraction of the price.
And you won't have to gas it up!