Unless you reside near one of the pointiest corners of what you believe is this cube we call Earth, you'll no doubt have an inkling that the petrol-powered vehicles we love so much are ruining our planet. Their emissions are melting polar ice caps, thawing tundra and consequently causing all sorts of meteorological inconveniences and potentially irreversible problems. This is why Canada (among many others) has mandated that all new light-duty vehicles must yield zero emissions by 2035. It's also why Volvo has developed the XC40 Recharge, the company's first all-electric sport utility vehicle.
Now don't get me wrong, I don't believe for a minute that the all-electric, appropriately hued Glacier Silver XC40 I'm driving exists solely for such noble purposes as ensuring polar bears can once again thrive; this is a profit-driven corporation after all. But nothing about the 2022 Volvo XC40 Recharge – not its performance, nor its appearance nor interior comforts – feels as though it was contrived to simply satisfy some regulatory checkbox.
Powertrain
Underpinned by Volvo's Compact Modular Architecture, the XC40 Recharge shares much with its C40 Recharge stablemate and the Polestar 2, the first all-electric vehicle from their Swedish sister-brand. The dual-motor design – one powering the wheels up front and one powering those in the rear – combines for 402 horsepower and offers up an impressive 487 pound-feet of torque, all powered by a 78 kilowatt-hour battery.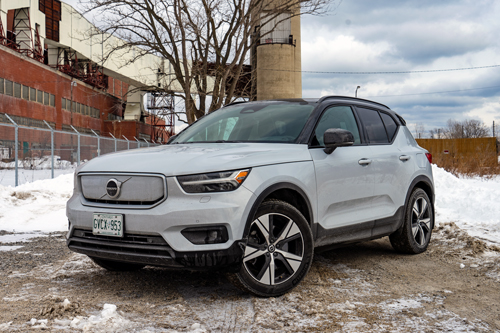 That grunt, coupled with the traction afforded by its all-wheel-drive setup, means this cute-ute will absolutely haul the mail when called upon. Volvo pegs the sprint to highway speed in 4.9 seconds – which is a smidge quicker than a Porsche 718 Cayman T – though I reckon it could be quicker with a tweak to the "throttle" response from stopped.
Nudge the accelerator and the XC40 feels as though it rather wouldn't engage in such shenanigans. Even with a healthy stab there is no lurch of urgency felt or squelched from the wheels. Instead the various microchips and processors quickly debate on how to mitigate the omnipresent torque in order to get you moving while causing neither drama nor harm. This is still a Volvo afterall, so safety trumps swiftness.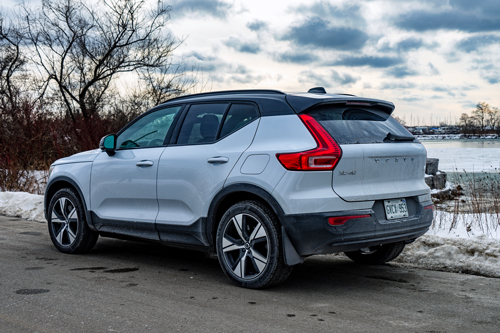 Mileage for this battery electric vehicle (BEV) is estimated at up to 359 kilometres, which sounds ideal. Sadly I wasn't able to get anywhere near this range, and had I let it drain completely, I would've only netted about half of that. To be fair, my week with the XC40 Recharge did include copious amounts of both snow and cold – which is never good for batteries of any kind – but these conditions are very much a reality for Canadian consumers and my test model did include the optional, range-extending heat pump. I reckon many potential customers may see these kinds of returns as a deal breaker – on any BEV, not just the XC40 Recharge.
Exterior
One of the most noticeable things about the styling of the XC40 Recharge is that it does very little to separate itself from the standard issue, petrol powered version. Everything, save the traditional slotted grill, has carried over and I think this is a good strategy. The XC40 is already a well thought out and balanced design, so no need to wipe the board clean.
Short overhangs and a minimalist approach to the sheet metal are trademarks of modern Volvo design, which are always appreciated. The sloped rear window and blacked-out roof lend an air of whimsy that Jeff once surmised enhanced the muscularity of the XC40, and I don't think he's wrong at all. This is easily one of the more attractive compact crossovers on the market and it's powertrain backs up its visual flex.
Interior
Inside the XC40 Recharge you will find a well laid out, comfortable and welcoming cabin. Personally I would have preferred a pop of colour somewhere in this very dark collection of environmentally friendly materials, but the sunroof and size of the windows do let enough light in for things to feel airy on a sunny day.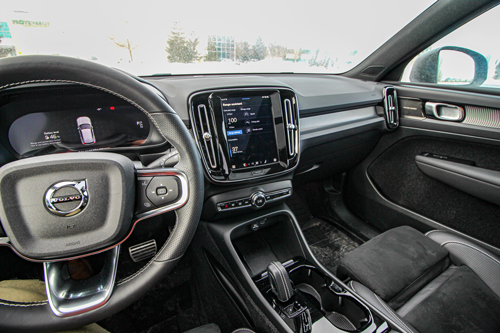 The seats are typical Volvo greatness – comfortable, supportive, heated – and the driving position is exactly what you want from a compact crossover; it's commanding while still feeling as though you are in the car and not on top of it.
Feedback from the steering wheel is a bit on the numb side but selecting the "heavy" setting from the infotainment menu did help the XC40 feel more engaging.
The 13-speaker, 600 watt Harman Kardon sound system that was included with the Ultimate Package ($10,850) on our tester delivered impressive sound clarity through the mids, lows and highs. It's not as sophisticated or immersive a set-up as the Bowers & Wilkins kit from the V90 Cross Country, but it's also not a $3,750 standalone add-on (the package includes that aforementioned heat pump, among other niceties).
Thanks to the low-lying battery and motors, cargo space is accommodating with up to 1,387 litres available (with the rear seats folded). There is a cubby in the "frunk" as well, though it's not really large enough to tackle much beyond a very small gym bag.
Infotainment
Volvo's somewhat dated Sensus system has been replaced with a full embrace of Google's Android Automotive software. This means that features like Google Assistant and Google Maps are present and accounted for, even if you haven't paired an Android phone to your car.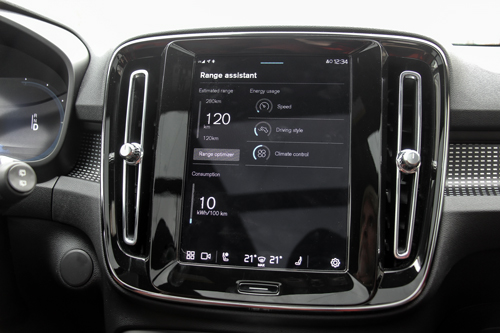 One of the more trick features was that this version of Maps will render an estimated level of charge for your XC40, when travelling to a plotted destination. This alone can be extremely helpful in planning a day trip and should you need to recharge the Recharge, you can call up the nearest available plug with just a tap or two.
Overall I found the user experience here to be a step up from the previous generation in terms of response time and fluidity on the 9-inch touch screen, though I will plead once again with Volvo to move the HVAC control away from the tablet and back to traditional buttonry.
At the time of my testing, tethering to Apple CarPlay (wirelessly or otherwise) was not an option on the XC40 Recharge but it is slated to be included in an over-the-air update sometime in the near future.
Drive
With horsepower and torque aplenty, and a relatively small footprint, the XC40 Recharge is a tonne of fun to boot around in – despite actually weighing in at 2.2 tonnes. Since much of that mass is kept low, the XC40 Recharge pivots and follows bends better than you would expect. It's not as engaging nor as aurally satisfying as hustling a Porsche Macan S, but it feels nearly as quick (it's actually quicker) and almost as poised.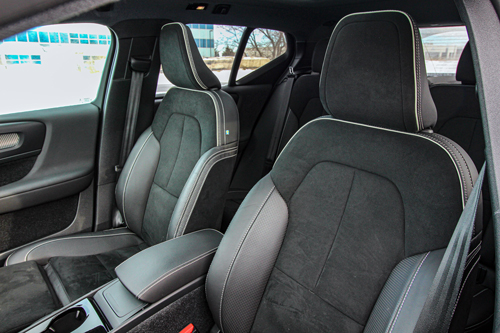 On the highway, the Recharge is quiet and composed. Passing slower moving traffic feels effortless although I'd still prefer a sharper response from the accelerator.
Around town, the XC40 Recharge's diminutive dimensions come in handy, especially when snow banks are claiming a third of every second road. And sliding into a parking spot of any kind is drama free. There are four cameras in play to stitch together a 360-degree top down view, but the greenhouse and mirrors offer enough sightlines for us old-schoolers to really not need the system.
Conclusions
My time with the Volvo XC40 Recharge was fraught with mixed emotions. On the one hand, I was hugely impressed with the drivability, performance and comfort that it had on offer. I am admittedly smitten with its design and value the fact that it looks, feels and behaves very much like the normal, petrol-powered version it shares showroom space with while coughing out zero harmful emissions.
However, on almost every drive I could feel the range anxiety immediately begin to creep in. I watched as projected distances "to empty" shrank at an exponential rate and my estimated level of charge at destination whittled away. I know that the slightly extreme winter conditions and my liberal use of heat for the seats, steering wheel and cabin while I had the XC40 Recharge play a huge role in this, but even with planning ahead to "park" at a charging station while tackling chores I was presented with infrastructure obstacles that wouldn't exactly acquiesce.
In the grand scheme of things, this really is a minor inconvenience – you need to plan ahead, plot accommodating routes and be prepared to account for added time waiting for a plug. But the reality of our current internal combustion world – the one that is slowly, necessarily coming to a halt – has been built upon eliminating inconvenience, and it's really about at its peak. It can feel a bit disconcerting to take a step backwards even when you know it's needed in order to move forward.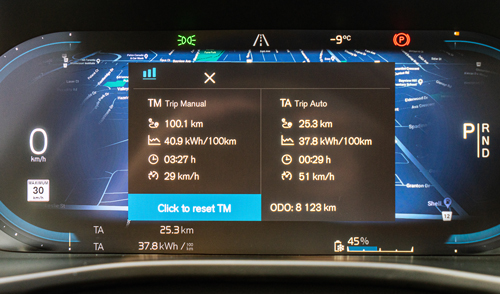 If you are looking for a BEV to handle the duties of city living and daily runarounds, and you rarely venture outside of a 200 kilometre bubble, the XC40 Recharge is an excellent option. But if you're shopping for a compact crossover because you want to load it up and disappear with your family to explore and enjoy mother nature in its current state, you may sadly need to keep those ice caps on simmer for a little while longer.
2022 Volvo XC40 Recharge
Price as tested: $76,415.00
Configuration: Twin motor (front and rear), All-wheel-drive
Motor/Transmission: Dual synchronous motor with permanent magnet
Power/Torque: 402 hp, Torque: 482 lb-ft
Cargo Capacity: 1,387L
Towing Capacity: 900kg
Fuel Economy: 22.8 / 26.6 / 24.5 kWh/100 km
Alternatives: Hyundai IONIQ 5, Jaguar I-Pace, KIA EV6, Mazda MX-30, Volkswagen ID.4
Website: Volvo Canada